Vermont Rol-Dri Tennis Court Roller Squeegee [Blue PVA]
Vermont Rol-Dri Tennis Court Roller Squeegee [Blue PVA]

RID YOUR COURT OF PUDDLES WITH THE PVA TENNIS COURT SQUEEGEE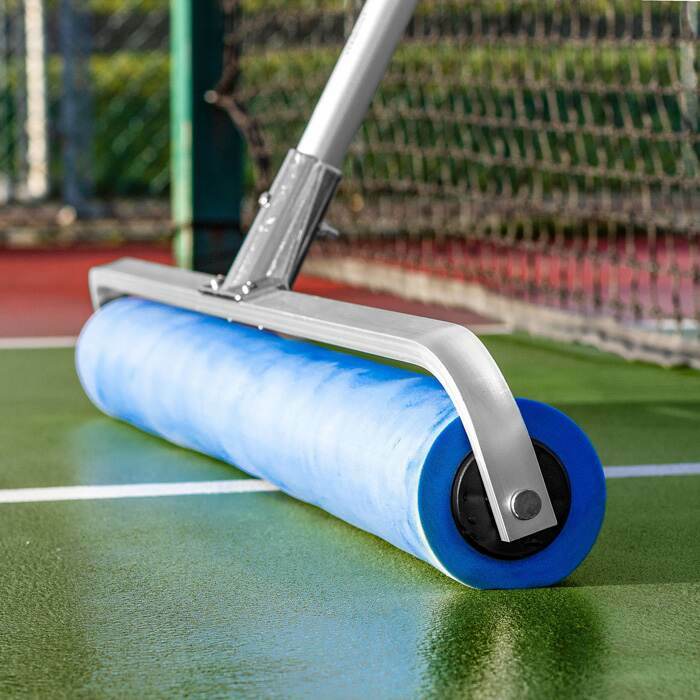 BLUE PVA ROLLER
Requiring activation prior to use (simply wet the roller), the Blue PVA material allows users to simply move large volumes of standing water with minimal effort, ensuring your court dries much quicker.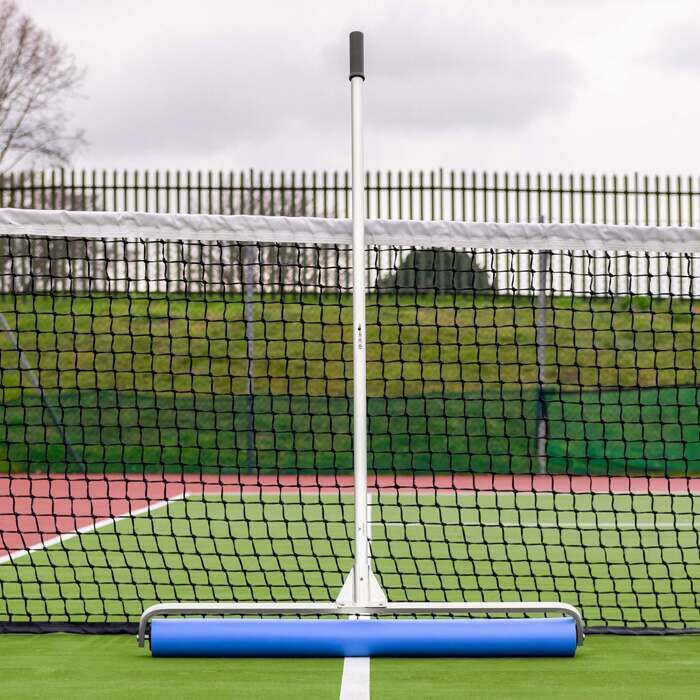 EXCELLENT DURABILITY
Created using the highest-quality materials available, this Vermont Tennis Court Squeegee guarantees exceptional durability. The aluminium handle & stainless steel frame are 100% rust-resistant.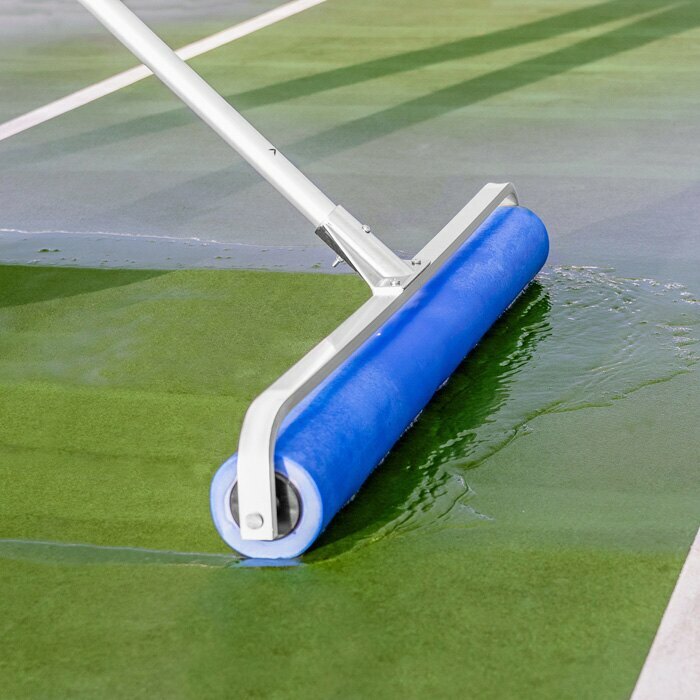 HARD, NON-POROUS COURTS
An excellent choice for hard & non-porous courts, the PVA foam roller squeegee is well-suited to absorb large volumes of water. Perfect for tennis, basketball, volleyball & futsal courts.
Description
Efficiently clear your tennis court with the Vermont PVA Roller Squeegee
Perfectly suited to just about any hard, non-porous playing surface, the all-new Vermont Rol-Dri Tennis Court Squeegee will have your tennis court water free in just minutes! Super-easy to use, the roller squeegee has been designed to maximise court coverage (36in wide sweep), whilst ensuring minimum user-effort is required. For optimal performance, we recommend activating the squeegee prior to use by simply wetting the entire roller.
Professional Rol-Dri Tennis Court Roller Squeegee (36in sweep) – Activation Required
Features a blue PVA design for optimal performance & supreme longevity
Lightweight-yet-durable handle/frame manufactured using anodised aluminium & stainless steel
Lack of wobble ensures application is simple & effective
Handle features a hook, so squeegee can be simply secured to fence
100% weatherproof
Created exclusively using premium-grade materials, the Vermont Tennis Court Roller Squeegee possesses a professional performance with world-class longevity. The roller has been expertly crafted using a blue PVA material, allowing it to move large volumes of standing water with ease. The frame/handle features a combination of anodised aluminium with stainless steel to ensures it remains lightweight enough for ease-of-use whilst remaining supremely resistant towards rust & corrosion. Its excellent weather-resistance ensure it can be left outside all year round.
Please Note: This foam roller is the perfect choice hard court surfaces for tennis, paddle tennis, pickleball, basketball, shuffleboard, football courts, futsal, volleyball, multi-sport areas, netball, golf, bowls and more! For optimal performance, please activate the roller prior to use.
For the ultimate tennis court water-clearing product, please see the Bowdry Machine.
Specifications
Roll-Dri Tennis Court Squeegee Specifications
Materials:
Handle: Anodised Aluminium (lightweight & robust)
T-Socket & Frame: Stainless Steel (excellent weather-resistance)
Roller: Blue PVA Material
Dimensions:
920mm x 30mm
36" Sweep
Weight: 3.6kg / 8lbs
Miscellaneous:
Ideal choice for soaking wet tennis courts as it will help to remove puddles
Perfect for hard & non-porous tennis courts
Handle features hook for easy storage on surrounding fences
Suitable for hard courts in a variety of sports including basketball, futsal, netball & golf