Vermont Tennis Ball Roller Mower & Hopper [85 Ball Capacity]
Vermont Tennis Ball Roller Mower & Hopper [85 Ball Capacity]

The Ultimate Coaching Tool – Tennis Ball Roller Mower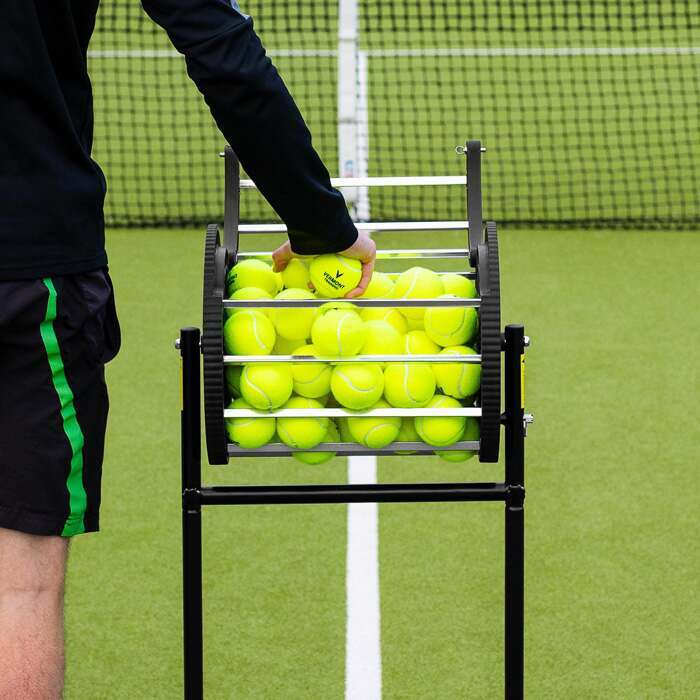 85 Tennis Balls
The impressive Vermont Tennis Ball Roller Mower & Hopper boasts a capacity of 85 tennis balls. These tennis balls can be secured for storage & transportation using the lockable lid.
Easy Ball Pick-Up
Collecting tennis balls has never been so simple. The innovative design means coaches can reverse the hopper into a mower, allowing them to simply roll over stray tennis balls to collect them.
Elite Construction
Exceptional durability is an absolute guarantee thanks to the hopper's premium design. The powder coated steel stand combines with the plastic/aluminium basket for a long-lasting performance.
Description
Simply Store & Collect Tennis Balls With The Roller Mower & Hopper
The Vermont Tennis Ball Roller Mower & Hopper is an absolute must-have for tennis coaches. Boasting an impressive capacity of 85 tennis balls, this high-quality tennis ball basket doubles up as a tennis ball collector thanks to its unique 'mower' design. Go from feeding balls from the baseline one minute to collecting balls the next by simply removing the quick release pin to unlock the basket, turning the stand into a handle and mowing over stray tennis balls.
Tennis Ball Roller Mower & Hopper – store, transport & collect up to 85 tennis balls
Tennis Ball Basket easily converts into roller mower for easy ball pick-up
Stand/handle manufactured using powder coated steel
Basket features heavy-duty plastic with aluminium spokes
Quick release pins allow user to lock basket in place & secure basket lid
Designed with premium durability in mind, the Tennis Ball Roller Mower features a premium-grade construction. The stand, which doubles up as a handle when using the mower function, has been engineered using powder-coated steel for exceptional durability. Matching the robustness of the stand, the basket combines a heavy-duty plastic frame with hard-wearing aluminium spokes, which features a lockable lid to help keep your tennis balls contained during movement & storage.
Specifications
Tennis Ball Roller Mower & Hopper Specifications
Dimensions:
Hopper: 97cm H x 45cm W x 31cm D | 38in H x 18in W x 12in D
Basket: 31cm (Diameter) x 37.5in (Width) 12in D x 15in W
Weight: 4.5kg | 9.9lbs
Materials:
Stand/Handle: powder coated steel (black)
Basket Frame: heavy duty plastic
Basket Spokes: aluminium
Miscellaneous:
Tennis Ball Hopper can be converted to ball mower for easy ball pick-up
Quick release pins allow user to lock basket & secure basket lid
You may also like
Tennis Ball Pick-Up Tube
HK$289.00
Tennis Ball Basket & Hopper [72 Ball Capacity]
HK$364.00
Multi-Sport Ball Carry Cart [Tennis, Hockey, Cricket & Lacrosse]
HK$1,864.00
Tennis Ball Collector Mower
HK$6,199.00
Recently Viewed
Vermont Mini Table Tennis Table
HK$1,499.00
FORZA Training Cone Collector [Cone Champ]
HK$189.00
Socketed STOP THAT BALL™ - Ball Stop Net & Posts [12ft High]
HK$1,899.00
Tennis Court Surround Netting [Made To Any Size]
HK$24.00
Vermont Tennis Net & Posts Custom Package
HK$4,429.00