Fully Customizable Sports Box Trailer
Fully Customizable Sports Box Trailer

The Ultimate Customizable Sports Equipment Trailer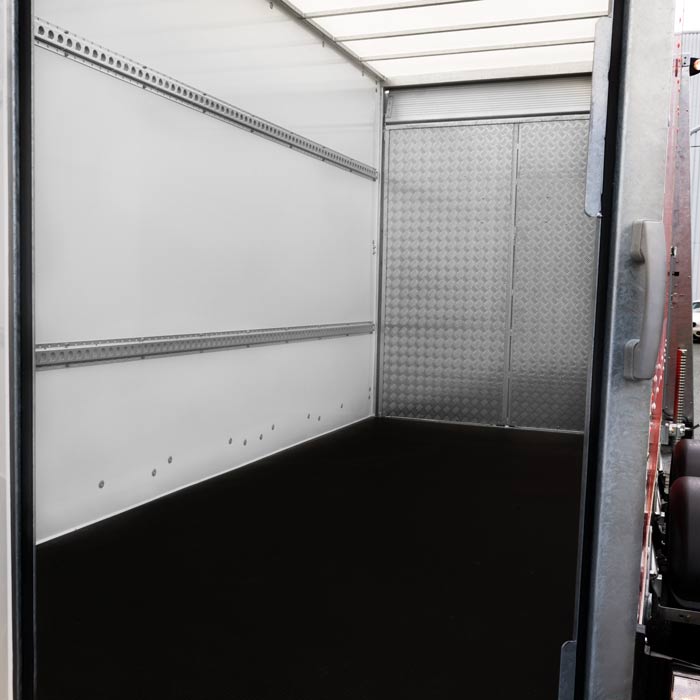 Spacious Equipment Trailer
With a large floor surface area, this sports box trailer is capable of transporting and storing the largest of sports equipment with ease whilst still allowing easy access to all areas of the trailer.
Fully Customizable Panels
This sport cargo trailer is supplied with robust white panels as standard. However, these panels can be easily customized with any vinyl wrap upon request.
Trailer Available in Various Sizes
This sports utility trailer is available in a multitude of different sizes to accommodate any piece of sports equipment and meet all needs and requirements.
Description
The Ultimate Trailer Storage Box For All Your Sporting Equipment
Transport your sports equipment in style with this customizable box van trailer. This galvanised steel box van features a large storage space that is capable of or storing and transporting the largest of sports equipment. Featuring multiple strong lockable doors, this sport utility trailer offers unparalleled accessibility to your sports training equipment. With a wide variety of different structural designs and trailer wrap designs available, you are sure to find the right equipment trailer for your wants and needs.
All braked models feature cargo rails fitted inside as standard
Shoring Poles and cargo straps are optional extra for secured transport
All versions of metal box trailer feature lockable front access door
Resin coated plywood platform for secure and strong transport
Sport cargo trailer includes a spare wheel and carrier to keep you moving
Available in a variety of different designs and available with customizable trailer vinyl wrap upon request
With a frame manufactured from galvanised steel, this large box trailer van is specifically deigned to be ultra-durable in all weather conditions. The galvanised steel fame is supported by white coated side panels that are robust and easy to clean to provide additional longevity. The white coating allows the large box van trailer to feature fully custom trailer wraps on request and can effectively promote or represent your organisation.
All braked box vans feature beam axle and leaf spring suspension system that has been specifically designed to provide a stable ride that enhances performance under load. The tapered front section of the field sport trailer provides additional performance to the sport trailer by reducing drag and improving fuel economy for ultimate long-distance travel. Available in a variety of different sizes, this lockable trailer storage box is sure to meet your every need and requirement.
Please contact our sales team for further advice on prices, graphic design requests and specifications on all orders.
Specifications
Sizes [L x W]
Minimum available size: 3.9m x 1.8m [Overall] – 2.4m x 1.17m [Internal]
Maximum available size: 5.35m x 2.3m [Overall] – 3.6m x 1.73m [Internal]
Weight
Minimum available weight: 1400kg [Gross] – 515kg [Unladen]
Maximum available weight: 3500kg [Gross] – 1030kg [Unladen]
Materials
Chassis: Robust galvanised steel for high stability and ultra-durability
Panels: White Glass Reinforced Plastic
Miscellaneous
All braked models feature cargo rails fitted inside as standard
Shoring Poles and cargo straps are optional extra for secured transport
All versions of metal box trailer feature lockable front access door
Resin coated plywood platform for secure and strong transport
Sport cargo trailer includes a spare wheel and carrier to keep you moving
Available with fully customizable vinyl wraps upon request
Please contact our sales team for further details
You may also like
Sports Pitch Divider Post & Curtain Net
HK$20,199.00
Jumbo Size Heavy Duty Tarpaulins [250gsm]
HK$2,399.00
Portable Ball Cage Trolley & Equipment Cart [40 Balls]
HK$1,499.00
Heavy Duty Boot Scraper & Wiper [Single/Double/Triple]
HK$2,429.00