TRAIN LIKE A PRO WITH OUR ROUNDERS BATTING TEE
Adjustable Height
The innovative telescopic design featured on the Rounders Batting Tee which allows the height to be adjusted to suit the user's requirements. Suitable for all ages & abilities.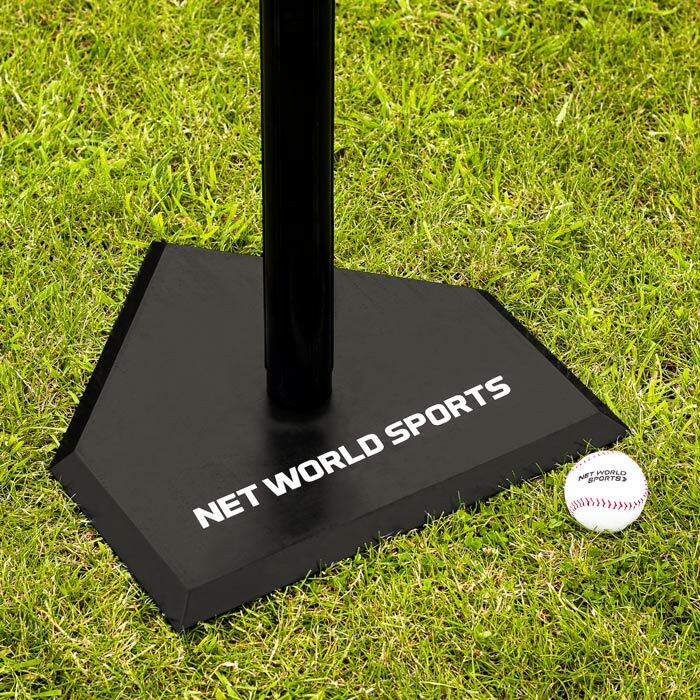 Premium Construction
Manufactured using heavy duty rubber with a steel plate insert in the base for increased stability to aid rounders practice. Impact resistant design ensures no damage when strikes are off target.
Batting Practice
Develop your rounders team batting skills to improve your performance on game day. The batting tee is 100% weather resistant ensuring it can be used both indoors & outdoors.
Description
THE PRACTICE EQUIPMENT NEEDED TO UNLOCK YOUR FULL POTENTIAL
Mimic those difficult on field scenarios with our Rounders Batting Tee. Manufactured primarily of steel, rubber and heavy-duty plastic, this batting tee can take hit after hit. The added steel insert provides increased stability whilst not weighing down the tee, making it easy to carry and transport.
The telescopic design of this batting tee is a user-friendly sliding mechanism ideal for perfecting those difficult swings. With a maximum height of 1.2 meters and a minimum of 55cm, this adjustable batting tee allows adults and children alike to work on their rounders training.
A telescopic mechanism that adjusts from 55cm to 1.2 meters to suit your needs.
Made from a combination of sturdy steel, robust rubber and thick plastic.
A weatherproof tee that can used in any practise situation.
Can be used by various aged players.
A stable tee that won't move with intense use.
Improve your rounders game play with this tough and durable batting tee that won't leave you searching for a replacement. As this tee is composed from weatherproof materials, it can be utilised by all your players for years to come.
Net World Sports stocks a comprehensive range of outdoor and indoor rounders equipment that can be used by families, schools and sporting clubs.
Specifications
Material:
Base & Tee: Hard wearing rubber
100% weatherproof
Size:
Lowest Height: 55cm
Maximum Height: 1.2m
Misc:
Adjustable height for incredibly varied batting practice, simply slide the hitting zone up and down
Perfect for rounders, baseball, softball & T-ball practice
Base includes steel insert for additional durability
Weight: 4.5kg
You may also like
Freestanding STOP THAT BALL™ - Ball Stop Net & Posts [10ft High]
HK$1,099.00
Rounders Sets [Bats, Balls, Poles, Bases & Carry Bag]
HK$524.00
Recently Viewed
Vermont Square Tennis Posts
HK$2,954.00