RapidFire Mega X Cricket Rebounder
RapidFire Mega X Cricket Rebounder
Transform Your Catching Sessions With This Cricket Rebounder
Net Saving Technology
The front of the impressive rebounder frame features net connector bolts that face away from the ground & allow you to hook your net with ease. The bolts keep the net off the ground to protect it from abrasion damage.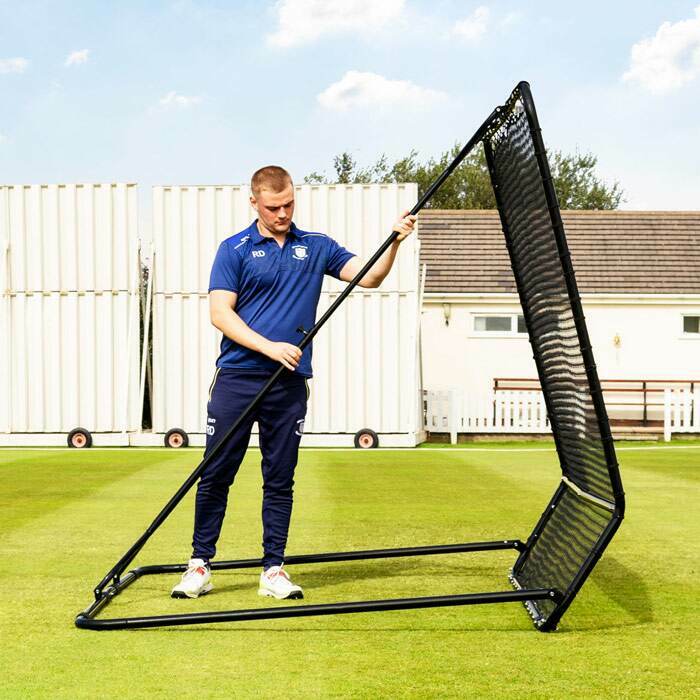 Dynamic Training Tool
An excellent addition to any cricket set-up, this rebound net gives players an excellent opportunity to sharpen their catching & under arm pick-up skills. The dual-angle gives players the variety required to develop their game.
100% Weatherproof
Created using premium-grade materials, the Mega X Cricket Rebounder will deliver an exceptional performance level in all conditions. The 1mm galvanised steel frame combined with the knotless 2mm PE net provide world-class durability.
Description
Perfect for fielding practice, this Cricket Rebound Net will transform your training
All cricket fans are familiar with the term 'catches win matches' which highlights just how important your performance in the field is. To ensure that your fielding work is as up to speed as possible, it's crucially important you put the work in on the training field and with this RapidFire Mega X Cricket Rebounder, the work you put in will be of the highest quality. The innovatively designed cricket rebound net features a dual-angle to offer high & low rebound sections – ideal for training your catching and on-the-run ball pick-ups.
RapidFire Mega X Cricket Rebounder – train your catching and ball pick-up skills
Dual angle design offers high & low rebound sections & is 100% adjustable
Rust-resistant frame is manufactured using 1mm thick galvanised steel (38mm OD)
Frame has a black powder coating for increased durability & scratch-resistance (weatherproof)
Snap button assembly joints & rubber feet give rebounder exceptional stability & grip
2mm knotless PE provides a consistent & extreme bounce
Net Saving Technology prevents net from fraying
Available in 2 sizes: Small (1.5m x 1.8m) | Large (2.1m x 2.4m)
This professional cricket rebound net has been expertly designed to deliver exceptional durability in all conditions. The weatherproof construction features a 1mm thick galvanised steel frame (38mm OD) which has been powder coated black for excellent resistance to rust & corrosion. The 2mm knotless PE netting features a 28mm mesh, which gives it supreme resistance against heavy impacts from cricket balls whilst ensuring the ball rebounds to exactly where you intended it to. For maximum grip & stability, the rebounder features rubber feet & snap button assembly joints.
An excellent cricket training tool to work on your catching and ball pick-up skills, this cricket rebound net has a completely adjustable angle to allow you to alter the difficulty and work on different drills. Available in two sizes; small (1.5m x 1.8m) & large (2.1m x 2.4m), this cricket rebound net is a training tool that can be used by all ages and abilities. With this cricket rebound net in your set-up you'll see a dramatic increase in catches being taken and on-the-move run outs being executed. Supremely durable and brimming with professional quality, these Mega X Cricket Rebounders are an absolute must-have!
PLEASE NOTE: The number one choice for cricket field practice, the RapidFire Mega X Rebounder can also be used for Football, Rugby, Hockey, GAA, American Football, Aussie Rules, Baseball, Netball & Rounders too!
Specifications
RapidFire Mega X Cricket Rebounder Specifications
Features:
Dual-angle rebounder offers high & low rebound sections
Rebounder can have angle fully adjusted
Cricket Rebound Net is weatherproof
Snap button assembly joints allows for quick set-up
Net Saving Technology helps increase longevity of net
Available Sizes:
Small: 1.5m H x 1.8m L | 5ft H x 6ft L
Large: 2.1m H x 2.4m L | 7ft H x 8ft L
Materials:
Frame: 1mm thick galvanised steel (38mm OD)
Steel frame is powder coated for excellent rust & corrosion resistance
Netting: 2mm knotless PE with 28mm mesh
Heavy duty rubber feet give rebounder exceptional grip on all surfaces
Miscellaneous:
Cricket Rebounder is also an excellent training tool for football, rugby, hockey, GAA, American Football, Aussie Rules, Baseball, Netball & Rounders
Bungee ties included for easy net attachment
Although not essential, we recommend using two people when assembling the rebounder