RapidFire Mega Football Rebounder
RapidFire Mega Football Rebounder

RapidFire Mega Football Rebounder – Multi-Skill Football Rebound Net
Adjustable Rebound Angle
The jumbo football rebounder offers an adjustable angle which allows for high, low and medium bounces for a wide variety of football training drills.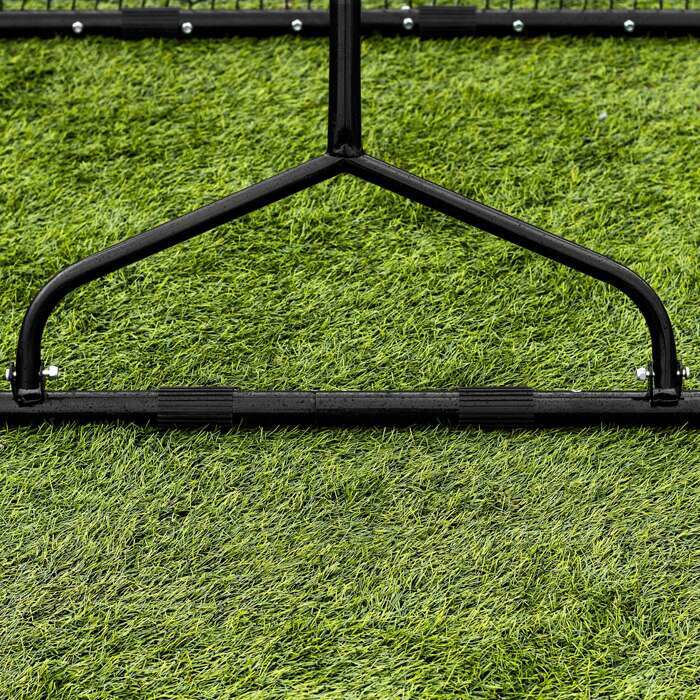 Foldable Frame For Storage
For convenient storage when out of use, the football bounce back nets are capable of being folded flat, allowing them to be compactly stowed away.
Heavy-Duty Football Rebounder
Made for regular use, the durable football rebounder has been made from 38mm galvanised powder coated steel with a 2mm knotless PE rebound net.
Description
RapidFire Mega Football Rebounder – Extra Large Rebound Net For Football Skill Training Sessions
Train multiple skills with the RapidFire Mega Football Rebounder. The enhanced size of the extra-large football rebound net allows for greater diversity of skills, providing players of all positions with a premium piece of football training equipment. From goalkeeper reaction drills to heading, volleying and first touch training, the versatile football bounce back rebounder will have your entire squad fully prepared for matchday success.
Two mega football rebounder sizes available – Small (1.5m x 1.8m) and Large (2.1m x 2.4m)
Rebounder frame is manufactured from 1mm thick 38mm OD galvanised steel with anti-slip rubber feet
Football rebound net made from 2mm knotless polyethylene with a mesh size of 28mm
Adjustable rebound angle with the capability of being laid flat for storage
Black powder-coated weatherproof football rebounder net with bungee ties included for attachment
The jumbo football rebounder features a fully adjustable angle, allowing for varying ball delivery trajectories for high, low and medium bounces. As a space-saving storage design, the football rebound board can be made compact by folding flat when out of use. This convenient feature makes the football rebounder a top-quality addition to any football club, sports centre, school or back garden football training set-up.
Built with the ability to provide several years' worth of use, the heavy-duty football rebounder frame protects the structure from becoming damaged by collisions with the ball. Manufactured using 38mm thick OD galvanised steel which has been powder coated black for supreme weather-resistance, the weatherproof football kickback rebounder can be left assembled outdoors without any risk of rust or corrosion.
Providing firm and heavy bounces, the taut football rebound net is equally durable, having been made from 2mm knotless polyethylene with a mesh size of 28mm. Incredibly responsive to the delivery of the ball, the premium football rebounding netting offers heavier bounces depending on how powerfully the ball is struck. The versatile football rebound wall allows you to customise the delivery to suit the specific skill training drill, enhancing the effectiveness of your match preparations.
Freestanding in design, this professional quality football rebounder is suitable for use on all playing surfaces, whether you train on grass or artificial surfaces. Featuring rubber feet to prevent slipping during use, the adjustable football rebound net is the best way to improve a wide variety of fundamental football skills. Available in either a small or large football bounce back rebounder, the jumbo football rebound net is perfect for use by players of all ages.
Specifications
RapidFire Mega Football Rebounder Specifications
Size Options
Small – 1.5m x 1.8m (5ft x 6ft)
Large – 2.1m x 2.4m (7ft x 8ft)
Materials
Frame - 1mm thick 38mm OD galvanised steel powder coated black
Net - 2mm knotless polyethylene with a 28mm mesh size
Miscellaneous
Adjustable angle for varying ball delivery
Frame can be folded flat for storage
Anti-slip rubber feet on the base of the frame
Snap button assembly joints for no-tools assembly
Freestanding for use on all surfaces
100% weatherproof
Bungee ties included
Recommended that two people assemble the rebounder
You may also like
RapidFire Mega X Football Rebounder
HK$2,159.00
FORZA Football Rebound Wall
HK$2,224.00
Jumbo Football Rebounder Net [2.7m x 2.2m]
HK$2,299.00
Recently Viewed
Moulded Bucket Dugout & Shelter Seats
HK$399.00
UEFA Linesman Flags
HK$99.00
Tri Folding Yoga Mat
HK$469.00
5m x 2m FORZA Alu60 Football Goal
HK$6,074.00