RapidFire RF100 Rugby Rebounder
RapidFire RF100 Rugby Rebounder
Spring-Loaded Rugby Training Rebounder Net – Collapsible Frame For Easy Storage
Adjustable Rebound Angle
Capable of being positioned at an angle between 61cm and 104cm, the RapidFire RF100 Rugby Rebounder is designed to be used throughout a wide range of training drills thanks to its versatile adjustable angle.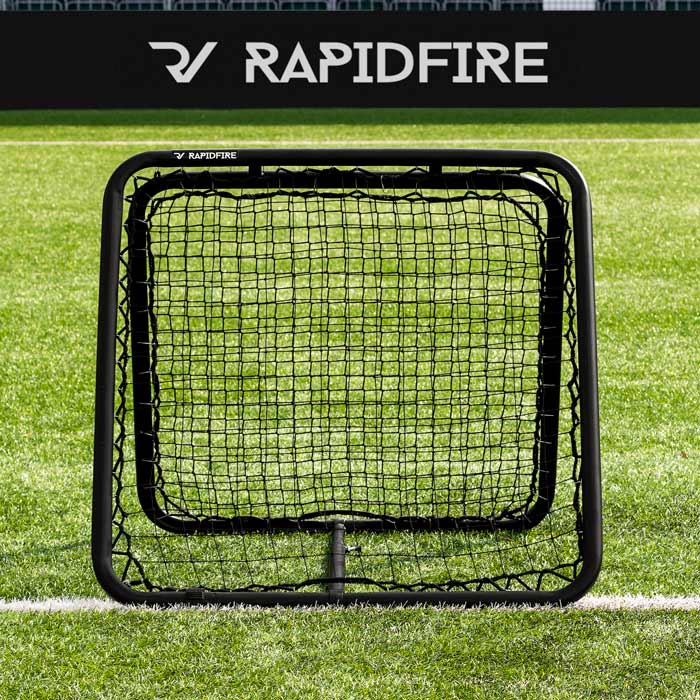 Weatherproof Components
The frame of this rebounder is manufactured from 1.5mm thick powder coated steel. This hard-wearing metal will not rust after heavy rainfall, ensuring this training net can be used during all weather conditions.
Spring Tensioned Nets
Both heavy-duty rebound sides are kept tensioned by multiple springs, this unique construction ensures your rugby training net will provide a consistently firm yet unpredictable ball return for years to come.
Description
RapidFire RF100 Rugby Rebound Net – Suitable For Kicking And Passing Drills
Add a new dynamic element to your rugby training drills by incorporating the RapidFire RF100 Rugby Rebounder into your teams training sessions and pre-match warm-ups. This innovatively designed rugby training net is manufactured with two spring-loaded target areas which are made from 1.5mm knotted HDPP twine and 2mm knotless HDPE twine respectively. These spring tensioned nets will provide your rugby team with an unpredictable ball return which duplicates the conditions of a competitive rugby match.
The RapidFire RF100 Rugby Rebounder's frame measures 94cm x 94cm
Side 1 (85cm x 85cm): 1.5mm knotted HDPP twine with 48mm mesh
Side 2 (78cm x 78cm): 2mm knotless HDPP twine with 30mm mesh
Weatherproof frame is made from 1.5mm powder coated steel
Rebounder's return angle can be adjusted between 61cm and 104cm
Folds flat for easy storage
Quick-release pins provide easy assembly
Crafted from heavy-duty steel which is finished with a weatherproof powder coating, the 94cm x 94cm RapidFire RF100 Rebound Net is suitable for all-weather use thanks to its premium construction. The hard-wearing powder this net's 1.5mm thick steel frame is coated in provides an exceptional level of weather resistance, negating the risk of rust forming on your rugby rebounder.
Despite the ultra-durable characteristics of the RapidFire 100 Rebounder, it is incredibly easy to assemble thanks several quick-release pins. These user-friendly pins allow you to quickly build your rugby training net, while the frame's collapsible nature ensures you can easily store this rugby rebounder after training sessions.
Specifications
Dimensions
Frame: 94cm x 94cm | 3ft x 3ft
Side 1: 85cm x 85cm | 2.8ft x 2.8ft
Side 1: 78cm x 78cm | 2.5ft x 2.5ft
Materials
Frame: 1.5mm powder coated steel
Side 1: 1.5mm HDPP knotted twine with 48mm mesh
Side 2: 2mm HDPE knotless twine with 30mm mesh
Miscellaneous
Rebounder can be adjusted between 61cm and 104cm
Folds flat for easy storage
You may also like
RapidFire RF80 Rugby Rebounder
HK$1,299.00
FORZA Low-Height Rugby Tackle Bag [Pro Model]
HK$1,299.00
FORZA Adjustable Extendable Telescopic Rugby Kicking Tee
HK$139.00
FORZA Rugby Tackle Shield With Top Wedge [Pro Model]
HK$799.00