FORZA Portable Team Shelter
FORZA Portable Team Shelter
COME RAIN OR SHINE – THIS PORTABLE TEAM SHELTER HAS GOT YOU COVERED
WATER REPELLENT PROTECTION
This portable football shelter protects from the heavy rain and glaring sunlight that Sunday mornings and summer tournaments can often bring.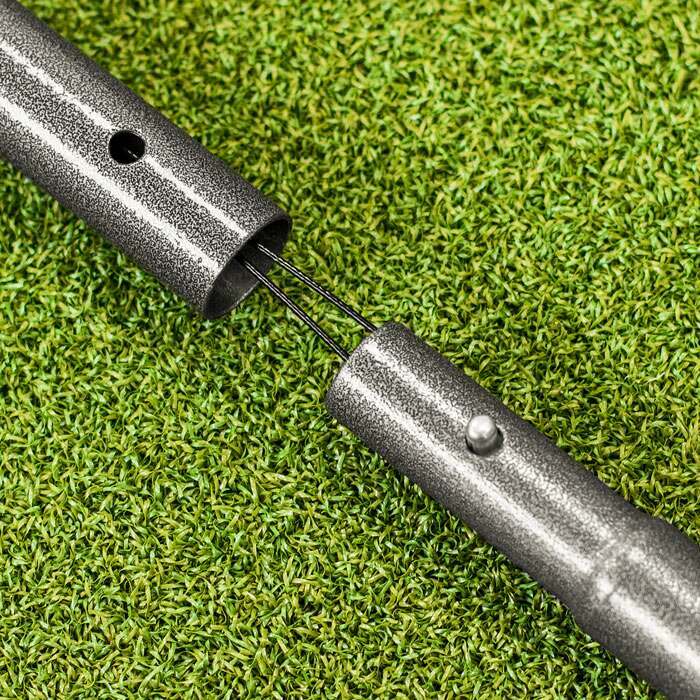 QUICK & EASY ASSEMBLY
With the steel frame connected by the bungee cords and steel U-pegs included, you can assemble quickly and focus on preparing your team.
OPTIONAL BENCH UPGRADES
Add a standard or pro team bench to your portable team shelter to give your players a comfortable rest protected from intense sunlight, heavy wind & rain.
Description
EASY ASSEMBLY PORTABLE TEAM SHELTER – LIGHTWEIGHT & STURDY CONSTRUCTION
This portable dugout shelter is an extremely practical and reliable piece of matchday equipment for your sports team to stay protected from rain and intense sunlight on matchday. The lightweight yet sturdy construction allows for it to be easily transported and assembled. The high-quality durable materials this portable substitutes shelter is made from means it can withstand heavy wind and rain, whilst also providing UV protection, with the cover being 50+ UPF. To stand out from the competition, this portable football shelter allows plenty of daylight in, so you, the coach, can see your notes clearly whilst standing inside. The sturdy steel frame is connected by elastic cables, allowing for quick assembly before attaching the cover using the touch fastening straps. The dugout shelter is as easy to dismantle as it is to construct, so you can get ready quickly and efficiently for your next fixture.
Easy to use touch fastening straps allows for a quick and easy assembly
Waterproof & wind proof to keep your team warm and dry in heavy rain
Cover features a 50+ UPF design for maximum protection and durability
Sturdy steel frame is powder coated for exceptional corrosion prevention
Option to include a high quality portable 8-seat team bench
Shelter comes with a heavy-duty carry bag for easy portability
Add an optional team bench to ensure your team are comfortable when they are not on the pitch.
Specifications
PORTABLE TEAM SHELTER SPECIFICATIONS
DIMENSIONS:
Height: 1.8m (6ft)
Width: 3.7m (12ft)
Depth: 1.4m (4.5ft)
Weight: 22kg (48.5lbs)
MATERIALS:
Shelter frame manufactured from 25mm diameter steel
Powder coated grey finish for exceptional corrosion prevention
Shelter cover manufactured from coated polyester parachute-style material
Features a 50+ UPF rating for maximum sun protection and durability
Touch fastening system for easy attachments
MISCELLANEOUS:
Colour: Grey
Includes anchor pegs to secure onto grass sports pitches & similar soft surfaces
Option to include 8-seat portable team bench
8-seat portable bench comes with carry bag included
You may also like
Football Team Shelter & 8 Seat Bench Package
HK$3,644.00
Recently Viewed
FORZA Aluminium Sports Bench - Sideline Sports Seats
HK$2,699.00
10 Water Bottles (750ml) & Foldable Bottle Carrier
HK$334.00
120mm Football Ball Stop Netting [Standard Size]
HK$39.00
METIS Dumbbell Tree Rack [3 Sizes]
HK$634.00
FORZA Pump That Ball™ - Ball Pump and Needle
HK$139.00