PINPOINT Table Football Table
PINPOINT Table Football Table
ENJOY HIGH SCORING MATCHES WITH THIS PREMIUM TABLE FOOTBALL SET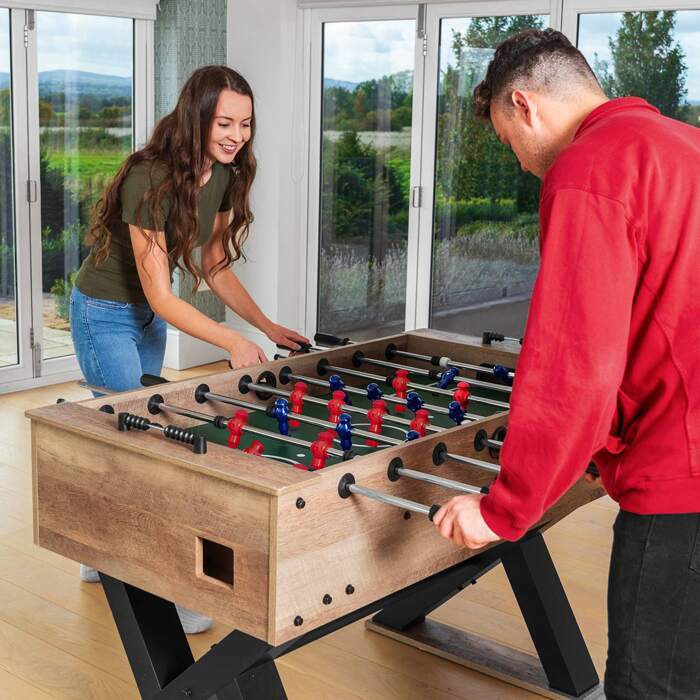 PLAY ANYWHERE
Bring the beautiful game into the comfort of your own home with a stylish foosball table, which is lightweight and doesn't take up large amounts of space.
MAXIMUM COMFORT & CONTROL
The 11in polypropylene hand grips on the ends of the metal rods gives players unmatched control, so you can play the game in a fast tempo manner.
COMPLETE FOOSBALL SET
The durable playing figures allow for numerous intense games. Premium table football set includes 2x foosballs and 22x players.
Description
TABLE FOOTBALL GAME FOR HOME & LIGHT-COMMUNAL USE
This table football table allows you to play foosball wherever you like thanks to its 74cm x 140cm x 86cm (W x L x H) size, making it a comfortable size to carry, move around and not take up large amounts of space. The optimum flat 6mm MDF green graphic laminate playing surface provides a smooth flowing mini table football game, with the dimensions of a real football pitch printed onto the mini foosball table. The table is situated at a suitable height of 86cm for use as an adults or kids football table/childrens football table. The table football game set comes with 2x of the best table football balls, which are each the finest quality 31mm plastic foosballs. The small football table features 22 high impact polystyrene players, coloured in red and navy blue, designed with both teams playing a 2-5-3 formation. With the mini football table featuring 18cm x 6.4cm goals, you can guarantee a high-scoring, entertaining foosball game every time. The table itself has a laminated wooden finish and structured with 8x 18mm thick MDF/PVC legs to increase the tables durability and withstand any powerful movements.
PINPOINT Table Football – Play table football anywhere; suitable for home and light-communal use
Laminated wooden finish with the dimensions of a football pitch printed onto the table for an authentic experience
Table football set supplied with 2x foosballs & 22x players (11x coloured in red and 11x royal blue
11in polypropylene hand grips to allow for a comfortable and powerful kick rotation of players
Fitted with 18cm x 6.4cm goals for high scoring games and a 7.6cm x 10cm hole beneath the mini foosball goal for easy retrieval of balls
Net World Sports offers a wide range of home equipment. For PINPOINT Pool Table, PINPOINT Air Hockey Table and more, please see the essentials above.
Specifications
PINPOINT TABLE FOOTBALL SPECIFICATIONS
DIMENSIONS:
Table: 29in x 55in x 34in | 74cm x 140cm x 86cm (W x L x H)
Area of Play: 27in x 46in | 69cm x 117cm (W x L)
Goals Size: 7in x 2.5in | 18cm x 6.4cm (W x H)
Ball Retrieval Hole: 3in x 4in | 7.6cm x 10cm (W x D)
MATERIALS:
Table: Laminated wooden finish
Table Surface: Flat 6mm MDF green graphic laminate playing surface
Table Legs: 4x 18mm thick MDF/PVC legs for enhanced durability
Rods: Chrome plated metal rods fitted with 11in polypropylene hand grips for maximum user comfort
Ball: 2x balls made from 31mm quality plastic
Players: 22x high impact polystyrene players
Player Poles: 8x telescopic poles to easily fit the players
MISCELLANEOUS:
Two teams; one coloured in red and the other royal blue
Beneath the goal there is a hole to allow for easy retrieval of the balls to kick off
Suitable for both adults and children for a realistic, authentic and aesthetically pleasing experience