FORZA Hockey Training Marker Cones [Multi Coloured]
FORZA Hockey Training Marker Cones [Multi Coloured]
Highly Durable Multi Coloured Space Marker Cones
High Visibility Colours
Our cone pack consists of different bright colours that stand out to ensure they can be clearly seen during training drills.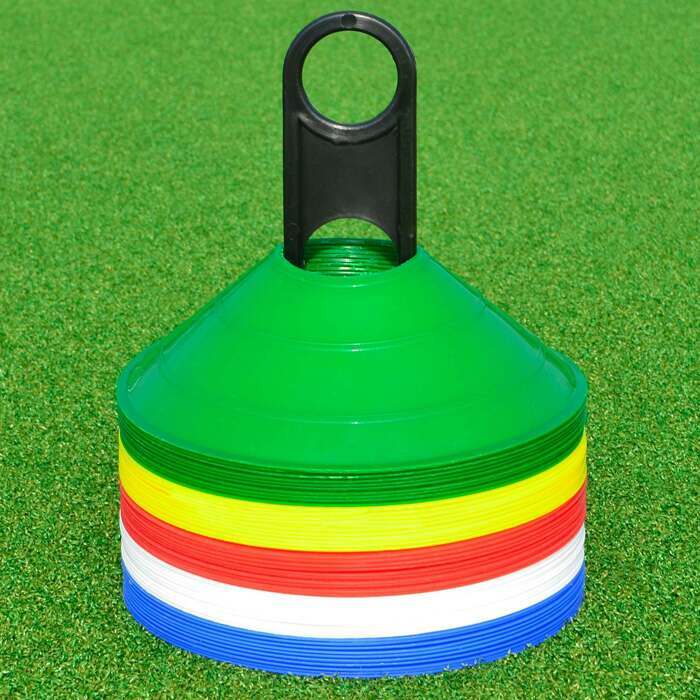 Tough and Durable
The cones are made to be heavier and stronger than normal to add to their durability and more resilient against the winds.
Easy for Storage and Transport
The cones come with a cone stand which is a neat and simple storage device which also has a point to grip to carry them around.
Description
Strong Multi Coloured Sports Cones, Essential For Most Hockey Drills
You rarely see a hockey training session without marker cones to structure the drills. These space marker cones are an essential piece of hockey coaching equipment to make your drills stand out.
Multi-coloured set comprises high visibility colours of blue, red, yellow, orange and green cones.
Manufactured to be tougher and heavier than your standard cone, for added durability and to help keeping the cones in position.
Used in a variety of situations from hockey pitch markings to dribbling drill lay outs.
Cone stand included to help with storage and transportation.
Available in sets of 50 and 1000, to meet the requirement of the training session.
These high visibility colours are key to making sure your training session is always in sight, even in those darker evenings. The space cones can have many uses to your hockey club, whether you want to mark out mini, temporary practice goals, field hockey pitch markings or drill layouts.
Our multi-coloured marker cones are made from tougher and heavier plastic than your average sports cone, as we understand how important cones are in training. The extra strength gives the cone added durability to make sure it lasts, whilst the extra weight helps keep them in position, stopping them from flying away when the wind or careless footwork appear.
Transporting these cones to and from the training ground isn't a problem either. The cone stand provides a tidy method to both store and transport this bit of training equipment, making life easier for the coach or the club.
Specifications
Dimensions
Base diameter: 20.5cm (8in)
Height:23cm (2in)
Weight: 28g (1oz)
Miscellaneous
Colours: Blue, Red, Yellow, Orange and Green
High-Vis colours
Pack Size: 50 or 1000
Cone stand included to assist with transport and storage
Suitable for use indoors and outdoors in a variety of sports such as rugby, football and netball
You may also like
Multi-Sport Ball Carry Cart [Tennis, Hockey, Cricket & Lacrosse]
HK$1,699.00
Free Hanging Hockey Goal Nets
HK$1,119.00
FORZA Pop-Up Target Goals [Pair]
HK$319.00
Recently Viewed
FORZA Mini Target Goal
HK$349.00
Rubber Centre Transfer Wheel (For Line Marking Machines)
HK$419.00
Gaelic Football Corner Flag, Base & Flag Set
HK$2,239.00
Ultimate Cricket Net
HK$3,219.00
Paceman Bowling Machine 2018 [Pitch Attack]
HK$2,399.00