METIS Pro Urethane Dumbbells [2.5kg–50kg] - Pair
METIS Pro Urethane Dumbbells [2.5kg–50kg] - Pair

METIS Pro Dumbbells - Perfect For Commercial Gyms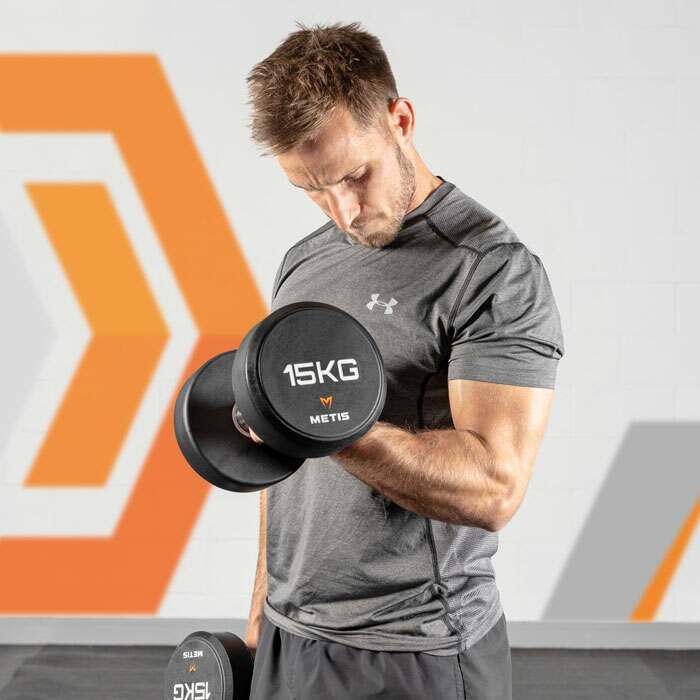 Crack Resistant
The premium grade dumbbells are designed with a high-quality urethane coating which ensures the exterior will not crack whilst also protecting the floors if the weights are dropped.
Range Of Weights
The METIS Pro Commercial Dumbbells are available in a wide range of weights. Choose from 20 different weight options, ranging from 2.5kg – 50kg. Complete dumbbell sets are also available.
EXPLORE THE METIS RANGE
Set your goals & achieve them with the dynamic METIS fitness range. A range that covers all types of fitness & exercise, METIS is a brand that delivers professional quality for everyone.
Description
BUY URETHANE COMMERCIAL DUMBBELLS – PAIRS OF WEIGHTS OR FULL DUMBBELL SET FOR YOUR GYM
Get the most from your workout with these urethene commercial dumbbells. The metal dumbbells are an essential piece of workout equipment and are suitable to use in any commercial gym, fitness suite or studio. The dumbbell weights for sale are supplied pairs, in weights ranging from 2.5kg dumbbells to 50kg dumbbells. You can buy dumbbells in your desired weight or get the full dumbbell set, which is 1x pair of each weight, totalling to 20x pairs of the METIS free weight dumbbells. The dumbbells for sale have a solid steel core and boast a premium grade urethane coating, which is crack resistant and protects floors when the steel dumbbells are dropped. The pro-style dumbbells weights feature a hard chromed finish on the 6in handle, which provides longevity and resistance to rust. The 1.2mm Knurling on this dumbbell kit gives comfort and stability when holding the heavy dumbbells in a variety of exercises. This gym dumbbell set equipment is an excellent addition to your gym.
METIS Pro Dumbbells [2.5kg – 50kg] – Essential workout equipment for commercial gyms
Premium dumbbells supplied in pairs and available in weights ranging from 2.5kg – 50kg or a complete set
Best dumbbell set for businesses who offers services involving hand dumbbells
Dumbbell set manufactured from a solid steel core, premium grade urethane coating and hard chromed finish
Buy dumbbells online now in the weight of your choice
Net World Sports offers a wide range of Gym & Fitness equipment. For METIS Dumbbell Rack Sets [3 Tier], METIS Rubber Gym Flooring Mats and more, please see the essentials above.
Specifications
METIS Pro Dumbbells [2.5kg – 50kg] Specifications
WEIGHTS AVAILABLE:
2.5kg (5.5lbs) | 5kg (11lbs) | 7.5kg (16.5lbs) | 10kg (22lbs) | 12.5kg (27.5lbs) | 15kg (33lbs) | 17.5kg (38.5lbs) | 20kg (44lbs) | 22.5kg (50lbs) | 25kg (55lbs) | 27.5kg (61lbs) | 30kg (66lbs) | 32.5kg (72lbs) | 35kg (77lbs) | 37.5kg (83lbs) | 40kg (88lbs) | 42.5kg (94lbs) | 45kg (99lbs) | 47.5kg (105lbs) | 50kg (110lbs)
Complete Set: 1x pair of each weight, 20x pairs in total
DIMENSIONS:
Dumbbell Head Diameter: 128mm – 193mm | 5in – 7.6in
Dumbbell Handle Diameter: 32mm – 34mm | 1.26in – 1.34in
Handle Length: 152mm | 6in
Head Thickness: 28mm – 132mm | 1.1in – 5.2in
MATERIALS:
Solid steel core dumbbells with integral welding as single piece unit
Premium grade urethane coating for crack resistance, whilst also protecting floors when dropped
Hard chromed finish on the 6in handle provides longevity and a rust resistance
1.2mm (0.05in) Knurling gives comfort and stability when holding the dumbbells
MISCELLANEOUS:
Sold as pairs
Available in their individual pairs or in full size range (2.5kg – 50kg | 5.5lbs – 110lbs)
Weight tolerance +/-1%
Laser engraved METIS logo
Easy to wipe and maintain for hygiene
PLEASE NOTE: This product is non-returnable due to hygiene reasons; this does not affect your statutory rights