FORZA Jumbo Tri Training SuperCones [20 QTY]
FORZA Jumbo Tri Training SuperCones [20 QTY]

FORZA Jumbo Triangle SuperCones - Enhance Skills & Training Sessions
Pro Tri SuperCones Range
An excellent option for all levels of sports clubs, these pro training cones are available in 2x sizes: Jumbo & Mini - Ideal for creating the ultimate agility training set up. To buy the mini cones please click here.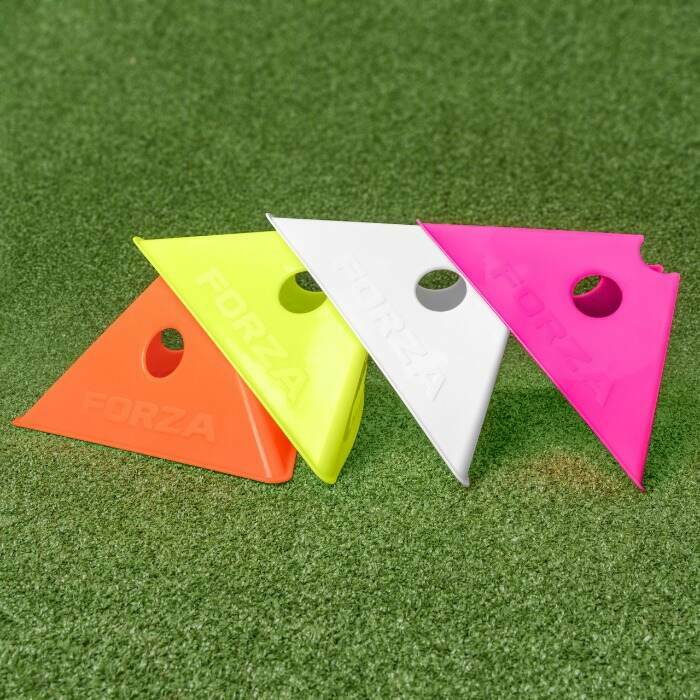 New Triangular Design
The newly designed FORZA training cones feature a unique triangular shape & are available in 4x Fluro colours including yellow, pink, white & orange – Ideal for sessions at night.
Simple To Transport
Supplied with a strong & durable carry bag which can comfortably fit the set of 20 cones which is ideal for storing when not in use & for transporting to the training ground.
Description
FORZA Large Triangular Training SuperCones – Excellent For All Sports Training Sessions
The newly designed football training cones are perfect for elite clubs & home use. The unique triangle design means the cones can be used with other training equipment like slalom poles & boundary poles to create a full training set up. Ideal option to improve players speed, agility & footwork, these cones have been expertly created using a strong plastic which can withstand all ball impact. The sports cones are available in 4x Fluro colours for excellent visibility even in low lights – Ideal for year-round training. The set of 20x cones are supplied with a carry bag for simple storage & portability.
FORZA Triangle Training SuperCones – Available in 4x Fluro colours for visibility all year round
Cones feature a 25cm (10in) base & are 12cm (5in) high to create clearer barriers in training
Large marker cones are ideal for coaches & elite clubs to easily set up agility training drills
Made using heavy duty polyethylene which can withstand all ball impact
Each set of 20 training cones come with a durable mesh carry bag for portability
Specifications
FORZA Jumbo Tri SuperCones Specifications
Dimensions:
Cone Size: 25cm L x 22cm W x 12cm H | 10in L x 8.5in W x 5in H
Cone Approx. weight: 84g | 3 oz.
Materials:
Cones are made from durable polyethylene
Miscellaneous:
Colours: White, Pink, Yellow & Orange
Sold as a pack of 20
Supplied with a carry bag