FORZA Large Training Cones [3x Sizes]
FORZA Large Training Cones [3x Sizes]
FORZA Training Marker Cones - Excellent For Agility & Speed Drills
Excellent For Training
These training marker cones are ideal for all sport practice sessions including for hockey, football & netball drills. They can also be used for marking out courts on all surfaces.
High-Visibility
Each of the cones are available in Fluro colours which means they are suitable in all weather conditions & in winter training sessions in low light. An excellent option for use all year round.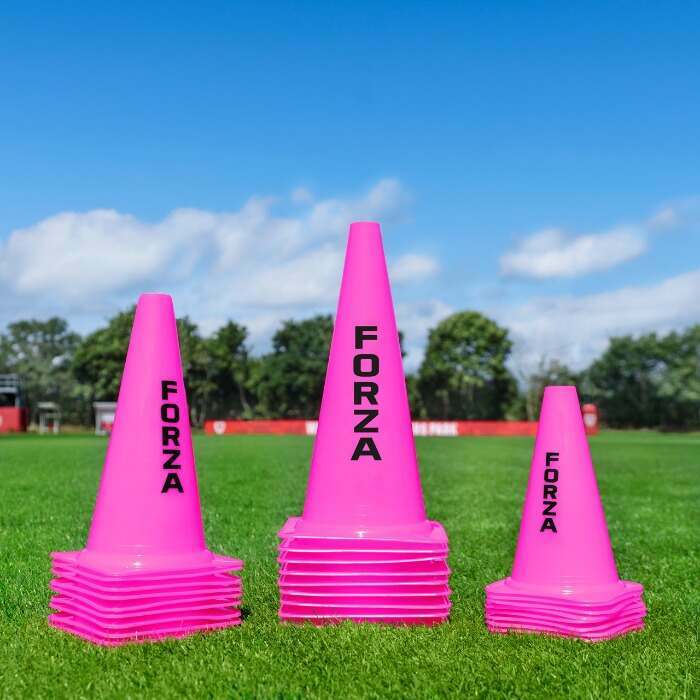 Available Options
Choose from 3x cone sizes including 9in, 12in, & 15in as well as 4x Fluro colour options including Orange, Pink, Yellow & White. Available in packs of 10 or a jumbo pack of 100.
Description
Highly Visible Marker Cones To Map Out Success For Your Sports Team
These highly visible training marker cones are the ideal for training sessions & can be used for a wide range of drills. Cones are available in either a pack of 10 or 100 & are available in 3 different sizes (9in, 12in and 15in). The cones are multifunctional meaning they are ideal for mapping out training sessions for a wide variety of sports. From dribbling drills for hockey, to court markings for tennis & volleyball matches, these cones are perfect for all sports. Made using tough & highly durable plastic which allows them to be used for training sessions in any weather condition. The fluro colour options also ensures that they are highly visible allowing clarity for all training drills.
FORZA Training Marker Cones - Available in 3x sizes: 9in, 12in & 15in
Marker cones can be used for a wide range of sports & activities
Ideal for training sessions, marking out courts & playing areas
Excellent option for clubs, schools & leisure centres
Choose from 4x Fluro colours: Orange, Pink, Yellow & White
Specifications
FORZA Training Marker Cones Specifications:
Available Options:
3x Sizes: 9in, 12in &15in
4x Colours: Fluro Orange, Fluro Yellow, Fluro Pink & White
Packs of 10 or packs of 100 available
Materials:
Miscellaneous:
Available for use with a variety of different sports for training purposes