FORZA Club Stadium Football Goal Package [UEFA Standard]
FORZA Club Stadium Football Goal Package [UEFA Standard]
UEFA STANDARD BOX GOAL PACKAGES WITH PREMIUM 5MM BRAIDED NETS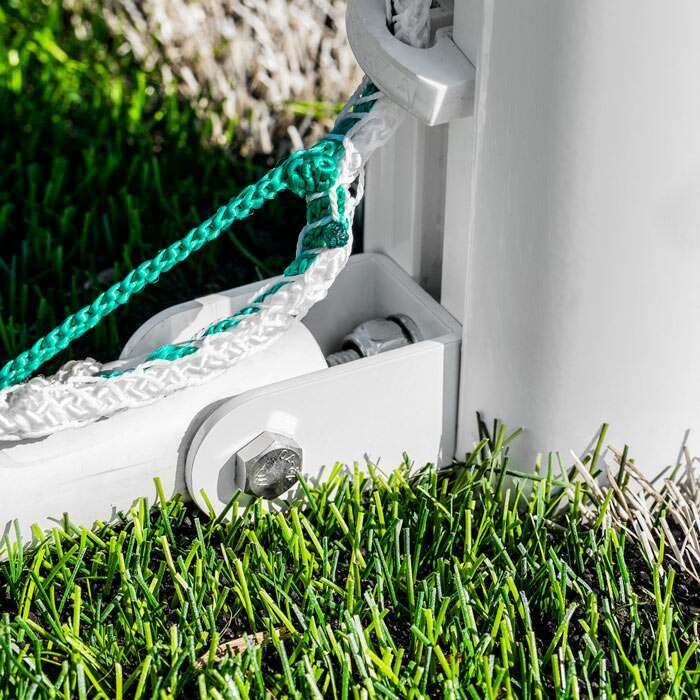 Hinged Bottom Bar
Stadium goal packages feature a hinged bottom bar that weighs the football net down but can also be lifted for pitch access during ground maintenance.
Free Hanging Goal Nets & Supports
These stadium goal packages include aluminium free hanging net supports supplied with a ratchet and strap system to keep the net taut.
UPGRADE TO UEFA SPEC GOAL
If you are looking to have a UEFA spec goal that has been installed at clubs such as Manchester United & Newcastle United, please click here.
Description
Upgrade Your Goals To Meet UEFA Regulations
Ensure you pitch is ready to host any European or international fixture of football with the Stadium Box Goal Package. This premium quality box football goal and net package has been installed at a number of prestigious stadiums and clubs throughout the world, including the Champions League and English Premier League venues. Featuring a full size 24ft x 8ft stadium box goal and 5mm braided goal net available in 10 colours, this football goal package is sure to meet your every need and requirement.
Package includes a full size 24 x 8 UEFA regulation football box goal
Comes with heavy-duty 5mm braided UEFA box net
Manufactured from 100mm x 110mm elliptical reinforced aluminium
Features white powder coating for ultimate weather resistance
Supplied with 457mm deep zinc plated steel ground sockets
Available individually or as a pair
Net available in 10 different colours
Manufactured from reinforced aluminium, these UEFA regulation goal posts are specifically designed to provide a strong and robust frame throughout the season. These aluminium posts are further reinforced by zinc plated steel ground sockets that allow the goal to be held in place with concrete. To match the strong nature of these goal posts, the aluminium frame is finished with a traditional white powder coat finish that provides ultimate scratch and weather resistance.
Each professional football goal comes with an ultra-durable 5mm braided UEFA box net. This net is supported by 80mm aluminium free hanging net supports that are finished with a sleek black powder coating for additional durability in any weather condition. These back stanchions are also supplied with ratchet and strap system in order provide tension to the box net. Also included is a 33mm galvanised steel hinged bottom net frame that ensure the box net remains grounded during use but can also be lifted up to provide access for ground maintenance.
This UEFA standard goal frame and net features a 6ft runback that ensures the ball is safely secured and guarantees that the ball will not rebound back into play. All stadium goals in this package are independently tested to BS EN 748 safety standards and comply with all FA & UEFA regulations.
Specifications
Club Stadium Football Goal Package Specifications
DIMENSIONS:
Football goals are full size 24ft x 8ft (7.3m x 2.4m) with a 6ft (1.8m) runback
MATERIALS:
Goal posts made from 100mm (3.9in) x 110mm (4.3in) elliptical reinforced aluminium, powder coated white for corrosion resistance
457mm (18in) deep zinc plated steel ground sockets
Each socket needs to be professionally set into minimum 0.6m x 0.6m x 0.6m (24in) of concrete into the ground (concrete not included)
33mm (1.3in) galvanised steel hinged bottom net frame weighs box net to the ground
80mm (3.1in) aluminium free hanging net supports are powder coated black
Each goal comes with a heavy duty 5mm braided UEFA box net
MISCELLANEOUS:
Goals are independently tested to BS EN 748 safety standards and comply to FA & UEFA regulations
Product will be delivered 'flat packed' and will require assembly
Recently Viewed
Tennis Net Singles Sticks [Aluminium]
HK$674.00
METIS Adjustable Dumbbell Set [20kg]
HK$674.00
Livestock Wind Stopper Screens [For Farm Buildings]
HK$799.00
2.4m x 1.5m FORZA Combi Rugby & Football Goal Posts
HK$1,349.00
3.7m x 1.8m FORZA Match Football Goal Post
HK$1,849.00