FORZA Solo Football Kick Trainer
FORZA Solo Football Kick Trainer
ALL ABILITY FRIENDLY BUNGEE FOOTBALL TRAINER
LIGHTWEIGHT WAISTBAND
The fully adjustable waistband allows the football training belt to be used for all ages, whilst allowing a secure yet lightweight fit.
SOLO WAY OF TRAINING
All equipment is included for an individual training session to practice on key football fundamentals with the football bungee solo trainer.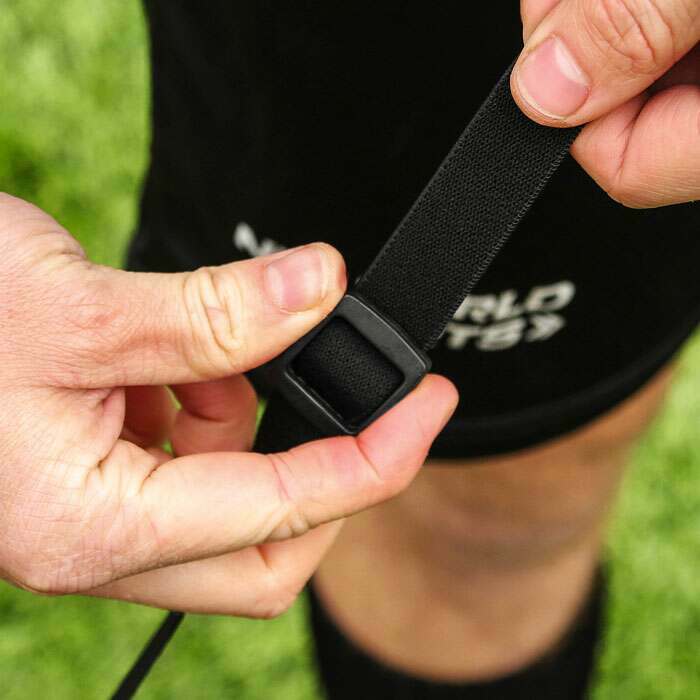 CONVENIANT ADJUSTED BALL TETHER
Manufactured with an adjustable ball tether, the football trainer allows a challenge building system for players of all abilities.
Description
HANDS-FREE WAIST FOOTBALL TRAINER
The tethered football trainer is ideal for players of all ages who are looking to improve their all-round game, with a hands-free hook and loop football on a string training aid that can be transported anywhere with ease. Engineered from hard-wearing neoprene, the football training belt is made with longevity in mind to withstand years of use. Designed with an adjustable ball tether for sizes 3 to 5, attached by a durable elastic string, the solo bungee trainer provides realistic game-like ball trajectories to help improve reactions and control. The adjustable waistband allows a unique training experience for beginners and pros, which then becomes more challenging the harder the ball tether is kicked.
Features an adjustable waistband that fits 20" (50cm) & 36" (90cm) waists
Neoprene ball holder securely fits size 3, 4 and 5 balls
The hands-free waist football trainer can travel up to 18ft (5.5m) away
Ball tether is adjustable for difficulty increase/decrease
Includes optional FORZA Size 4 Training Ball & Pump that ball™ ball pump
Net World Sports offers a wide range of football equipment For more, please brose the Football category above.
Specifications
FORZA SOLO FOOTBALL KICK TRAINER SPECIFICATIONS
DIMENSIONS:
Waistband is suitable to fit 20" (50cm) & 36" (90cm) waist size
Ball holder is suitable for size 3, 4 and 5 footballs
MATERIALS:
Neoprene adjustable waistband
Neoprene ball holder
MISCELLANEOUS:
Features a hook and loop fastening system
Ideal for all ages
Stretch distance of 18ft (5.5)
PLEASE NOTE: This product is non-returnable due to hygiene reasons, this does not affect your statutory rights.
You may also like
FORZA Pro Football Goal Target Sheets
HK$1,349.00
RapidFire Original Rebound Board
HK$2,159.00
Football Goal Target Sheets
HK$364.00