FORZA Pop-Up Golf Chipping Nets [Long Distance Targets]
FORZA Pop-Up Golf Chipping Nets [Long Distance Targets]

Pack Of 2 FORZA Pop Up Chipping Nets Available In Three Sizes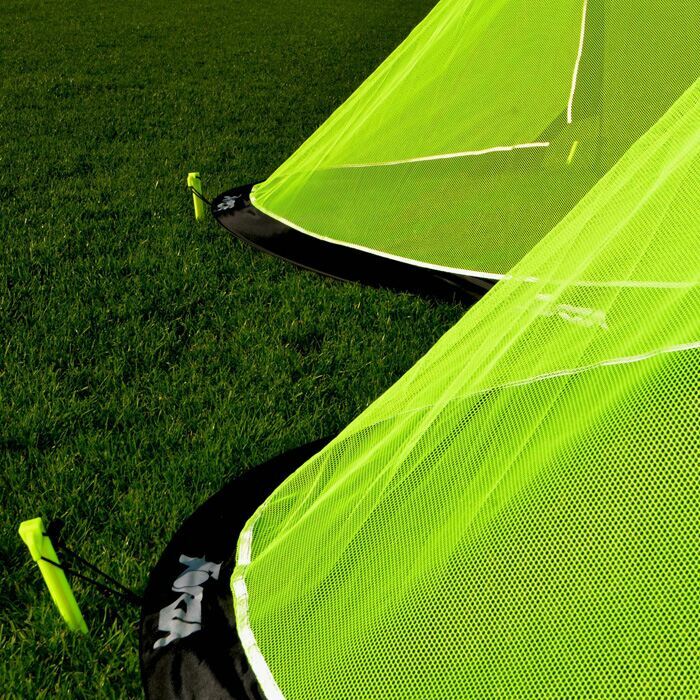 Deep Rooted Net Pegs
The net pegs are 20cm long to deeply root your driving range nets in place, stopping golf balls displacing your pop up golf targets.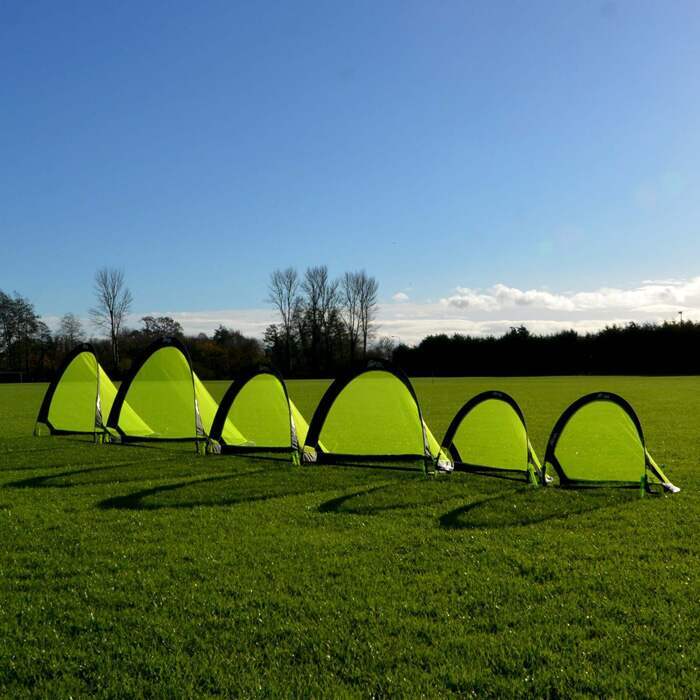 Choose Your Net Width
Select a golf net which is 0.8m, 1.2m or 1.8m wide to match your skill level, resulting in more worthwhile practice sessions at the driving range.
Reflective Strips
Reflective strips are placed on the top and inside of each of these driving range targets, allowing you to improve your accuracy during evening sessions.
Description
Pair Of High-Quality FORZA Driving Range Golf Nets For Long Distance Target Practice
Perfect your long game with this pair of easy to install FORZA Driving Range Golf Nets which have been designed to provide high-visibility targets from distance. Available in widths of 0.8m (2.5ft), 1.2m (4ft) or 1.8m (6ft), these driving range nets are manufactured from fluorescent yellow mesh which is surrounded by a bright reflective strip for increased visibility, even during low-light sessions.
Pair of FORZA Driving Range Golf Nets available in widths of 0.8m (2.5ft), 1.2m (4ft) or 1.8m (6ft)
The target nets half-moon shape ensures accurate balls remain within the net
Nets are made from ultra-durable fluorescent yellow mesh with reflective strip
20cm (8 inch) pegs anchor the driving range target nets in position
Practice golf nets fold away for storage and can be stored in the carry bag provided
Exceptionally easy to set up and put away, these driving range target nets utilise a pop-up frame which can be quickly folded for storage after use. This ultra-durable frame provides an impressive level of support to the driving range nets, allowing you to practice your technique from incredibly long distances without collapsing. Further increasing the stability of the FORZA Driving Range Golf Nets are 20cm (8 inch) plastic ground pegs. Position these plastic pegs on the corners of your driving range nets to ensure neither strong winds nor golf balls will cause your equipment to move.
Please Note: The FORZA Pop-Up Driving Range Nets are not designed to take the full force of a golf swing from close distance. Golf nets are for LONG DISTANCE/CHIPPING PRACTICE only.
Specifications
Size
Driving range golf target nets are available in three different widths: 0.8m, 1.2m and 1.8m
0.8m (W 76cm x H 51cm x D 51cm), 1.2m (W 121cm x H 81cm x D 81cm), 1.8m (W 182cm x H 106cm x D 106cm)
Net pegs are 20cm (8 inches) long
Materials
Fluorescent yellow mesh, with a reflective strip
Net pegs are plastic
Miscellaneous
Set of two driving range target nets
Great visibility during all weather conditions
To dismantle the goals simply bend them in half
Lightweight FORZA branded carry bag stores both goals
Six next pegs fasten the golf target goals in place
You may also like
FORB Professional Golf Driving Wall [3m x 2.5m]
HK$2,024.00
FORB Launch Pad Golf Practice Mat [60cm x 30cm]
HK$324.00
FORB Pro Driving Range Golf Practice Mat
HK$6,199.00
FORB Practice Golf Chipping Net
HK$179.00
22mm Golf Impact Ball Stop Netting [Standard Size]
HK$59.00
Recently Viewed
Rounders Sets [Bats, Balls, Poles, Bases & Carry Bag]
HK$524.00
FORTRESS Cricket Catching Mitt [Senior]
HK$309.00
Netball Bibs [Pack of 7]
HK$324.00
Tennis Ball Collector Mower
HK$6,199.00