1.5m x 1.2m FORZA Match Football Goal Post
1.5m x 1.2m FORZA Match Football Goal Post

1.5m x 1.2m FORZA Match Football Goal - The Best PVC Garden Goal For Kids
Versatile Football Goals
This 1.5m x 1.2m goal is the perfect size for under 7's tournament play as well as use as a garden goal and a smaller sized target goal for all age groups.
Essential Locking System
Every FORZA goal has an essential locking system which keeps the frame strong and secure, absorbing impact from the hardest of shots.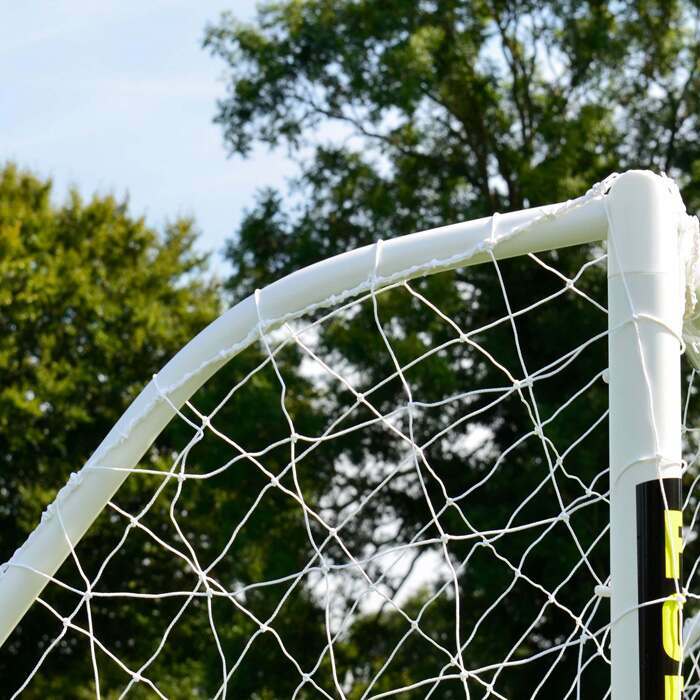 Quick And Easy Assembly
The FORZA Match goals are ready for action in minutes, and once they are built they can be left up on matchdays whatever the weather conditions.
Description
1.5m x 1.2m FORZA Match Football Goal – The Perfect First Garden Goal For Kids
Sized specifically for use as a starter goal for kids, this 1.5m x 1.2m PVC football goal is the most effective way of passing down the gift of the beautiful game to the next generation. Perfect for use as garden goal, the weatherproof football goal package is incredibly durable yet light to the touch, retaining a portable and freestanding design. The best introductory goal for home use, the 1.5m x 1.2m FORZA Match is guaranteed to be a smash hit with footy-mad kids.
1.5m x 1.2m FORZA Match Football Goal sized specifically as the perfect 1st garden goal for kids
The goal structure is kept rigid and secure by the one-of-a-kind essential locking system
Incredibly quick and easy to assemble, taking mere minutes to be completely set up
Weatherproof uPVC goal posts with a top runback mechanism for enhanced stability
2mm OD twisted HDPE goal which has been UV treated which net clips and anchor pegs included
Due to its weather-resistant properties, this is the best garden goal for kids who's boundless enthusiasm for the game requires an all-weather, year-round football goal. Similarly, as the goal conforms with FA Match regulations and BS EN safety standards, it can also perform as a small-sided junior matchday goal. Built to last, the long-lasting PVC goal could also be applied to training sessions as a target goal for all age groups. The versatile, multi-purpose goal is guaranteed to provide year-round football.
A unique feature of all FORZA garden goals is the essential locking system. This innovative system provides enhanced stability to the lightweight goal frame, locking them securely into position with the capacity to handle the effects of collisions with the ball without losing its shape or becoming damaged. For extra measures of steadiness, the PVC goal has an enhanced back profile with a top depth that ensures that the goal remains fixed in position all match long.
With a lightweight PVC design, the 1.5m x 1.2m Match goal is incredibly portable and can be lifted and carried by just one person. Assembly won't leave a sour taste as the quick and easy setting up process takes minutes, while the goal can be left in the garden all year round without the need for demounting. Lining up alongside the sturdy goal frame is a 2mm OD twisted HDPE goal net, which has been UV stabilised for all-weather performance. With net clips and anchor pegs included as standard, you'll be kicking off in no time with this top of the range 1.5m x 1.2m football goal.
PLEASE NOTE - The FORZA Match Football Goal range has sizes ranging from 1.5m x 1.2m to 3.7m x 1.8m. All other sizes of our PVC goals can be found here.
Specifications
Dimensions:
1.52m x 1.22m (5ft x 4ft)
Bottom depth - 0.90m
Material:
Made from uPVC with enhanced back profile
2mm UV stabilised HDPE net supplied with every goal
Football net has reinforced edges for long-lasting strength
Miscellaneous:
This football goal can stay outdoors all year round
Goal can be moved easily and taken down to be easily transported
Match goal comes with a 1 year warranty
You may also like
2.4m x 1.2m FORZA Match Football Goal Post
HK$1,064.00
3m x 2m FORZA Match Futsal Goal Post
HK$1,899.00
Freestanding STOP THAT BALL™ - Ball Stop Net & Posts [10ft High]
HK$1,099.00
2.4m x 1.8m FORZA Steel42 Football Goal
HK$1,754.00
1.8m x 1.2m FORZA Alu60 Football Goal
HK$2,699.00