FORZA Football Target Net & Ball Bag
FORZA Football Target Net & Ball Bag

ROBUST FOOTBALL GOAL TARGET PRACTICE NET & BAG
CONVENIENT 2-IN-1 SYSTEM
Manufactured with a unique 2in1 functionality, the target goal to be used for enhancing shooting practice whilst being convenient for ball transportability.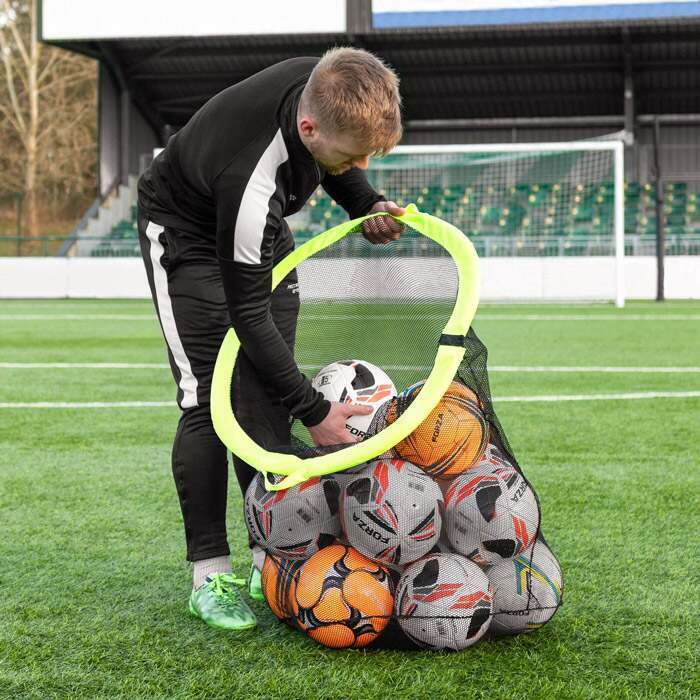 PREMIUM MESH NETTING
Designed with ultra-durable mesh netting, the football target practice & bag system can easily transport 10 footballs. As well as withstanding ball velocity of 70mph (112kph).
HOOK & LOOP FASTENING
The convenient hook & loop system allows ideal fastening against all official sized football goals, which has increased stability thanks to the stainless steel rim.
Description
FORZA Football Target Net & Ball Bag – Perfect For Solo Training, Clubs & Coaches
Innovative 2in1 design which can be used as a football ball bag to keep your sports equipment organised with the ability to transform into a top bin target net to practice your shooting accuracy. For target training these high-quality nets can easily be attached to any standard football goal frame, tree branch or high beam using the hook & loop strap to improve your shooting accuracy skills. Once training is over the target net can be used as a bag to hold up to 10 full sized balls – Ideal for keeping your sports equipment organised. The lightweight & portable design eases transportation & these football training aids are perfect for solo practice, coaches & sports clubs. Hard-wearing construction using durable polyester mesh with a stainless-steel rim & flexi-fabric hinge to withstand high velocity strikes.
FORZA 2IN1 Target Net & Ball Bag – Perfect for solo training, football clubs & coaches
Easy to attach to all standard sized football goals using the strong hook & loop fastening
Ideal to place in the top corner of any goal & can withstand all strikes up to 70mph (112kph)
Stainless steel weighted rim provides excellent stability when striking the ball into the target
Robust & durable netting designed to hold up to 10x full sized balls for easy transportation
At Net World Sports we have a wide range of FORZA Football Equipment. For Goals, Training Aids & more, please see the essentials above.
Specifications
FORZA Football Target Net & Ball Bag Specifications
Dimensions:
Bag/Target Size: 75cm L x 60cm W | 29.5in L x 23.5in W
Weight: 850g | 30 oz.
Materials:
Durable polyester mesh netting with flexi-fabric hinge
Stainless steel weighted rim
Strong hook & loop fastening
Miscellaneous:
Can withstand strikes of up to 70mph
Bag can hold up to 10x balls