FORZA Football Rebound Wall
FORZA Football Rebound Wall
FORZA Football Rebound Wall - Improve Passing & Shooting Skills
HIGH QUALITY FOOTBALL REBOUNDER
Use the football rebounder indoors and outdoors. It's freestanding steel frame makes it very durable and hard wearing to withstand impact from well struck balls.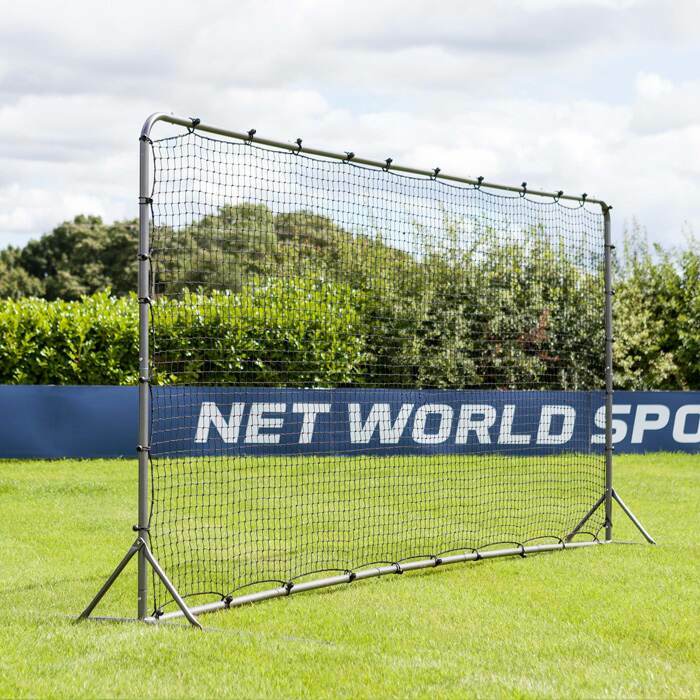 REALISTIC FOOTBALL REBOUND NET
The taut net reacts to how hard you strike the ball. This can affect the power and quality of the rebound making a great piece of training equipment to simulate match day passes.
MULTI-SKILL FOOTBALL TRAINING
Develop and improve a vast array of techniques and football drills with the rebound wall. You're not confined to one or two drills, make the most of the versatility the rebound wall provides.
Description
FORZA FOOTBALL REBOUND WALL – REBOUNDER FOR MULTI-SKILL TRAINING DRILLS
FORZA Football Rebound Wall is an excellent choice for working on a wide variety of football drills and techniques. Improve your first touch, passing, shooting and more. The spring-loaded net is designed to rebound realistic balls with unpredictable bounces to recreate scenarios from a match game. It's freestanding design allows the rebounder to be used on any flat surface. Perfect for your garden or on the training ground. Ideal for schools and sports clubs.
Dual-sided football training rebound wall
Manufactured with heavy duty galvanised steel
Football training equipment for multi-skilled drills
Choose between two sizes – 3.7m x 1.8m or 4.9m x 2.1m
Excellent choice for schools and football clubs
Specifications
FORZA FOOTBALL REBOUND WALL SPECIFICATIONS
DIMENSIONS
12ft x 6ft | 3.6m x 1.8m
16ft x 7ft | 4.9m x 2.1m
MATERIALS
2mm net with reinforced edges
Durable galvanised steel frame
MISCELLANEOUS
Can be used in your garden as well as the training ground
Highly sturdy, robust and designed for long lasting use
You may also like
FORZA Pop-Up Target Goals
HK$289.00
FORZA 1.8m Spring Loaded Slalom Training Poles [34mm]
HK$539.00
5m x 1.2m FORZA Alu60 Football Goal
HK$4,859.00