FORTRESS Trapezoid Baseball Batting Cage [Complete Package]
FORTRESS Trapezoid Baseball Batting Cage [Complete Package]
FORTRESS Trapezoid Baseball Batting Cage – A Must Have For Any Aspiring Baseball Star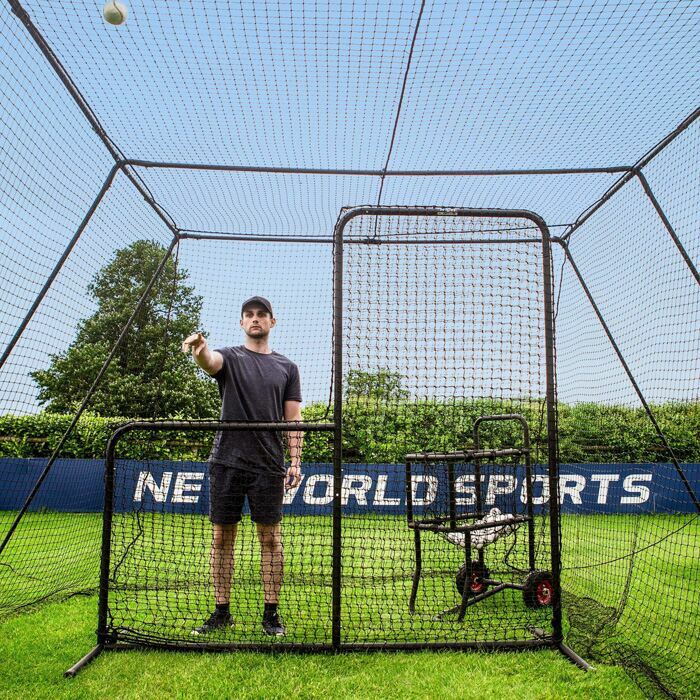 Freestanding Batting Cage
The trapezoid shape of our FORTRESS baseball batting cage breaks the mould. It is completely freestanding, so it can be used on any surface.
Durable Baseball Netting
The #42 weight, UV stabilised and 100% rot proof baseball netting features overlocked edges for ultimate durability against your hardest hits.
Galvanised Steel Frame
The frame of the FORTRESS Trapezoid Baseball Batting Cage is engineered from strong powder coated 32mm steel support poles and galvanised steel connectors.
Description
High-Quality Freestanding Baseball Batting Cage For Use On All Surfaces
The FORTRESS Trapezoid Baseball Batting Cage is manufactured using heavy-duty, galvanised steel and high-spec netting to withstand the most fearsome fastballs and the biggest hitters, so that you can swing for the fences every time.
The perfect size hitting tunnel for every garden or training field; 35ft (10.7m), 55ft (16.8m) and 70ft (21.3m).
Highly durable, weatherproof and rot proof #42 weight netting to absorb your hardest hits
Made from 32mm (1 1/4in) diameter steel tubing powder coated black to prevent corrosion
Innovative design means the only space you need for assembly is the size of the cage
The perfect baseball cage batting tunnel for use on grass as well as hard surfaces such as concrete – no pegs needed
Option for internally hanging netting or external netting to cover the whole cage
Ideal for baseball fanatics with limited garden space, the unique design of the FORTRESS Trapezoid Baseball Batting Cage makes it one of few cages that can be used on hard surfaces such as tarmac or concrete as well as grass. This also means it can be set up indoors or outdoors extremely easily, and with a choice of three cage lengths this batting cage suits any age, space and budget.
The high-density #42 weight netting used on all FORTRESS Trapezoid Baseball Batting Cages are resistant to stretching, direct sunlight of any intensity, and are rot proof. The close attention to detail and consideration for practicality paid in the design and manufacturing processes make this a baseball cage that will last for years in your garden or baseball field, so you can practice your hitting technique for seasons to come.
Net World Sports have a huge range of baseball training equipment to evolve your batting game from bush league beginner to Major League master! Equip your FORTRESS Trapezoid baseball batting cage with an L-screen, pitching machine and hitting tee for the ultimate home training arena.
Please note: We recommend that you take the cage netting down and store away during the off season and during periods of high winds.
Specifications
Sizes Available
35ft Long x 10ft Wide x 10ft Height (14ft wide at bottom)
55ft Long x 10ft Wide x 10ft Height (14ft wide at bottom)
70ft Long x 10ft Wide x 10ft Height (14ft wide at bottom)
Features
Four-way galvanised steel corner connectors and three-way end connectors included, both 40mm (1 1/2in) diameter.
32mm (1 1/4in) diameter steel tubing, powder coated to prevent rust
Black #42 weight netting grade with 45mm (1 3/4in) mesh
Netting is UV stabilised and 100% rot-proof as standard for maximum longevity
Edge of net trimmed with 6.35mm (1/4in) braided rope for extra strength
Miscellaneous
Suitable for use on all surfaces including grass, concrete and tarmac
Please note: We recommend taking the cage netting down during the off season and during periods of high winds
You may also like
FORTRESS Ultimate Baseball Batting Cage & Poles
HK$6,059.00