Vermont ProCourt Mini Foot-Tennis Training Net
Vermont ProCourt Mini Foot-Tennis Training Net
Enjoy Games Of Football Tennis or Foot-Volleyball at Home Or On The Go!
Convert Net Height In Seconds
Up the challenge in an instant with the simple removal/addition of a single post.
COMPLETE SET
The set comprises of posts, net, and carry bag for ultra-portability & unrivalled value for money.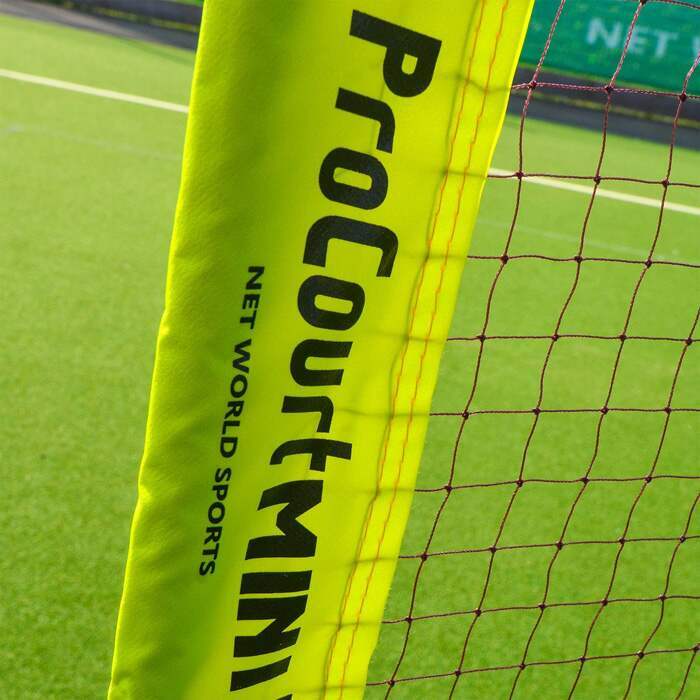 Super Light, Super Strong
Net frame & high-vis material break the rules. Tough as nails, yet remarkably lightweight.
Description
Football Tennis Net - A Fun Way To Train & Improve Your Game!
If you're looking for a enjoyable way to train the team and improve that crucial first touch, or whether you're looking for an easy way of keeping the kids entertained in the garden, the Football Tennis Net will more than suffice.
Mix it up in training sessions with the net and make it a challenge! It's perfect for improving several aspects of a player's aerial game such as heading, volleys, first touch control & skill moves.
A training method used by Premier League and International sides; it's a tried and tested piece of equipment ideal for players & teams of any skill level.
The net & post combo is easy to assemble, takedown, and store thanks to its super-lightweight material and handy carry bag which is able to store the entire contents of the package - easy to transport to and from training or on those fun family day's out.
An added bonus (and a more difficult challenge) is that the net height can be raised from 2.6ft to 5ft high by the simple addition of a few (included) posts for a session of Footvolley.
Suitable for both indoor and outdoor use.
Specifications
Sizes:
Net Lengths Available – 10ft (3m), 20ft (6m) & 30ft (9m)
Net Height (Volley) – 5ft (155cm)
Net Height (Tennis) – 2.6ft (80cm)
Contents:
Net (Choice of Size)
Posts
Carry Bag
Material:
Net Frame - Specialist Metal Tubing
Net Banding - High-Vis Fabric
You may also like
Football Goal Target Sheets
HK$279.00
Speed & Agility Training Ladder
HK$79.00
FORZA Pro Training Vests [5 - 15 Packs]
HK$99.00
FORZA Speed Training Hurdles [6 Pack]
HK$259.00
FORZA 1.8m Spring Loaded Slalom Training Poles [34mm]
HK$839.00
Recently Viewed
22mm Golf Impact Ball Stop Netting [Standard Size]
HK$44.00
FORB Portable Garden Golf Net - 7ft x 7ft
HK$799.00
Test Electronic Cricket Scoreboard
HK$72,239.00
Sports Netting 'S' Hooks [10 Pack]
HK$159.00
Paceman Bowling Machine 2018 [Original S2]
HK$2,799.00