Baseball Netting - Premium Quality [Standard Size]
Baseball Netting - Premium Quality [Standard Size]
Professional Baseball Netting With Top-Quality Twine Construction
Elite Construction
Our baseball netting is created using premium 2mm polyethylene twine with a knotted design, guaranteeing exceptional longevity. 100% weatherproof, it can left outside all year round.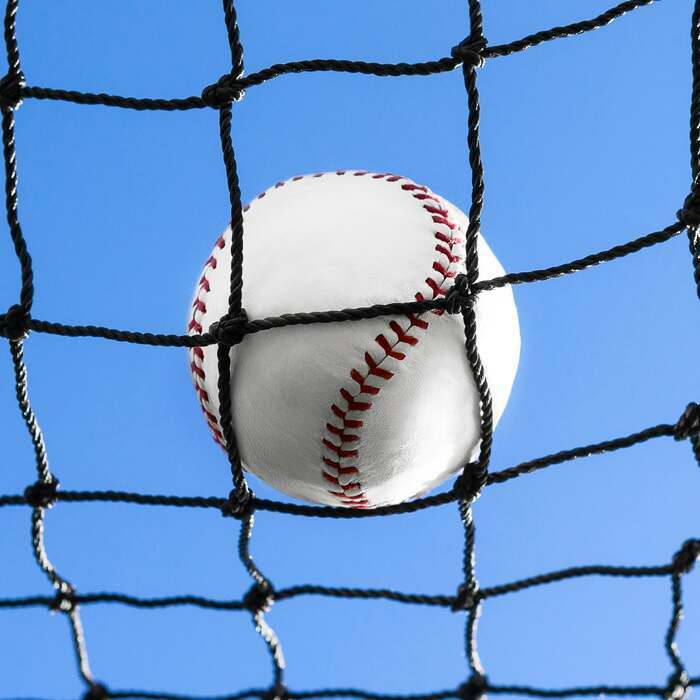 Excellent Protection
Perfect for protecting crowds on a matchday or windows in the back garden, this 48mm mesh netting with double overlocked edges is sure to stop every stray baseball fired its way.
Choose Your Length
The best thing about our baseball netting is the fact you can tailor it to your baseball set-up perfectly. With 9 different heights on offer, you can choose whatever length you want!
Description
Choose The Length Of Your Professional Baseball Surround Netting
This premium quality Baseball Netting is perfect for protecting crowds on a matchday and ensuring your baseballs don't stray too far on the training field. Manufactured using ultra heavy-duty materials, this netting will guarantee an exceptionally durable performance in all weather conditions, ensuring no balls will get through it. Available in 9 different heights, you can choose whatever length best suits your baseball set-up.
Professional Baseball Surround Netting for pitches & training fields
Created using ultra durable 2mm knotted polyethylene twine
48mm mesh ensures heavy baseball impacts are easily dealt with
Netting is weather-resistant & rot-proof (UV treated)
Black net features overlocked double-edges for additional strength & durability
Heights available: 1.2m, 2.1m, 2.7m, 3m, 3.7m, 4.3m, 6.1m, 7.6m & 15.2m
Custom lengths available
This baseball netting's outstandingly durable construction is what really sets it apart. The 2mm knotted polyethylene net features a 48mm mesh which allows it to easily cope with fiercely struck baseballs. The impressive black surround netting has also been UV stabilised to ensure its quality never falls foul to sun damage, allowing you to leave the rot-resistant HDPE outside all year round. For even greater strength and longevity, this professional netting also comes with innovative overlocking double-edges, ensuring no baseballs will ever get through.
PLEASE NOTE: Minimum order values & lengths will be displayed once you have entered your desired length into the 'Length' box above.
Specifications
Premium Baseball Netting Specifications
Materials:

Premium polyethylene twine
Overlocked double-edged netting ensures lasting quality
Knotted twine for extra strength

Measurements:

Polyethylene twine is 2mm
Square mesh is 1 7/8in (48mm)
Available in heights of 1.2m (4ft) | 2.1m (7ft) | 2.7m (9ft) | 3m (10ft) | 3.7m (12ft) | 4.3m (14ft) | 6.1m (20ft) | 7.6m (25ft) and 15.2m (50ft)

Miscellaneous:

UV treated and stabilised for long lasting quality
Colour: Black
90kgs (200lbs) twine breaking strength
Please Note: Minimum order values & lengths will be displayed once your desired custom length is entered into the 'Length' text box
You may also like
FORTRESS Ultimate Baseball Batting Cage & Poles
HK$6,059.00
Baseball Vinyl Net Saver With Target
HK$1,714.00
Baseball Outfield Screen
HK$799.00
Cable Ties for Sports Nets
HK$24.00