3m x 1.8m FORZA American Football/Football Combination Goal Posts
3m x 1.8m FORZA American Football/Football Combination Goal Posts
Premium Quality FORZA Garden Goal For Multi-Sport Use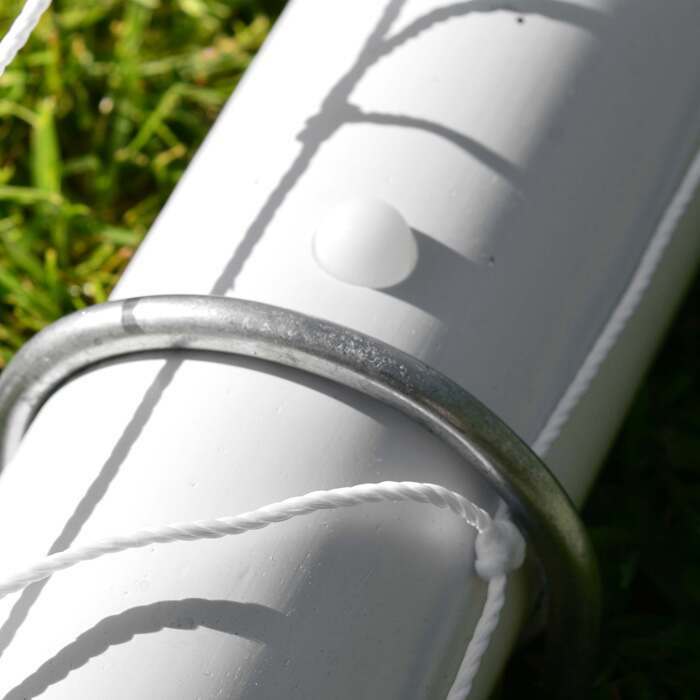 FORZA Exclusive Locking System
The unique essential locking system secures the goal parts together to keep the back garden entertainment safe during goal mouth scrambles.
Versatile Goal Posts
Whether you're aspiring to be Cam Newton or Lionel Messi, the 10ft x 6ft FORZA goal is suitable for both American football and football use for hours of fun.
Added Accessories for Easy Installation
The 3.0m x 1.8m FORZA combination goal comes with net clips and anchor pegs included to make installation as easy as possible to give you more play time.
Description
3m x 1.8m FORZA American Football And Football Goal Post – Premium Multi-Use Garden Goal
The best combination garden goal for the player striving to improve. The FORZA combination goal post features a weatherproofed uPVC that ensures the goal is lightweight and durable. Designed to include the FORZA essential locking system, these dual-purpose goal posts are robust and easy to assemble.
Goal Frame manufactured from durable uPVC that is weatherproof
Features FORZA essential locking system for quick and easy assembly
3mm HDPE goal net that is resistant to rotting and wear
Goal includes net accessories such as net clips & ground anchor pegs
Goal mouth measures 3m x 1.8m (10ft x 6ft) in size
Specifically designed with durability in mind, these garden goal posts feature a weatherproofed uPVC frame that ensures quality and performance in the harshest of weather. To match the durable frame, this combination goal includes a 3mm thick, 50mm knotless mesh that is rot proof and is resistant to wear and tear. Despite the robustness of the frame and net, this American football and football goal post maintains its portability due to the lightweight nature of the uPVC material.
Created for American football and football use, this combination goal features extendable uprights atop of the crossbar. These uprights measure 2.5m (8.2ft) in height and are as hard wearing and durable as the combination goal post frame. The garden goal posts are held into place with the FORZA essential locking system to ensure quick and easy assembly that will have you playing in minutes.
Specifications
Dimensions
Size: 3.0m x 1.8m | 10ft x 6ft
Upright Size: 2.50m | 8.23ft

Materials
Manufactured from a strong uPVC
Goal net made from 2mm braided HDPP, 120mm knotless mesh netting
Miscellaneous
Net clips and anchor pegs are included
Designed for all ages
Unique FORZA essential locking system ensures all components of the goal slot securely together
You may also like
2.44m x 1.54m FORZA American Football/Football Combination Goal Posts
HK$1,349.00
2.4m x 1.5m FORZA Steel42 American Football/Football Combination Goal Posts
HK$2,299.00
3m x 1.8m FORZA Steel42 American Football/Football Combination Goal Posts
HK$2,914.00
4.6m x 2.1m FORZA Steel42 American Football/Football Combination Goal Posts
HK$3,899.00
3.7m x 1.8m FORZA American Football/Football Combination Goal Posts
HK$2,024.00