Vermont Pro Tennis Overgrips [3 Pack]
Vermont Pro Tennis Overgrips [3 Pack]
PROFESSIONAL TENNIS OVERGRIPS FOR HIGH PERFORMANCE ACTION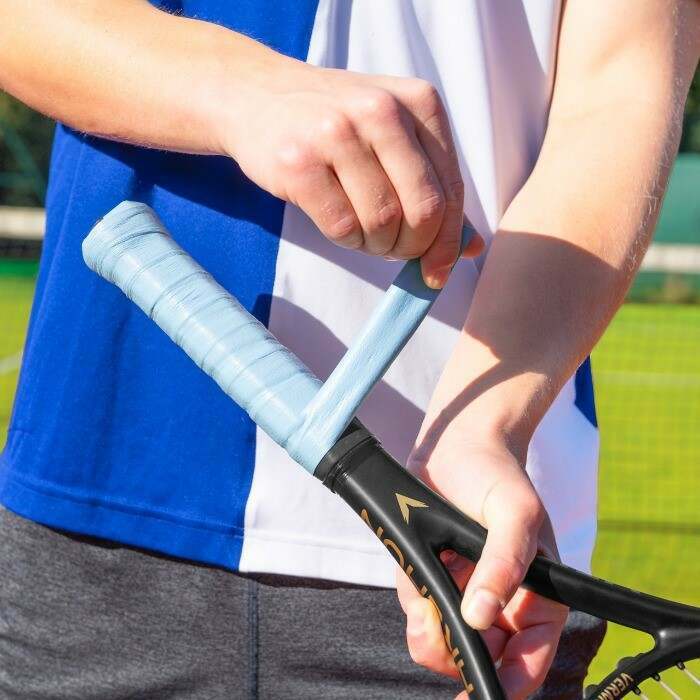 UNPARALLELED GRIP
The unparalleled grip & extreme tackiness ensures your racket stays secure in your hand, giving you unwavering control even during intense rallies.
SUPERIOR HANDLING
Designed for superior handling, our overgrips offer non-slip control & an ergonomic design that enhances your gameplay.
EXCEPTIONAL MOISTURE MANAGEMENT
The grips swiftly wick away moisture, ensuring a reliable hold. Focus on your game & let our overgrips take care of the grip.
Description
PLAY WITH FINESSE & DOMINATE THE COURT WITH OUR UNRIVALLED TENNIS OVERGRIPS
Say goodbye to slipping and hello to a consistent grip that elevates your performance with the Vermont Pro Tennis Overgrips. Manufactured using premium quality polyurethane, the textured overgrips provide a firm and reliable grip for superior control during gameplay. Apply the grip quickly and easily by simply wrapping it over your racket handle, to create optimum thickness for your ideal personalised grip.The unparalleled grip and extreme tackiness ensures a secure hold of your racket, providing you with complete control even during intense rallies. Stay confident on the court with the overgrips' exceptional moisture management. The highly absorbent and ultra-durable material keeps hands dry and comfortable, ensuring improved control and handling even in wet weather conditions. Designed to provide unmatched levels of comfort match after match, the grips fit the hand perfectly allowing you to fully focus on the game without discomfort. The premium grade overgrips are not only suited to tennis rackets, but can also be applied to badminton, padel, pickleball and squash rackets too, making them the ideal accessory for multiple sports. Available in a variety of colours – White, Black, Pink, Blue, Mint, Orange, Lilac and Yellow – the versatile options allow players to match the coloured overgrips to their personal preferences and style.
Vermont Pro Tennis Overgrips – Effectively reduces the risk of slipping mishaps on the tennis court
Manufactured using ultra-absorbent polyurethane, the overgrips keep hands dry & comfortable during play
Ergonomically designed to fit the hand perfectly, delivering unmatched comfort for extended playing sessions
Quick & easy application, allowing the tennis overgrips to be ready for action in no time
Available in White, Black, Pink, Blue, Mint, Orange, Lilac & Yellow
For detailed instructions on how to apply, please click here.

Specifications
VERMONT PRO TENNIS OVERGRIPS SPECIFICATIONS
DIMENSIONS:
1200mm x 25mm │47.2in x 1in (L x W)
Thickness: 0.6mm │0.02in
Weight: 6.5g │0.01lb
MATERIALS:
MISCELLANEOUS:
Available in White, Black, Pink, Blue, Mint, Orange, Lilac & Yellow
The durable polyurethane provides a cushioned feel for enhanced comfort during gameplay
The unparalleled grip and extreme tackiness ensures the grip stays securely in place on the tennis racket
The Vermont Pro Tennis Overgrips can easily be applied to all types of rackets or paddles for immediate use
Instructions on how to apply the overgrips are provided with each order
Suitable for tennis, badminton, padel, pickleball and squash rackets
Supplied in packs of 3