RapidFire Mega X GAA Gaelic Football And Hurling Rebounder
RapidFire Mega X GAA Gaelic Football And Hurling Rebounder
Adjustable Gaelic Football And Hurling Rebounder For Skill Training Sessions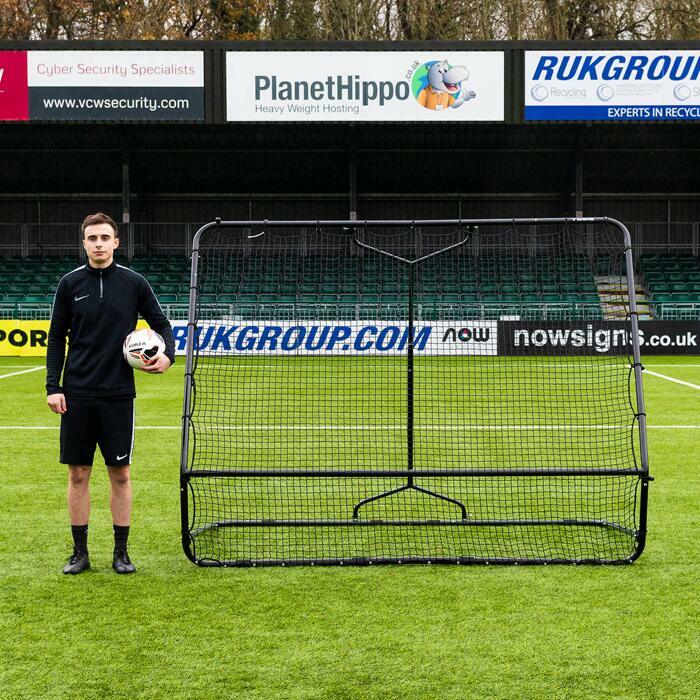 Two GAA Rebounder Sizes
This top of the range training rebounder comes in two sizes, allowing all ages to receive the same high quality. Choose between a small or large GAA rebound net.
High And Low Ball Delivery
Designed with dual-angle rebound areas, the Gaelic and hurling rebounder features an adjustable angle, allowing you to tailor your training sessions.
Premium All-Weather Design
Ideal for year-round outdoor storage, the rebounder comprises of a 38mm galvanised and powder coated steel frame and a polyethylene net.
Description
RapidFire Mega X Gaelic Football And Hurling Rebounder – Premium GAA Rebound Net
Develop your catching and throwing technique and gain razor-sharp hand-eye coordination with the RapidFire Mega X Gaelic Football And Hurling Rebounder. Suitable for use by clubs and players of all standards, the GAA rebounder is perfect for working on a variety of skills, offering a dual-angle functionality which provides both high and low ball deliveries, tailored to your specific Gaelic or hurling training drill.
Dual-angle Gaelic rebounder with adjustable angles for varying ball delivery trajectories
Two rebounder net sizes available – Small (1.5m x 1.8m) and Large (2.1m x 2.4m)
Manufactured from heavy-duty 3mm OD galvanised steel with rubber anti-slip feet
2mm knotless polyethylene rebound net with 28mm mesh and cutting-edge net saving technology
Easy to assemble GAA rebound net with snap button joints included
Suitable for both Gaelic football and hurling training, the versatile rebound wall doesn't require any tools for assembly having been built with cutting edge snap button joints which connect the components together. This feature enhances the durability of the structure, allowing the GAA Gaelic bounce back rebounder to handle collisions with the balls without losing its stability or shape.
The dual-angle Gaelic football and hurling rebounders feature an extremely responsive 2mm knotless polyethylene rebound net with a mesh size of 28mm for improved strength and durability. Bungee net cords are included to securely tie the net to the rebounder frame, allowing you to customise how firm and taut the net is. The harder the ball strikes the Gaelic games rebounder the heavier the bounce will be.
Fully weatherproof and scratch-resistant, the Gaelic football and hurling rebounding wall has been manufactured from 38mm OD galvanised steel for optimal strength. Featuring anti-slip rubber feet and a freestanding design, the rebounder net is suitable for use on all surfaces, with the capability to be left fully assembled outdoors without risking rusting or corroding. A premium investment for any GAA training set-up, this is the best Gaelic football and hurling rebounder on the market.
There are two sizes of Gaelic football rebound net available, providing high quality training equipment to GAA players of all ages. The small and large Gaelic football and hurling rebounders are both fully adjustable, allowing for customisable ball delivery trajectories to suit a variety of GAA training drills. Providing high and low rebounds, this versatile training rebound board for Gaelic games is a sure-fire way to improve your results on the field.
Specifications
RapidFire Mega X Gaelic Football And Hurling Rebounder Specifications
Size Options
Small - 1.5m x 1.8m (5ft x 6ft)
Large - 2.1m x 2.4m (7ft x 8ft)
Materials
Rebounder Frame - 1mm thick 38mm OD galvanised steel powder coated black
Rebound Net - Made from 2mm knotless polyethylene with a 28mm mesh
Miscellaneous
Rebounder angle is fully adjustable
Weatherproof and freestanding
Features revolutionary net saving technology
Anti-slip rubber feet on the frame
Snap button assembly joints for quick assembly
Dual-angle rebounder with and low rebound sections
Bungee ties included
It is recommended that the rebounder is assembled by 2 people
You may also like
GAA Gaelic Football & Hurling Mega Rebounder Net (2.7m x 2.2m)
HK$2,024.00
GAA Gaelic Football & Hurling Rebounder Net
HK$2,699.00