Post & Bases for Plastic Chain Barriers [4x Colours]
Post & Bases for Plastic Chain Barriers [4x Colours]
SUPPORT POSTS FOR PLASTIC CHAIN BARRIER SYSTEMS
ULTRA-DURABLE
Plastic Chain Barrier Posts are manufactured from high-quality & heavy-duty PVC with a diameter of 50mm & thickness of 2mm. Maximum strength & durability for ultimate long-lasting use.
POST OPTIONS
Choose from a freestanding post with a base or a ground spike post, the versatile equipment can be used in various settings indoors & outdoors, including sports grounds, warehouses, poolside, & much more.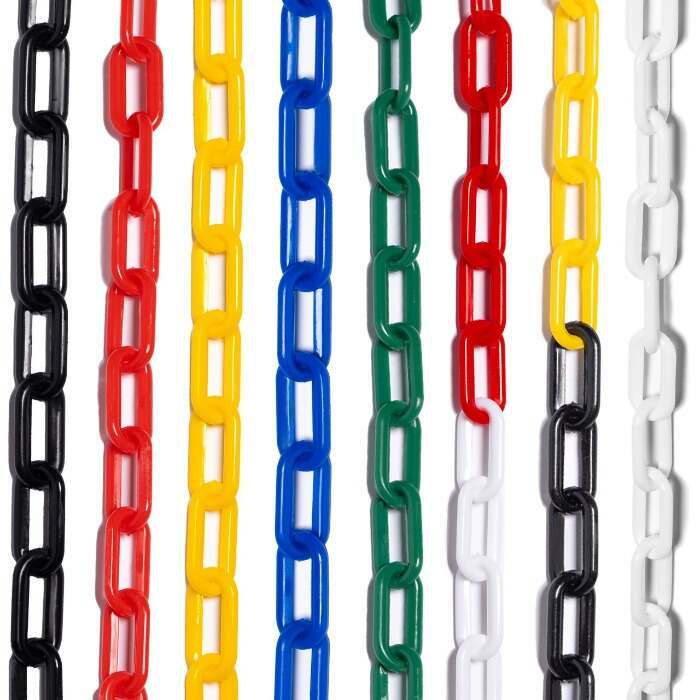 FULL RANGE
Set up a fully functional chain barrier system with our wide range of durable & colour matching plastic chains & plastic chain connectors. Match your chain with your posts for a custom system.

Description
Heavy-duty crowd barrier posts with bases for chain barrier systems
Complete your chain barrier system with these ultra-durable posts & bases. Featuring a freestanding post & base or a ground spike base which can be inserted directly into softer grounds making both suitable for use on any surface. Each post has a premium top cap with two connecting hooks to attach your plastic chain in your chosen direction ensuring your system is secure & set up correctly. Available in 4 different colours, these posts have been designed to colour match your chains & connectors for a complete matching chain barrier system. If you choose the freestanding option, insert the post into the base, & it will be ready to use. If you opt for the premium & durable 8mm ground spikes, please make sure to insert it directly into the ground & avoid placing it at an angle. Bases are pre-weighted therefore do not require any water/sand to assemble. Ideal for establishing boundaries in hazardous zones, guiding & managing large groups of people, or to mark out crowd areas. When paired with our chains, they instantly form a versatile barrier system.
Plastic Chain Barrier Posts & Bases – Manufactured from durable PVC
Freestanding post with base for maximum versatility & use on all hard surfaces
Ground Spike post inserts directly into softer grounds - Ideal for grass pitches
Posts measure 50mm in diameter & 2mm in thickness for maximum durability
Available in 4 different colours, to colour match our range of chains & connectors
Establish boundaries in hazardous zones, guiding & managing large groups of people
Specifications
PLASTIC CHAIN BARRIER POSTS & BASE SPECIFICATIONS
DIMENSIONS
Post Length: 92cm
Post Diameter: 50mm
Post Thickness: 2mm
Spike Length: 12cm
MATERIALS
Posts are made from heavy-duty PVC
Pre-weighted bases constructed from durable rubber
MISCELLANEOUS
Avoid placing spike into the ground on an angle
Colours: Red & White, Black & Yellow, Black, or White
Freestanding posts include pre-weighted base for use on all hard surfaces
Ground Spike posts insert directly into soft grounds for a quick & easy set up
Base included with Freestanding posts only
Posts sold individually not in packs
Recently Viewed
FORZA Replacement Hockey Goal Nets
HK$1,619.00
VICI Skateboard/Scooter Helmets
HK$399.00
Replacement Nets For FORZA PVC Goals
HK$189.00
5m x 2m FORZA Alu60 Football Goal
HK$6,074.00
Tag Rugby Belts [10x Belts & 20x Tags]
HK$399.00