Skip & Pallet Nets - Wide Range Of Sizes [Heavy Duty]
Skip & Pallet Nets - Wide Range Of Sizes [Heavy Duty]
Heavy-Duty Skip And Pallet Netting Manufactured From 2mm HDPE Twine
Suitable For Outdoor Use
This reusable pallet netting has been UV stabilised. This high-quality finish ensures your netting will not become corroded after prolonged exposure to intense sunlight, allowing you to use this net outdoors year-round.
48mm Mesh Squares
Manufactured from 2mm HDPE twine with 48mm mesh squares, you can rely on this high-quality pallet netting to prevent even the smallest of cargo from becoming unstuck while in transit when this net is in use.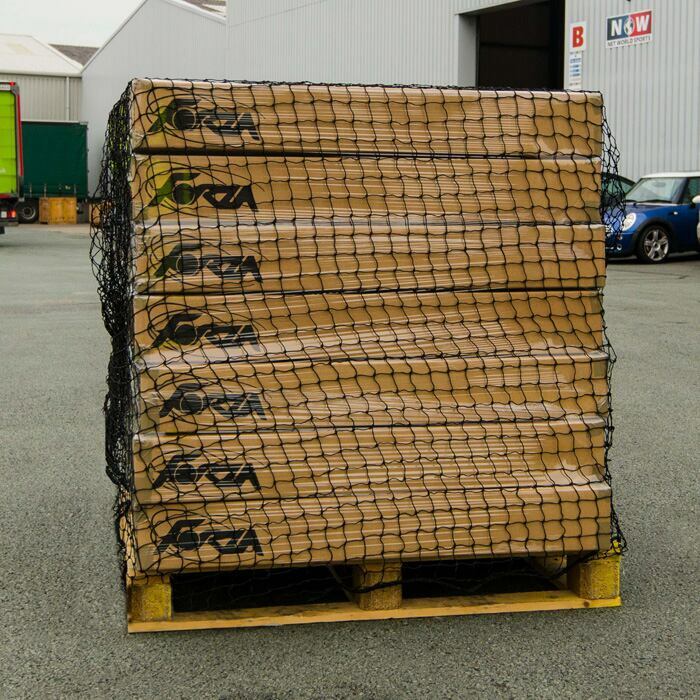 Choose Your Size
Available in sizes ranging between 1.5m x 1.5m and 4.3m x 4.3m, you can select a reusable skip net which matches the exact specifications of your pallet, ensuring your cargo will remain safe and secure throughout transportation.
Description
Heavy-Duty Skip Nets Manufactured From 2mm HDPE Twine
This heavy-duty industrial netting is specifically designed to keep cargo in position while your pallet or skip is in transit. Available in sizes ranging from 1.5m x 1.5m (5ft x 5ft) to 4.3m x 4.3m (14ft x 14ft), this reusable pallet netting is manufactured from 2mm thick HDPE twine which features a 48mm mesh. This ultra-durable material works alongside the nettings fully-edged borders to ensure it will not rip or tear while attached to your heavy pallets.
Pallet nets are fabricated from 2mm thick HDPE Twine
48mm mesh squares prevent cargo from slipping out of this pallet netting
UV stabilised for outdoor use
Reusable skip nets are fully-edged for increased strength
Sizes range from 1.5m x 1.5m (5ft x 5ft) to 4.3m x 4.3m (14ft x 14ft)
Features a twine break strength of approximately 130kg (287lbs)
Suitable for both indoor and outdoor storage, this cargo netting has been UV stabilised. This premium finish guarantees extended exposure to strong sunlight will not cause this reusable container netting to rot, in turn providing great year-round performance.
Net World Sports stocks a wide range of equipment which is specifically designed to increase the level of safety within your warehouse including, Rack Netting Brackets, Rack Netting [Ultra Heavy-Duty] and Industrial Post Protectors (Any Size And Colour).
Specifications
Dimensions
Available in five sizes 1.5m x 1.5m (5ft x 5ft) and 4.3m x 4.3m (14ft x 14ft)
Material
2mm thick HDPE twine with 48mm mesh squares
Miscellaneous
Netting is UV stabilised for outdoor use
Top and bottom of the pallet netting is fully-edged
You may also like
Rack Netting [Ultra Heavy-Duty]
HK$469.00
Hi-Vis Vest/Waistcoat [Class 2]
HK$59.00
Industrial Post Protectors (Any Size & Colour)
HK$1,399.00
Rack Netting [Standard]
HK$24.00