Harrier Walk-In Fruit & Veg Garden Cage
Harrier Walk-In Fruit & Veg Garden Cage

Harrier Fruit Cages – Highest Quality Garden Cages On The Market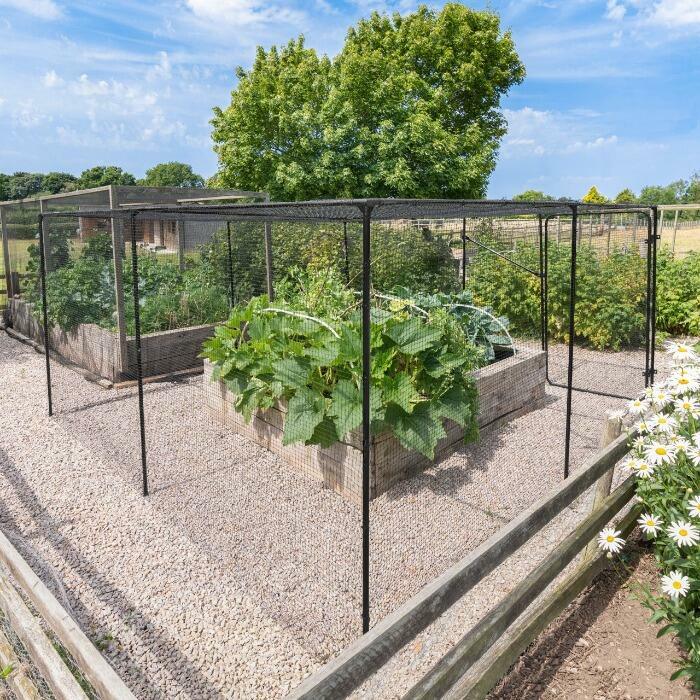 MODULAR DESIGN
The innovative modular design allows you to create any size fruit cage to suit your garden set-up. The 2m x 2m modules can be easily extended using our simple to use extender kits, found here.
.
STABLE SPIKED BASE
Unique to other fruit cages, the premium Harrier version features steel spiked bases which are designed to go deep into the ground & feature a steel base plate for increased stability.
ADD MULTIPLE DOORS
The high-quality door kits allow you to add 1 or multiple doors to wherever you like on your fruit & veg cage. The braced design prevents sagging & the doors feature a locking latch for security.
Description
Harrier Walk-In Fruit & Vegetable Cage – Strongest & Sturdiest Garden Cage Available
Perfect for those wanting to grow fruit & vegetables at home, the Harrier Fruit Cage is the most innovative & professional fruit cage on the market today. Available in 2m x 2m sections, the garden cage's inventive modular design allows you to create any sized vegetable cage to suit your set-up. Easy to assemble (requiring minimal tools), the uprights need to be simply pushed into the ground (using spiked bases) & the cage poles easily slot together using the button & locking connector system – the most advanced connector technology available today. The heavy-duty, weather-resistant steel fruit cage frame combines with the industrial-strength HDPE bird netting for unrivalled durability – will last 10+ years if looked after properly. Optional door kits can be placed anywhere on the cage & feature braces & a locking door catch to prevent sagging & to increase security.
THE FRAME: Engineered from premium-grade 1.6mm thick steel, the frame features a black powder-coating for complete resistance to rust & corrosion – suited to year-round use. Spiked poles feature base plates for supreme strength & stability in all conditions.
THE NETTING: Quick & easy to install, the 20mm HDPE bird netting (1.2mm thick) features a knotted HDPE construction & is UV treated – 100% resistant to rot & sun damage. During snowy conditions we recommend using a higher mesh size, these can be found here.
THE CAGE DOOR: Unlike competitors, our cage allows for multiple doors & allows you to place your door wherever you like. The braced construction prevents sagging whilst the locking door catch keeps it secure during windy conditions. Wide enough to fit a wheelbarrow too.
THE MODULAR DESIGN: Sold in 2m x 2m sections, this fruit cage can be extended to any size depending on your garden dimensions. By using our fruit cage kits, the innovative design also allows for an L-shape cage to be created. Easy to install with minimal tools required.
PLEASE NOTE: If you require the use of a ladder for installation, always get someone to hold the base of the ladder whilst you are at the top. For more safety information, please click here.
Specifications
Harrier Walk In Fruit & Veg Garden Cage Specifications
Sizes Available:
2m x 2m | 6.5ft x 6.5ft
2m x 4m | 6.5ft x 13ft
2m x 6m | 6.5ft x 20ft
2m x 8m | 6.5ft x 26ft
4m x 4m | 13ft x 13ft
4m x 6m | 13ft x 20ft
4m x 8m | 13ft x 26ft
6m x 6m | 20ft x 20ft
6m x 8m | 20ft x 26ft
8m x 8m | 26ft x 26ft
Standard Cage Size (1x Module): 2m W x 2m L x 2m H | 6.5ft W x 6.5ft L x 6.5ft H
Materials:
Frame: Heavy-duty 25mm OD steel (1.6mm thick) – Increased strength
Frame features a galvanised satin black powder-coating – 100% resistant to rust & corrosion
Uprights: Spiked base with base plates attached for increased strength & stability
Corner Connectors: Welded steel triangular support plates with spring buttons to lock in posts - increases frame strength & stability
Netting: 1.2mm knotted HDPE bird netting (20mm mesh)
Netting is UV treated for protection against sun damage & 100% rot-proof
Miscellaneous:
Modular design allows for fruit cage to extended to any size
Fruit cage can be changed into L-Shape design when used with our extender kits (sold separately)
FRUIT CAGE DOOR: Can be added anywhere on your cage & is wide enough to fit a wheelbarrow through
SPRING BUTTONS - allow for easy assembly
Cable Ties included for easy net hanging
Ground pegs included to secure fruit netting to the ground
Netting is supplied as fully edged net panels for the sides & roof – you will receive multiple panels
We recommend removing your roof netting or replacing it with a larger mesh during the winter months