FORZA Pop-Up Cricket Fielding Nets [Pair]
FORZA Pop-Up Cricket Fielding Nets [Pair]

Pair Of High-Quality Pop-Up Cricket Nets For Fielding Drills
QUICK ASSEMBLY
Get the fielding drills underway instantly thanks to the net's pop-up design. Simply remove the net from the carry bag & you're good to go. It's just as quick to take it down when you're finished too.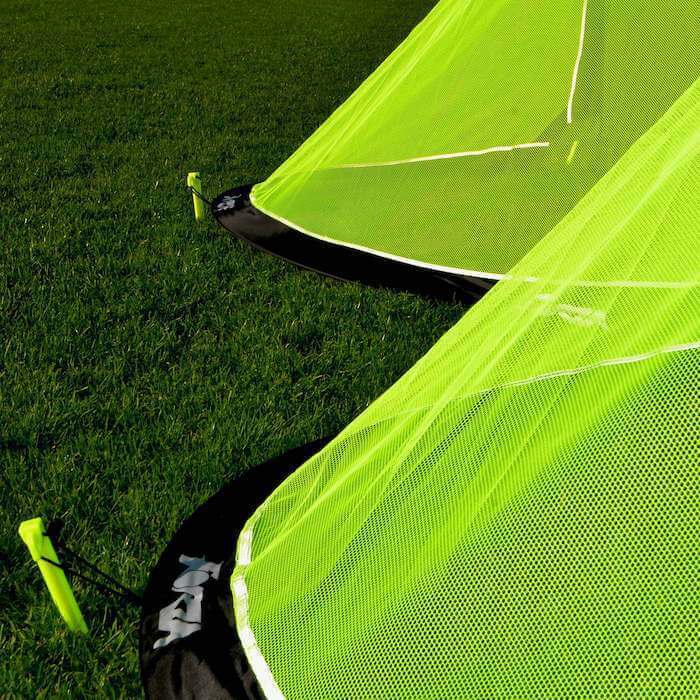 ANY SURFACE
An excellent choice for all surfaces – indoors, outdoors, hard or grassy surfaces, the FORZA Pop-Up Cricket Fielding Nets come with 8in plastic ground pegs included for maximum stability on soft surfaces.
LIGHTWEIGHT & PORTABLE
Manufactured using high-quality materials, these pop-up cricket nets combine supreme durability with excellent portability. The lightweight fielding nets can be stored & transported using the included carry bag.
Description
Keep Stray Cricket Balls Close With These Pop-Up Fielding Nets
An excellent choice for cricket fielding drills, these FORZA Flash Pop-Up Cricket Nets are ideal for keeping stray cricket balls close by. Brimming with professional quality, these lightweight cricket nets are 100% portable and can be assembled in seconds thanks to their innovative 'pop-up' design. Sold as a pair, these goals also feature high-quality ground pegs (for soft grassy surfaces) and a heavy-duty carry bag for simple storage & portability.
FORZA Pop-Up Cricket Nets – Ideal For Cricket Fielding Drills
Lightweight Cricket Nets are 100% portable & offer simple storage
Innovative 'Pop-Up' design allows nets to be assembled in seconds
Cricket nets are 1.8m wide – perfect for placing behind training stumps
Ultra-high-visibility Fluro Yellow design allows for day & night use
Nets come with 8in ground pegs & heavy duty carry bag included
Exclusively created using high-quality materials, these pop-up cricket nets guarantee world-class durability. The premium mesh targets feature a reflective strip around the edge, which combines with the Fluro Yellow netting for exceptional visibility in day and night conditions. Ideal for placing behind training cricket stumps during fielding practice, the cricket nets can be easily packed away by collapsing them in on themselves ready to slot into the heavy-duty carry bag.
PLEASE NOTE: Net World Sports boast an impressive range of cricket training equipment. For Spring Back Cricket Stumps, Training Cricket Balls & more, please see the essentials above.
Specifications
FORZA Pop-Up Cricket Fielding Nets Specifications
Dimensions:
Width: 1.8m | 6ft
Height: 1.1m | 3.5ft
Depth: 1.1m | 3.5ft
Materials:
High-quality Fluro Yellow mesh netting
Features a reflective strip for exceptional visibility
8in plastic ground pegs
Miscellaneous:
Assembled & dismantled in seconds thanks to 'pop-up' design
Plastic Ground Pegs & Carry Bag included
High-visibility Fluro Yellow & Black design
You may also like
Cricket Warm-Up / Throw-Down Practice Net
HK$1,349.00
Portable Multi-Sport Hitting Net [7' x 7']
HK$799.00
Freestanding STOP THAT BALL™ - Ball Stop Net & Posts [10ft High]
HK$1,099.00
Garden Cricket Net
HK$3,239.00
Slip Catch Cradle & Spare Laths
HK$4,654.00