Steel U-Peg Football Goal Anchors To Keep Your Goal Secure
Super Strong And Durable
Made from heavy duty galvanised steel rod, the high-strength u-peg ground anchors are built for a long-lifespan, perfect for sports centres and clubs.
Various Options Of U-Pegs
The steel u-peg ground anchors are available in thicknesses of 6mm or 8mm and quantities of 2, 4 or 50 designed to suit a variety of requirements.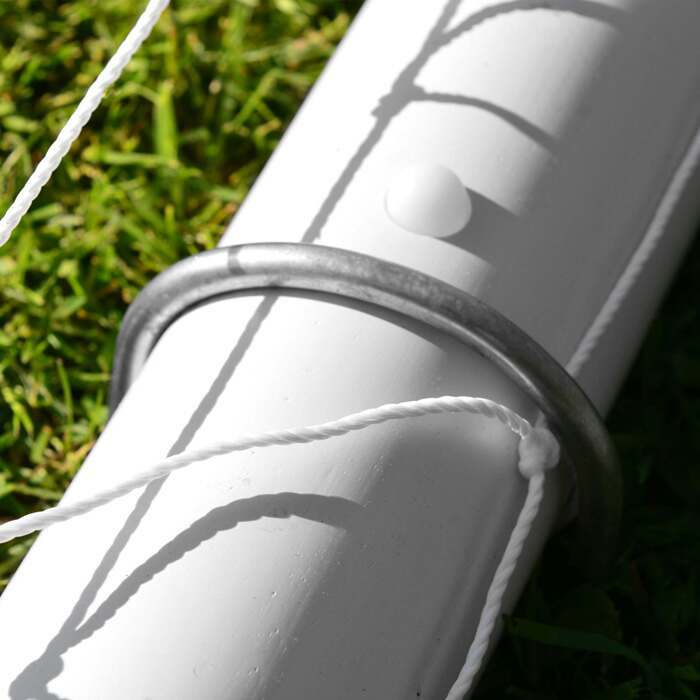 U-Pegs For Freestanding Goals
Built with the requisite strength to handle full-force collisions, the strong steel u-pegs will prevent freestanding goals from overturning when struck.
Description
Steel U-Peg Ground Anchors For Safely Rooting Freestanding Football Goals And Hitting Cages Into Grass Pitches
U-peg goal anchors are useful accessory designed to prevent freestanding structures from over-turning by securing them into the ground. These galvanised steel U-Pegs are an essential piece of equipment for football clubs, sports centres and home use, providing an easy-to-use goal ground anchor which is lightweight and robust. .
Galvanised steel U-Pegs goal anchors for preventing freestanding football goals from over-turning
Steel u-peg goal anchors available in two thicknesses: 6mm thick (8" long) or 8mm thick (10" long)
Packs of 2 steel U-Pegs, 4 U-Pegs and 50 U-Pegs for freestanding goals available
Designed to fit over a football goal post with a maximum diameter 72mm
Quick and easy method of securing your football goal in place
Our U-Peg goal anchors are manufactured from galvanised steel to ensure safe use of your football goal without fear of injury. These steel multi-sport U-Pegs are quick and easy to use, with each ground anchor being place over the base frame of a goal or over netting before being rooted into the ground using a peg mallet. These professional metal ground u-pegs can fit over any base frame with a maximum diameter of 72mm.
To suit variable needs, our multi-purpose steel sport U-Pegs are available in two sizes; 8" Long (6mm Thick Steel) or 10" Long (8mm Thick Steel). We also stock pack sizes of 2, 4 or 50 U-Pegs so you can always have plenty of U-Peg anchors to hand.
These strong steel U-Pegs are ideal for securing a range of different freestanding sports goals into soft surfaces, including Football Goals, Cricket Cages, Lacrosse Goals, Gaelic/Hurling Goals, Baseball Cages and Golf Cages.
A minimum of 2 anchors per goals and 4 anchors per cage (one for each corner) is required; however more anchors may be needed dependant on ground conditions and size of the goal/cage. If the soil structure is very weak or sandy then we would recommend using a different goal anchor that Net World Sports offer, such as Sandbags or Counterweights.
Choose the right football goal anchors for your pitch surface using our simple guide:
| | | |
| --- | --- | --- |
| Goal Anchor Type | Pitch Surface | Installation |
| U-Pegs | Grass | Place U-pegs onto the base of your goal and hammer into the ground until secure. |
| Sandbags | Indoor, Hard Court & Artificial Turf | Fill with sand and place over the base of your goal. |
| Steel Anchor Weights | Indoor, Hard Court & Artificial Turf | Use the shackle chain provided to secure each weight to the back corners of your goal post. |
Specifications
Materials:
Manufactured from heavy duty solid steel rod
Steel rod is galvanised for longer lifespan
Measurements:
8" Long (6mm Thick Steel)
10" Long (8mm Thick Steel)
Misc:
Available in packs of 2, 4 or 50 U-Pegs
U-Pegs can fit over a football goal post with a maximum diameter 72mm
A minimum of 2 anchors per goals and 4 anchors per cage is required
You may also like
2.4m x 1.8m FORZA Steel42 Football Goal
HK$1,754.00
20KG Sandbag Goal Weight
HK$79.00
Football Goal Net Carry Bag
HK$289.00
6 x 4 (1.8m x 1.2m) FORZA Football Goal Post
HK$674.00