FORZA 90cm x 60cm Double Sided Wheeled Coaching Board
FORZA 90cm x 60cm Double Sided Wheeled Coaching Board
MAGNETIC TACTICS BOARD – 360° WHEEL MOVEMENT FOR FULL MOVEMENT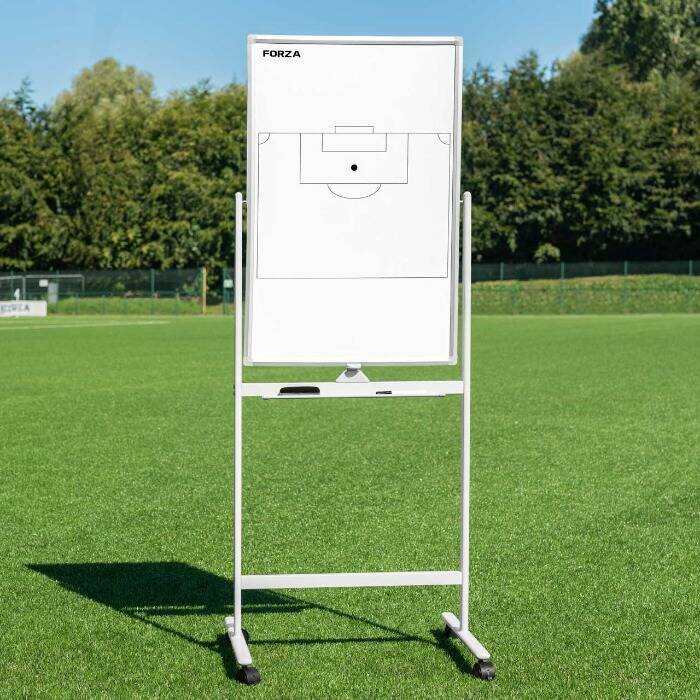 DUAL SIDED TACTICS BOARD
The football tactics board features dual side design, which provides player/coaches with a full pitch on one side and the other half pitches for set pieces or game scenarios.
EASY TRANSPORTATION
Designed with 360° fully moveable wheels, our FORZA Coaching Board can be easily transported to and from the training pitch with ease whilst ensuring easy storage when not in use.
FULL GAME ANNOTATION
The double sided football coaching board is equipped with 12x blue, 12x red & 2x yellow markers with a board pen to fully annotate matchday positioning, formation & set pieces.
Description
FOOTBALL TACTICS BOARD – ANNOTATE YOUR GAMEDAYS & TRAINING SESSIONS
Provide your team with better & clear tactical information before matchdays, with the FORZA Double Sided Coaching Board. Equipped with 26x magnetic markers (12x blue, 12x red, 2x yellow) & a whiteboard pen, the football tactics board allows coaches to clearly present new formations, game plans & pitch positioning for increased matchday readiness. One side of the board features a full length football pitch, whilst the opposite side is designed with a half pitch layout to focus on key areas or phases of play for expert annotation. Perfect for the football dressing room & training grounds, the dynamic tactical board is manufactured with 360° wheels for full manoeuvrability ensuring easy transportation.
Double sided for increased annotation with 360° or enhanced manoeuvrability for practice
Manufactured from durable materials to withstand constant use for many years to come
Ensures players have a clear, visible board of gameday instructions, scenarios & positioning
Ideal for coaches looking to gain prep plans for their next game or training sessions for players
Features 26x markers in totally, whiteboard pen, eraser & storage tray for easy clean up
Net World Sports offers a wide range of Football Training Equipment. For more, please browse the Football Category above.
Specifications
FORZA 90CM X 60CM DOUBLE SIDED WHEELED COACHING BOARD SPECIFICATIONS
DIMENSIONS:
Coaching Board Size (L x W): 90cm x 60cm | 35.4in x 24in
MATERIALS:
Heavy-duty and high-quality aluminium frame which ensures stability and durability
Magnetic and wipeable whiteboard
MISCELLANEOUS:
Rear side provides a full pitch view alongside a more focused view of key areas of the pitch
Whiteboard is easily reversible for use of both sides
12x blue markers, 12x, red markers & 2x yellow markers
Features 360° wheels for easy all-direction movement and transportation
Includes a complete set of magnets, whiteboard pen, storage tray and magnetic eraser