FORTRESS Cricket Arm Guard
FORTRESS Cricket Arm Guard

PROFESSIONAL CRICKET ARM GUARD - SWEAT ABSORBING INNER LINING
HIGH BALL IMPACT PROTECTION
The protective arm guard absorbs ball impact from cricket balls to prevent injury risk, whilst providing batters with confidence to play dynamic shots.
BATTING COMFORT
Thanks to the elasticated straps, batters can comfortably adjust the arm guard to their ideal fit. Inner lining absorbs moisture.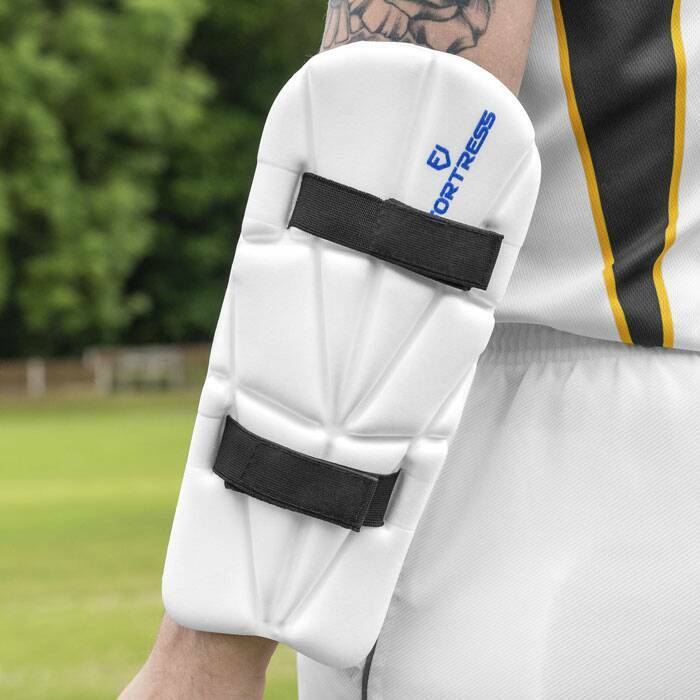 PREMIUM EVA FOAM
Constructed from EVA foam padding, the durable cricket arm guard ensures the highest-quality level of protection whilst being lightweight for free movement.
Description
EVA FOAM PADDED – ESSENTIAL ARM BATTING PROTECTION
Increase your shot confidence for scoring runs with the FORTRESS Cricket Arm Guard for essential forearm protection. The cricket arm sleeve provides premium protection for batsmen & women of all ages from high bouncing cricket balls, which absorbs ball impact to prevent injury to the dominant arm. Thanks to the premium grade, dual layered high-density EVA foam padding, the armguard guarantees full cushioned protection. For a secure fit, the professional cricket forearm guard boasts a 1in (2.5cm) elasticated adjustable touch fastening system for a comfortable feel when on the field. The inside lining quickly absorbs moisture which can be wiped down for a longer-lasting arm guard. The elite-level cricket arm sleeve is ambidextrous & is suited to all club & country cricket players which is available in youth or adult sizes.
Ensures full forearm protection with dual layered foam padding to absorb ball impact
Features a 1in touch fastening system for a secure fit which provides comfort
Inner lining absorbs sweat for enhanced comfortability which can be wiped away
FORTRESS Arm Guard is suited to club & country cricket games for professional use
Available in adults or youth sizes which is perfect for all ages – Ambidextrous for either arm
Net World Sports offers a wide range of Cricket Training Equipment. For more, please browse the Cricket category essentials above.
Specifications
FORTRESS CRICKET ARM GUARD SPECIFICATIONS
DIMENSIONS:
Adult (L x W): 11.3in x 5.3in | 28.6cm x 13.5cm
Youth (L x W): 10.8in x 5.3in | 27.4cm x 13.5cm
MATERIALS:
Premium dual-layered EVA foam
Touch fastening system
MISCELLANEOUS:
Suited for club & country cricketers
Ambidextrous for right & left handed batters