AquaTec Beginners 2mm Men's Wetsuit
AquaTec Beginners 2mm Men's Wetsuit
AquaTec Men's Wetsuit – Essential For All Water Sports Adventures
Seamless Rear Zip
Easy to use back zipper design with long cord ensures all users can simply put the wetsuit on & take it off without assistance. Perfect design for lying on your front as it will not dig into the body.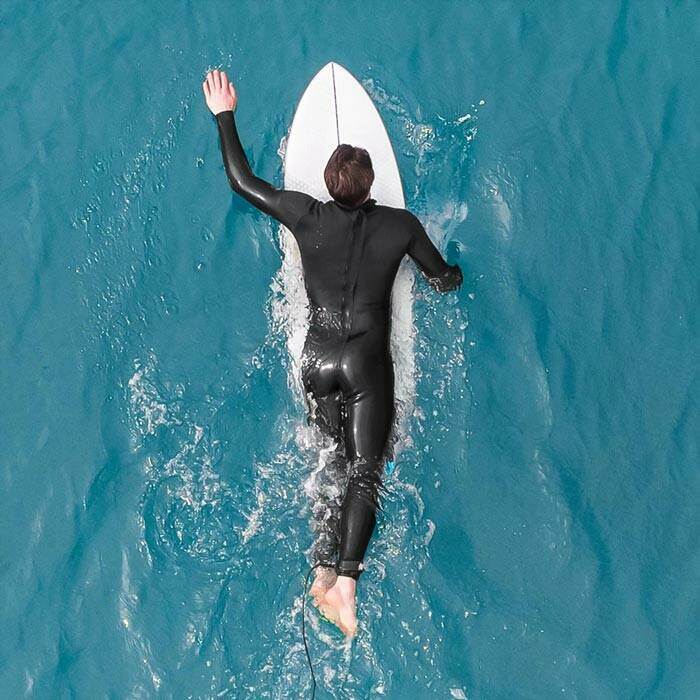 Comfortable Design
Entry level wetsuits are made using quality neoprene with a nylon lining which ensures a comfortable fit as the material moulds & stretches to fit the body providing free movement whilst in the water.
Supratex Knee Pads
An excellent option for water sports novices, these long-lasting wetsuits feature thick Supratex knee pads which provide additional support & grip whilst paddle boarding, surfing & more.
Description
AquaTec Men's Swimming Wetsuit – Unrestrictive Design For High Levels Of Comfort
Designed for summer use, these AquaTec Men's Wetsuits are an entry level option & are best suited for use on holiday & for water sports. The high-grade neoprene wetsuit with a nylon inner lining ensures long-lasting wear & excellent user comfort. The material has an elasticated feel allowing it to stretch & mould to your body to ensure you are kept warm whilst in the water. Easy to get in & out of, these surfing wetsuits feature a back zipper with long cord to ensure you can zip it up without assistance & for additional comfort as you can often be lying on your stomach whilst surfing/paddle boarding. Complete with a seamless design to minimise rubbing under the arms & crotch for excellent levels of comfort. Flatlock stitched seams ensures the wetsuit only lets in a minimal amount of water to prevent you from overheating due to the wetsuit holding too much water.
AquaTec Men's Full-Length Wetsuit – Perfect for beginners to use whilst swimming & for water sports
Summer wetsuit features an elasticated feel which easily moulds to the body for comfort & warmth
High-quality 2mm thick neoprene best suited to warmer water & will protect you from the sun & wind
Back zipper with long cord allows users to easily get in & out of the adult wetsuit without assistance
Supratex knee pads ensure additional support & protection whilst paddle boarding, surfing & more
Natural cut on the ankles, wrists & neckline of the wetsuit ensures you are not restricted whilst in the water
For more information on finding the correct wetsuit fit, please refer to our detailed size guide HERE.
Specifications
AquaTec 2mm Men's Wetsuit Specifications
Size Options:
X Small, Small, Medium, Large, X Large & XX Large - Please refer to our detailed size guide here.
Materials:
90% Neoprene & 10% Nylon – High stretch design for user comfort & a good range of movement
Neoprene thickness: 2mm
Supratex knee pads for additional support whilst performing water sports
Flatlock stitched seams ensures the wetsuit only lets in minimal amounts of water
Back zipper guarantees user comfort as you are often positioned on your front whilst surfing or SUP boarding
Miscellaneous:
AquaTec Wetsuits (Beginner Range) are suitable for around 1 hour of activities per session
We advise this wetsuit is best suited for the summer months in water temperatures between 16°C & 20°C.
PLEASE NOTE: Wetsuits are designed to be a very tight fit but once submerged in the water, the fabric properties will stretch to your body. It can take a couple of uses in the water before you feel comfortable in it.
AQUATEC WETSUITS RETURNS & EXCHANGES: AquaTec Wetsuits are only returnable or exchangeable providing the wetsuit tag has not been removed & it is in a new condition with original packaging. We understand your wetsuit may not fit as desired & we can exchange your order for a different size if the above conditions are met. For advice please contact our Customer Service team who will help arrange this for you. Please also refer to our full returns policy.
Washing/Care Instructions:
Hand Wash Only
Do not bleach
Do not tumble dry
Do not iron
Do not dry clean
Do not leave your wetsuit exposed to sun for long periods of time
To dry, we recommend turning inside out and hanging out of direct sunlight, in a shaded spot. We also recommend to hang the wetsuit by the waist rather than the shoulders.