3m x 2m FORZA ProFlex Pop Up Futsal Football Goal
3m x 2m FORZA ProFlex Pop Up Futsal Football Goal

Pop Up Futsal Football Goal Post With Box Style Netting
Quick Attach Futsal Nets
Manufactured from premium grade 5-ply knotless polyester netting, the football box goals are incredibly strong and weather-resistant. For added convenience, the box goal nets are pre-attached to the posts as standard.
High Quality Pop Up Goals
You won't find a higher quality portable futsal goal out there. Made from white PVC tarpaulin posts, ultra-durable galvanized steel frame with snap buttons for 120 second assembly and fibreglass poles, the goals are unbeatable.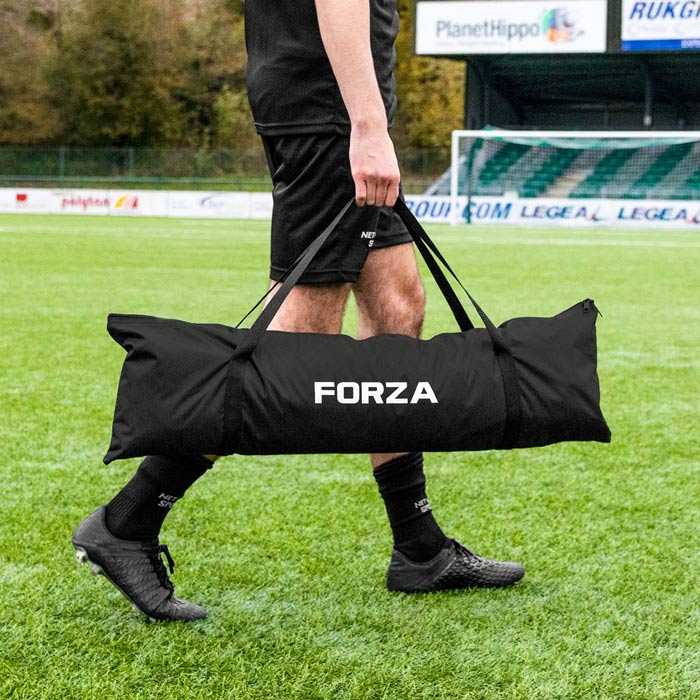 Portable Futsal Goals
Professional style futsal goals that are lightweight, collapsible and portable, helping you to take your futsal goals with you on the go, so you're always ready and prepared for training or game scenarios wherever you are.
Description
Ultra Portable Futsal Football Goal For Training And Matches – Official Futsal Football Goal Post Dimensions
Play futsal whenever the mood strikes with this quick pop up futsal football goal set. Designed with a regulation football goal post size for futsal, the 3m x 2m futsal goal is the ultimate futsal football goal for garden kickabouts, club coaching sessions and matches. The elite football goal for futsal is state-of-the-art, boasting a super quick 120 second assembly process which sets it apart from the competition. There are no tools required when setting up or taking down the portable football goal posts, making them the futsal goal of choice for home set ups, sports centres and coaches alike, folding down to a compact size for convenient transport and storage.
Official regulation size 3m x 2m (10ft x 6.5ft) futsal football goal size, suitable for recreational use in the garden as well as by coaches and sports centres
Futsal football goal box style netting which is resistant to impact and harsh weather, pre-attached and made from 5ply knotless polyester with 100mm (4in) mesh
The ultimate portable futsal goal, made from lightweight yet strong 0.5mm thick white PVC tarpaulin posts, heavy-duty galvanised steel frame and 12.7mm flexible fibreglass poles
Folding mini football goals for futsal with a telescopic collapsible frame with snap-buttons which fold the goal down to as little as 113cm x 12cm x 24cm (45in x 5in x 10in)
All-surface quick folding football goals with a weighted base which features rubber feet, allowing for transition across indoor and outdoor pitches without any damage
Taking 120 seconds to assemble and take down, there are no tools necessary when setting up the flexible futsal football goal post
The best pop up football goals for futsal, these pro standard goals are simply unparalleled when it comes to premium manufacturing, quality of performance and portability. The pop-up futsal goals are made from tough tarpaulin PVC football goal posts, ultra-strong galvanised steel frame and fibreglass poles which keep the box style nets tensioned all around the goal. Whether you're playing outdoor or indoor futsal, the top of the range rubber feet provide stability and safety when applied to any playing pitch. Maintaining the look and feel of a training football goal, these astroturf futsal goals are a top addition to any coaching session or casual game.
Designed with quick attach football goal nets, the professional quality football goals boast premium box style netting which is kept tensioned throughout use. The futsal box football goal nets are made from heavy-duty and weatherproof 5-ply knotless polyester box nets, perfectly adept at withstanding a torrent of goal bound strikes. Expertly made with snap button assembly joints, the frame of this futsal football goal set is the best option for any facility who are looking to save on storage space without making any compromise on quality. The all-surface futsal goals come with strong steel pegs, allowing for additional rooting into soft grounds.
PLEASE NOTE - All parts of the 3m x 2m pro pop-up futsal football goals are pre-attached, reducing the risk of missing parts and decreasing assembly time.
Specifications
3m x 2m FORZA Pro Flex Pop Up Futsal Football Goal Specificiations
Dimensions
Width x Height – 3m x 2m (10ft x 6.5ft)
Bottom Depth – 3ft (97cm/38in)
Folded Dimensions - 113cm x 12cm x 24cm (45in x 5in x 10in)
Weight – 10.8kg (24lbs)
Materials
Net Material – 5-ply knotless polyester impact-resistant box style netting
Mesh Size – 100mm (10cm/4in)
Goal Posts – 0.5mm thick white PVC tarpaulin posts
Frame – Galvanised steel frame for rust and corrosion protection
Poles – 12.7mm weather resistant fibreglass poles
Miscellaneous
Perfectly sized for recreational use by juniors as well as in coaching sessions and clubs
Goal sets up within 120 seconds without the need for tools, allowing for quick setup and takedown time
Rubber feet ensure the goal can be used seamlessly both indoor and outdoor with no damage to the goal or floor
Telescopic folding frame which utilises snap-button assembly, allowing for perfect weight distribution across the goal while maintaining portability
Box netting is pre-attached for convenience and ease of assembly
Fibreglass poles create strong and assured tension on all areas of the goal
Classic white poles give the pop-up goal the appearance of a traditional football goal
All parts are pre-attached, reducing the risk of missing parts and decreasing assembly time
Includes heavy-duty 4mm steel pegs with a length of 20cm (8in) which allow for added stability when used on soft playing surfaces
Freestanding football goals suitable for use on all playing surfaces
Comes with a carry bag as standard
You may also like
3m x 2m FORZA Match Futsal Goal Post
HK$1,899.00
3m x 2m FORZA Alu60 Futsal Goal
HK$4,999.00
3m x 2m FORZA Alu110 Freestanding Futsal Football Goal
HK$17,549.00
3m x 2m FORZA Alu80 Futsal Goals (Foldaway)
HK$8,099.00
3m x 2m FORZA Steel42 Futsal Football Goal Post
HK$2,564.00