Vermont ProCourt Mini Tennis & Badminton Combi Net
Vermont ProCourt Mini Tennis & Badminton Combi Net

Portable Mini Tennis & Badminton ProCourt Net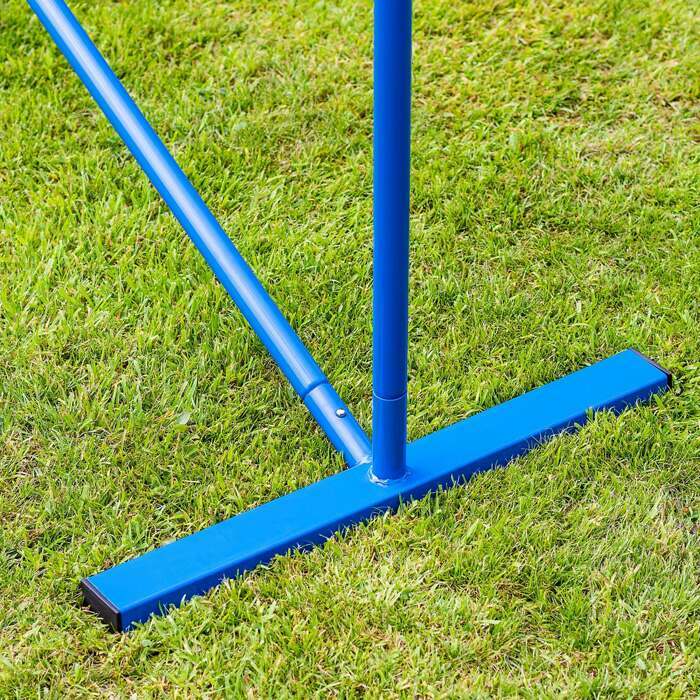 An Easy Conversion
Switching between sports has never been so simple! By adding/removing one of our ProCourt posts from either side of the frame you can enjoy mini tennis and badminton in the same session!
Everything You Need
This Vermont ProCourt Mini Set has everything you need to create the ultimate sporting experience. A high-quality net, supremely durable net frame and a heavy-duty carry bag to help you transport it!
Premium Portability
This ProCourt Combi net allows you to take the sporting fun anywhere! The lightweight nature of the high-quality materials used to create the set combined with the carry bag makes transporting it the simplest of tasks!
Description
Vermont ProCourt Mini Tennis/Badminton Combi Net
If you're looking for a sport set that offers multiple sports, can be set up in just minutes and will perform just about anywhere, then look no further than this high-quality Vermont ProCourt Mini Tennis & Badminton Net. A multi-sport accessory, this combination net is perfect for youngsters trying to carve out a mini tennis/badminton career and also for families searching for some additional sporting fun!
High-quality Mini Tennis & Badminton Combination Net
Simple conversion between mini tennis & badminton
3 lengths available: 3m, 6m & 9m
Assembled in just minutes
Frame is manufactured using 1mm thick powder-coated steel (can be used indoors or outdoors)
Durable 6ply PE netting with 210D Oxford Material banding
100% portable with nylon carry bag included
The ProCourt combination net is one of our most popular products and it's easy to see why. Manufactured using premium-quality materials, the net system can be used indoors or outdoors thanks to its robust, powder-coated steel frame (1mm). The 6ply Polyethylene netting features a 1" mesh with coated 210D Oxford Material banding, giving the ProCourt Combi Net exceptional strength and durability. The slick blue and yellow design matches them perfectly with our Vermont Mini Tennis and Badminton Rackets too!
What sets the ProCourt apart is its ability to accommodate several audiences. It's the perfect fit for young stars picking up a racket for the first time whilst also providing families with the ultimate garden entertainment with sports such as pickleball, volleyball and football tennis! Completing the set is a heavy-duty nylon carry bag, which allows you to store your ProCourt easily and take the sporting action wherever you like. From the mini tennis court to the beach, this Vermont ProCourt Mini Tennis & Badminton Combi Net will be the perfect addition to your sporting set-up!
PLEASE NOTE: The ProCourt System can be converted between sports easily via the addition/removal of one post (included) on either side.
Specifications
Vermont ProCourt Mini Combi Net Specifications
Sizes:
Available Net Lengths: 3m (10ft) | 6m (20ft) | 9m (30ft)
Net Height (Mini Tennis): 0.8m (2.6ft)
Net Height (Mini Badminton): 1.55m (5ft)
Materials:
Net Frame: 1mm Thick Powder-Coated Steel Tubing – exceptional durability (indoors & outdoors)
Net: 6ply Polyethylene with 1" mesh
Net (Side Banding): Weatherproof PVC Tarpaulin
Net (Top & Bottom Banding): Coated 210D Oxford Material
Carry Bag: Durable Nylon
Set Weights:
3m (10ft): 8kg / 17.6lbs
6m (20ft): 11.7kg / 25.8lbs
9m (30ft): 15.4kg / 34lbs
Miscellaneous:
Set Contents: Net, Posts & Carry Bag
Set comes with optional anti-slip pads for the base
Net is also an excellent choice for Pickleball, Volleyball & Football Tennis
You may also like
Vermont Training Tennis Balls [60 Bucket]
HK$559.00
Vermont ProCourt Mini Badminton Net & Racket Set
HK$999.00
Vermont ProCourt Mini Tennis Net & Racket Set
HK$999.00
Vermont Tennis Net & Posts Custom Package
HK$3,999.00
Recently Viewed
UEFA Pro Corner Pole & Flags with Ground Sleeve (Set of 4)
HK$999.00
FORZA Match Football [2016]
HK$129.00
Football Training Bib/Vest Carry Bag
HK$69.00
Ultra Heavy Duty - Football Goal Net [All Sizes]
HK$349.00
Replacement Caps For Ground Sockets [All Sizes]
HK$19.00