Striped/Two Colour - Football Goal Nets [10x Colour Options]
Striped/Two Colour - Football Goal Nets [10x Colour Options]
FULL SIZE FOOTBALL NETS - 10X COLOUR COMBINATIONS TO CHOOSE FROM
CHOOSE YOUR SHAPE & COLOUR
Select the correct net style (standard or straight back) to fit your existing goal frame shape & then the colour combination of your choice.
EXTRA STRONG NETTING
The extra strong weatherproof nets are 3mm thick and built to last thanks to their resistance to all weather conditions. Nets available as a single or pair.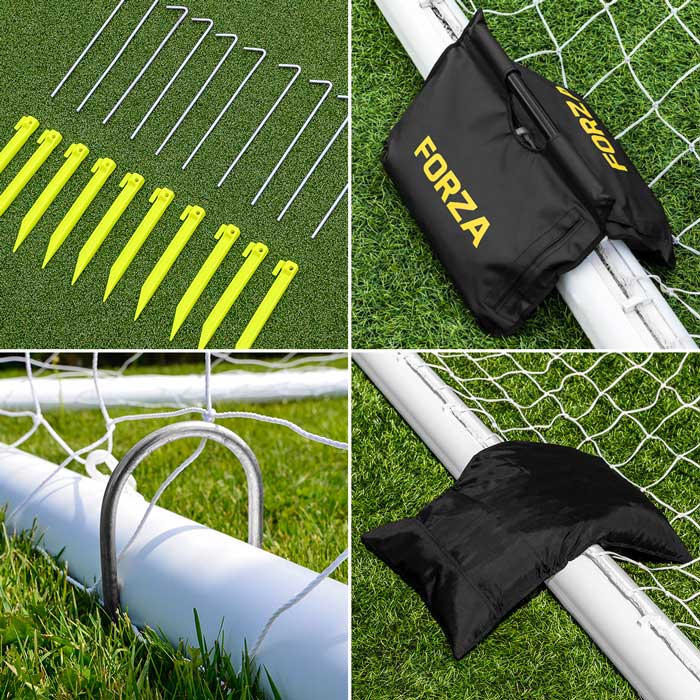 CHOOSE YOUR ACCESSORIES
For additional netting accessories, such as football net clips, elastic bungee net ties and more, please follow the link here.
Description
STRIPED FOOTBALL NETS – 10X COLOUR COMBINATIONS
Premium football nets suitable for the beautiful game at any level using full size 24ft x 8ft (7.3m x 2.4m) regulation football goals. Whether you need the nets for Sunday League, or Semi-Professional games on a Saturday and midweek under the lights, this striped football goal net delivers professionalism and security to every pitch. Featuring 120mm mesh squares and 3mm thick twine, this premium quality football net safely secures the fiercest of shots and provides reliable performance all year round, season after season. Available as a single net or pair of nets.
The extra strong 3mm weatherproof football goal nets are resistant to all weather conditions from sun to snow. Crafted in 10x different colour combinations, so you can get the nets you desire. You can get the nets in two different styles: Standard & Straight Back. The standard nets are specially crafted with overlock edging, so you can get the nets for goals with have a top bracket, whereas the straight back nets are suitable for goals that do not have a top bracket.
Net World Sports is one of the largest producers and stockists of goal nets in the world. We have goal nets to suit every user ability and playing environment (gardens, football clubs, schools, colleges, universities, tournaments, leagues). We are experts in netting with top clients including Manchester United, FA Wales and various Canadian Premier League / MLS soccer clubs.
Specifications
Striped/Two Colour - Football Goal Nets [10x Colour Options] Specifications
DIMENSIONS:
Striped net for full size 24ft x 8ft (7.3m x 2.4m) goals
Standard Nets: 3ft top depth and an 8ft 4in bottom runback
Standard Nets: 120mm mesh square with overlock edge
MATERIALS:
Manufactured from extra heavy duty 3mm thick twine with 120mm mesh squares
MISCELLANEOUS:
Colours available - Blue/Black, Orange/Black, Red/Black, Blue/Red, Black/White, Blue/White, Green/White, Red/White, Yellow/White, Blue/Yellow
Straight Back Nets: Suitable for flat back goal posts (with no top depth)
Standard Nets: Suitable for goalposts with top runback and net support brackets