FORZA Rugby Curved Hit Shield [Pro Model]
FORZA Rugby Curved Hit Shield [Pro Model]
Fit For The Professional Game - Rugby Curved Hit Shield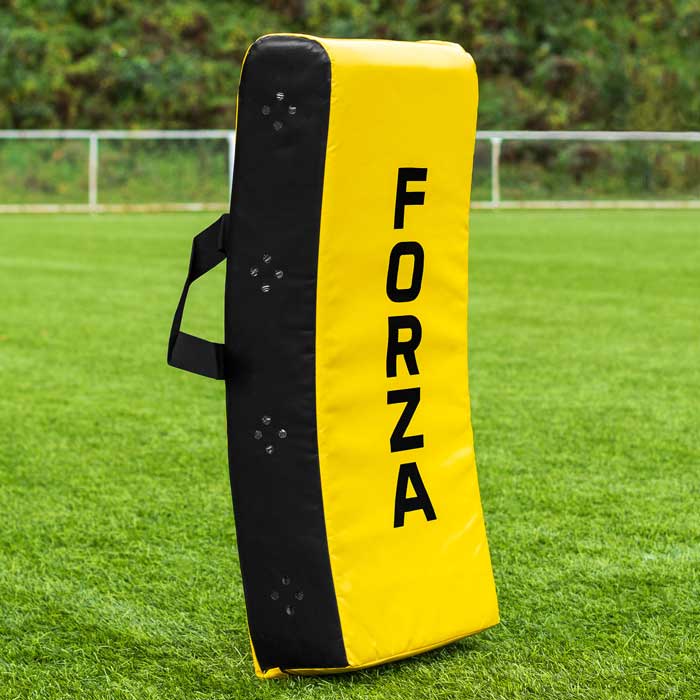 Double Strap System
The double strap system on the back of the curved hit shield allows for the holder to safely move the shield around replicating in-game match conditions.
High Density Foam
The superior moulded high density foam pads provide a comfortable impact when tackling, preventing injuries during training.
Waterproof Material
Manufactured from a weather-resistant PVC, the curved hit shield is ideal for training sessions and warm-ups in all weather conditions.
Description
CURVED RUGBY TACKLE SHIELD FOR HIGH INTENSITY TRAINING
The lightweight curved rugby tackle pads are perfect for improving the technique of yours and your team's tackles. Manufactured from specially woven 615gsm material, this provides a strong cover for the hit shield to withstand regular and consistent impact from tackling. The 100% weatherproof curved hit bag is designed to provide the closest counterpart to tackling your opponent during a game, so you can improve your technique in all conditions. The durable tear resistant material is easy to clean double the life as compared to a standard wedge contact shield. The rugby hit shield also features a double strap, which makes for enhanced and effortless manoeuvrability. With two different sizes available, this essential piece of rugby equipment is ideal players of any age.
Durable, tear resistant 615gsm material provides a strong cover for the tackle bag
Manufactured from superior moulded high density foam padding
Waterproof cover provides all conditions control
Double strap system on the back of the tackle shield makes for effortless movement
Available in junior and senior sizes. For exact measurements, please see specifications below
Net World Sports offers a wide range of Rugby training equipment. For FORZA Pro Rugby Training Bibs, FORZA Rugby Training Speed Chute and more, please see the essentials above.
Specifications
RUGBY CURVED HIT SHIELD SPECIFICATIONS
DIMENSIONS:
Junior: 69cm (27") High x 33cm (13") Wide x 13cm (5") Thickness
Senior: 91cm (36") High x 51cm (20") Wide x 15cm (6") Thickness
MATERIALS:
Made from superior moulded high density foam pads
Material is a fully weather-resistant PVC covering
Reinforced seams for extended durability
Specially woven 615gsm material
Double the life as compared to a standard wedge contact shield
MISCELLANEOUS:
Colour: Fluro Yellow
Waterproof cover provides all conditions control
Convenient straps for easy storage and transportation
PLEASE NOTE: This product is non-returnable due to hygiene reasons, this does not affect your statutory rights
You may also like
FORZA Rugby Tackle Tubes [Pro Model]
HK$2,334.00
FORZA Full-Height Rugby Tackle Bag [Pro Model]
HK$1,254.00
FORZA Low-Height Rugby Tackle Bag [Pro Model]
HK$1,299.00
FORZA Rugby Tackle Shield With Top Wedge [Pro Model]
HK$799.00
Recently Viewed
Football Carry Bag
HK$99.00
FORTRESS Reverse Swing Cricket Balls
HK$129.00
FORTRESS Trapezoid Baseball Batting Cage [Complete Package]
HK$7,759.00
5.6m x 2m FORZA Alu110 Freestanding Stadium Box Football Goal
HK$28,349.00
6.5m x 2.1m FORZA Alu110 Stadium Football Goal | Net World Sports
HK$29,699.00