Replacement Magnetic Coaching Board Markers
Replacement Magnetic Coaching Board Markers
Spare Magnetic Markers For Coaching And Tactical Boards
Small Or Large
The replacement markers come in two size options suitable for different coaching boards. Small is suitable for A4 Coaching Folder and large is for 45cm x 30cm, 90cm x 60cm and 150cm x 120cm boards.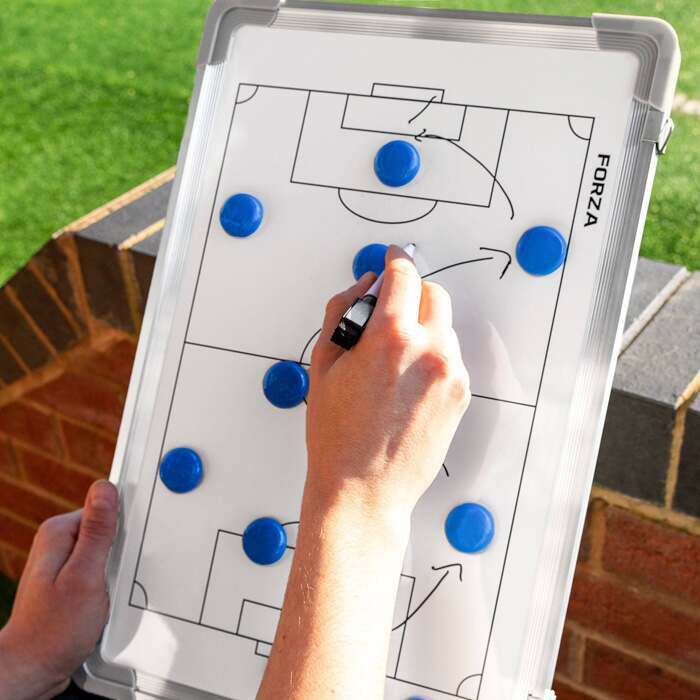 Durable Magnets
Each magnet included with the sets has been manufactured using premium quality plastic which is extremely durable, providing coaches at all levels of sport with long-lasting coaching equipment.
Complete Set
Both the large and small sized magnet markers come with a full amount of different coloured markers, with 12 red magnets, 12 blue magnets and 2 yellow magnets all included for analysis.
Description
Complete Sets Of Large And Small Magnetic Coaching Tactics Board Markers
Whether you're looking to replace damaged or misplace markers, or stocking up for a long season, the replacement coaching board markers will ensure that you have the requisite amount of coaching equipment for consistent tactical analysis. Designed specifically for use with the FORZA range of coaching and tactics board for multiple sports, the differing size options apply to particular coaching boards. The small spare magnets are for the A4 Coaching Folder, while the large replacement markers are suitable for 18in x 12in, 35in x 24in and 59in x 47in tactics boards.
Replacement magnetic coaching board markers for the FORZA range of multi-sport tactics boards
Manufactured using extremely durable plastic for long term, regular use over the course of multiple seasons
Fully magnetic and compatible with appropriate magnetic coaching and tactics boards
Small markers are for the A4 Coaching Folder and the large magnets are for 18in x 12in, 35in x 24in and 59in x 47in boards
Each set comprises of a full compliment of magnetic markers – 12 red markers, 12 blue markers and 2 yellow markers
The lightweight magnetic markers have been made using highly strong and robust plastic, making it an essential piece of coaching equipment at all levels of the game. Tactical markers allow coaches to clearly display their tactical plans and move them freely around the board with the greatest of ease. Whether you choose the small or large sized spare tactics board magnets, each set comprise of 12 red markers, 12 blue markers and 2 yellow markers.
Please Note - Net World Sports stock the entirety of the FORZA Multi-Sport Coaching Board range, including clipboards, folders, tactics boards, whiteboard pens and erasers
Specifications
Materials
Manufactured from highly durable plastic for regular long-term use
Size Options
Small – Compatible with FORZA A4 Multi-Sport Coaching Board
Large – Compatible with FORZA 18in x 12in Coaching Board, FORZA 35in x 24in Coaching Board and FORZA 59in x 47in Coaching Whiteboard
Magnet Quantity
Each set comprises of 12 red markers, 12 blue markers and 2 yellow markers
You may also like
FORZA 45cm x 30cm Double-Sided Sport Coaching Tactics Boards [13 Sports Available]
HK$324.00
FORZA 150cm x 120cm Double-Sided Wheeled Sport Coaching Whiteboards
HK$5,264.00
FORZA 90cm x 60cm Double-Sided Sport Coaching Board [13 Sports Available]
HK$634.00
FORZA Sport Coaching Clipboard [13 Sports Available]
HK$189.00