Pack Of 4 Corner Flag Rubber Bases
Pack Of 4 Corner Flag Rubber Bases
FORZA Corner Pole Bases – Stability On All Surfaces
STANDARD BASES
Suited to 25mm diameter poles, these bases are perfect for corner poles & boundary poles. The bases weigh 1.2kg for excellent stability on all surfaces.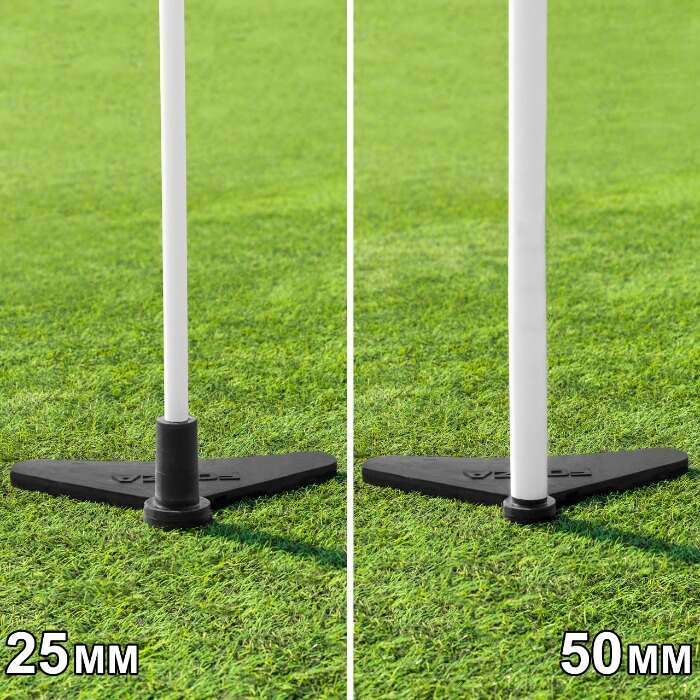 PRO BASES
These bases support both 25mm & 50mm poles. The 25mm poles fit inside the base hole whilst the 50mm go round the outside. 9kg for supreme stability.
SPIKED BASES
Suited to spiked bases on corner flags & slalom poles, these are ideal for situations where ground insertion isn't possible. Suited to 8mm spikes & weigh 2.3kg.
Description
1.2kg Rubber Corner Flag Bases Manufactured From Heavy-Duty Rubber
Keep football corner flags in position on indoor pitches, artificial turf and grass with this set of four heavy duty rubber bases. Suitable for all football corner flags which have a diameter of 25mm (1 inch), these bases will maintain the professional look of your artificial pitch without disturbing play.
Corner flag bases are manufactured from ultra-durable rubber.
Each base has a diameter of 200mm (8 inches) and weighs 1.2kg (2.6lbs).
Suitable for 25mm (1 inch) thick corner flags.
Sold in packs of four.
Weighing 1.2kg (2.6lbs) each the four bases will anchor your corner flags in place during heavy winds, without needing to penetrate the ground. Despite the weight of the heavy-duty football corner flag bases, they have a very small diameter of 200mm (8 inches). The compact stature of these bases means very little room on the pitch is taken up, allowing players to to take corners without any obstruction.
Net World Sports has a wide range of high-quality ground equipment guaranteed to make your home pitch feel like a Premier League ground including the 24 x 8 FORZA Alu110 Freestanding Stadium Box Goal, FORZA Football Astroturf Crowd Control Barrier [Includes Bases] and the FORZA Football Team Bench [Pro Model].
Specifications
FORZA Corner Pole Bases Specifications
FORZA Pro Corner Pole Base:
Materials: Heavy duty moulded rubber
Weight: 9kg | 20lbs
Suitable For: 25mm & 50mm (1in & 2in) diameter corner poles
Pack Size: 4x bases
FORZA Standard Corner Pole Base:
Materials: Heavy duty moulded rubber
Size: 20cm | 8in diameter
Weight: 1.2kg | 2.6lbs
Suitable For: 25mm (1in) diameter corner poles
Pack Size: 4x bases
FORZA Spiked Corner Pole Bases:
Materials: Heavy duty moulded rubber
Size: 27cm | 10.5in diameter
Weight: 2.3kg | 5lbs
Suitable For: Poles with an 8mm thick spiked end
Pack Size: 4x bases
Recently Viewed
Stainless Steel Referee Whistle & Lanyard
HK$79.00
FORZA Wall Mounted Coaching Board - 150cm x 120cm [5ft x 4ft]
HK$3,099.00
Football Tactics/Coaching Board Carry Bags
HK$99.00
FORB Dual Turf Golf Mat [120cm x 90m]
HK$1,799.00
FORB Rubber Golf Ball Tray Holder
HK$674.00