METIS Soft Foam Plyometric Jump Box Sets
METIS Soft Foam Plyometric Jump Box Sets

METIS Soft Foam Plyo Box – Develop Power & Speed
IDEAL FOR POWER TRAINING
An excellent choice for home & commercial gyms, the METIS Soft Foam Plyo Box is the perfect solution for those wanting to develop strength & power. Ideal for explosive jumps & single leg lunges.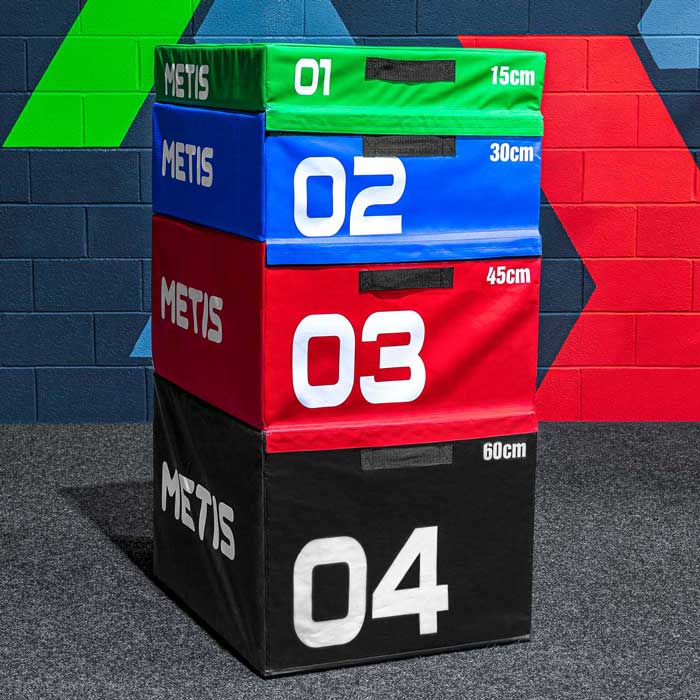 COMPLETE JUMP BOX PACKAGE
Available as a full package option so you can train multiple muscle groups via a range of exercises. Alternatively, the jump box sections can be bought individually in sections of: 15cm, 30cm, 45cm or 60cm.
EXPLORE THE METIS RANGE
Set your goals & achieve them with the dynamic METIS fitness range. A range that covers all types of fitness & exercise, METIS is a brand that delivers professional quality for everyone.
Description
Premium METIS Plyometric Boxes – Suitable For All Abilities & Fitness Levels
These high-quality soft plyo boxes are ideal for a wide range of exercises including split squats, hip thrusts, step ups or push-ups as well as explosive jumps for more intensive training. The gym jump boxes feature an adjustable height as they can be used singularly or combined to suit all fitness abilities & each plyometric jump box has two heavy-duty straps for easy manoeuvrability. Hook & loop fastening strips are included on the top of the fitness plyo boxes to securely fasten the boxes together when stacked for stability. Each CrossFit box features an anti-slip PVC cover to ensure maximum safety when landing & the inner core is made from low density EPE foam which ensures a softer landing & reduces the stress on joints. Available as a full foam plyo box set or individually - Green (15cm), Blue (30cm), Red (45cm), & Black (60cm).
Ideal option for intense gym & home workouts to improve your power, speed & strength
Boxes feature 2 straps for carrying with hook & loop fastening for stability when stacked
Adjustable height to suit all user abilities - Use singularly or combined for various heights
Non-slip PVC for increased safety during exercise which can be easily wiped down after use
Shock absorbing low density foam core to minimise impact on the lower body upon landing
Premium stackable plyometric boxes with adjustable heights – 15cm, 30cm, 45cm & 60cm
PLEASE NOTE: Plyo boxes should always be used on non-slip flooring & positioned up against a wall for additional support. We also recommend only using when accompanied by a training partner. Do not jump beyond your ability.
Specifications
METIS Plyometric Jump Boxes Specifications
Dimensions:
Level 1 - Green Box: 15cm H | 6in H
Level 2 - Blue Box: 30cm H | 12in H
Level 3 - Red Box: 45cm H | 18in H
Level 4 - Black Box: 60cm H | 24in H
Complete Set: 150cm H | 59in H
Box Size: 90cm L x 60cm W | 35in L x 23.5in W
Materials:
Plyo Box Exterior: Durable PVC cover which is anti-slip for maximum safety during exercises
Plyo Box Interior: High-quality EPE (low density) foam to reduce impact when landing
Miscellaneous:
Stackable jump box – Use individually or as stacks of 2, 3 or 4
Connect the boxes with hook & loop fastenings to create various heights for user progression
Track your progress as you advance through the different height combinations
Large landing area for safety
Ideal for HIIT workouts, CrossFit & explosive training
Perfect in your home-gym, for personal training sessions or at local gyms
Adjustable plyo boxes available as a full set or as individual levels
PLEASE NOTE: Plyo boxes should not be used on smooth surfaces like wooden flooring unless positioned up against a wall
Recently Viewed
RapidFire RF AFL Rebounders [3 Sizes]
HK$1,299.00