METIS Portable Dumbbell Rack
METIS Portable Dumbbell Rack
DUMBBELL TREE RACK THAT STORES UP TO 3 NEOPRENE DUMBBELLS
15KG LOAD
The strong plastic construction of the dumbbell pyramid rack allows for 3 pairs of dumbbells, with a max. load of 15kg, to be stored and carried.
SPACE EFFICIENT
With twist-in dumbbell storage pillars, the dumbbell weight holder is ideal for space saving when dumbbells are not in use & your workout is complete.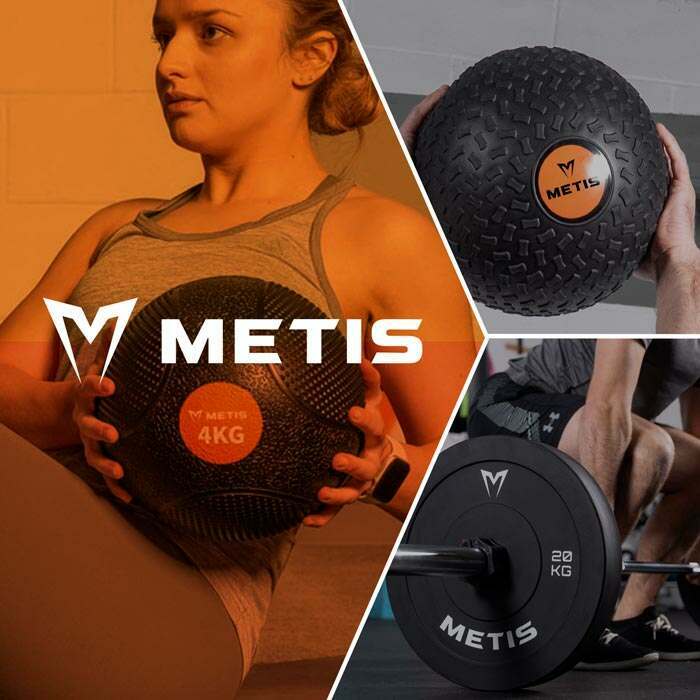 EXPLORE THE METIS RANGE
Set your goals & achieve them with the dynamic METIS fitness range. A range that covers all types of fitness & exercise, METIS is a brand that delivers professional quality for everyone.
Description
NEOPRENE DUMBBELL HOLDER – DUMBBELL RACKS FOR HOME GYM
Perfect for home gyms, this dumbbell storage rack can hold neoprene dumbbells up to 4kg each, with a maximum load of 15kg (33lbs). This is a three tier dumbbell rack and can therefore hold up to 3x pairs of dumbbells. Select the dumbbell rack on its own or choose to include a 12kg neoprene dumbbell set with your dumbbell stand. Thanks to its twist-in pillars, the dumbbell rack saddles are perfect for space-saving and keeping your area tidy and free of loose equipment. The vertical dumbbell stand is light-in-weight, so even when it is loaded with dumbbells, you can still securely transport and store your dumbbells when your workout is complete. The gym dumbbell rack has a smart black finish with logo print on the handle of your fitness gear dumbbell rack. This 3 pair dumbbell rack gives your home gym the ultimate clean, professional edge.
METIS Portable Dumbbell Rack – Mini dumbbell tree rack that stores 3 pairs of neoprene dumbbells
Mobile dumbbell rack has a maximum weight load of 15kg (33lbs)
Dumbbell storage rack gives your home gym a clean, professional edge
'A' shape dumbbell rack boasts twist-in storage pillars for space saving
Dumbbell storage rack available on its own or with a 12kg neoprene dumbbell set included
Net World Sports offers a wide range of Gym & Fitness Equipment. For METIS Neoprene Hex Dumbbells, METIS Pro Cast Iron Kettlebells and more, please see the essentials above.
Specifications
METIS PORTABLE DUMBBELL RACK SPECIFICATIONS
WHAT YOU GET:
Dumbbell Rack Only: 1x Dumbbell Rack
Stand + 12kg Neoprene Dumbbell Set: 1x Dumbbell Rack, 2x 1kg Dumbbells, 2x 2kg Dumbbells, 2x 3kg Dumbbells
DIMENSIONS:
36cm x 18cm x 8cm | 14in x 7in x 3in
Weight: 0.8kg | 1.8lbs
Can store 3x pairs of dumbbells up to 4kg on each level
Maximum load of 15kg (33lbs)
MATERIALS:
Constructed from strong plastic to allow for a maximum storage load of 15kg (33lbs)
Smart logo printed on a black finish plastic
MISCELLANEOUS:
Gives your home gym a clean, professional edge
Lightweight nature allows for enhanced portability
Allows secure transportation and storage of weights when workout is complete
Recently Viewed
Corner Joints For FORZA Aluminium Goals
HK$334.00