Harrier Fire Pit Bowl With Log Storage [30in]
Harrier Fire Pit Bowl With Log Storage [30in]

Luxury Harrier Fire Pit – Create a Relaxing Outdoor Space
Portable Fire Pit
Featuring two handles for easy manoeuvrability, these patio fire pits are expertly designed with a black powder coated exterior to provide a sleek finish & to create a focal point in all outdoor spaces.
Improved Airflow
The wide fire pit bowl provides better airflow to ensure it is easy to manage & prevent the fire going out throughout use. Each fire pit is supplied with a fire poker & a perfect addition to your garden set up.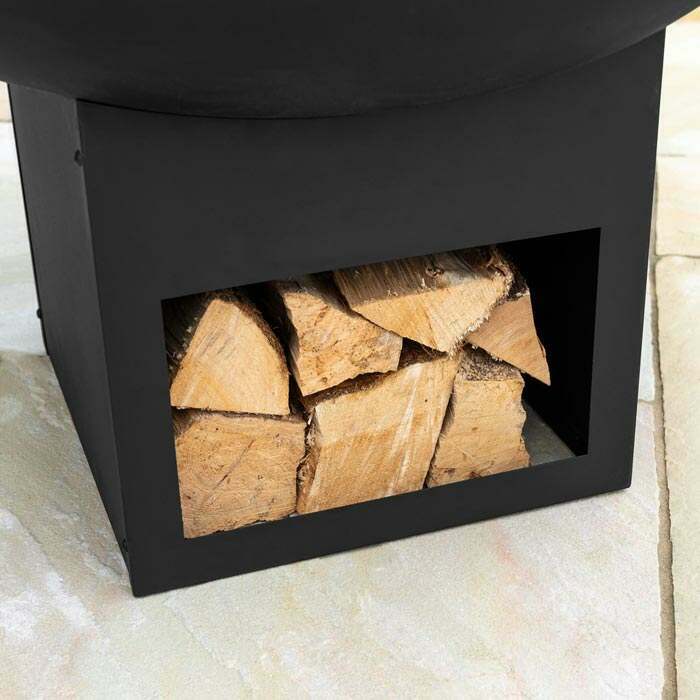 Log Storage
Uniquely designed to feature a built-in storage area for wooden logs for user convenience. Due to the large bowl, these fire pits can hold a high volume of wooden logs & charcoal for a long-lasting fire.
Description
Harrier Outdoor Fire Pit With Log Storage – Excellent For Entertaining In The Garden
Luxury modern fire pits with log storage are perfect to create a central point in all outdoor spaces including gardens & patios. Suitable for outdoor use only, these fire pits are an excellent option to keep warm on cooler evening. The bowl-shaped fire pit makes it easier to control the fire & the practical design ensures better airflow to improve the combustion of wood/charcoal. Each fire pit comes with an integrated log store for convenience allowing you to relax & enjoy your fire pit. The steel construction & black powder coated exterior guarantees long-lasting use & a stylish look for longer. Upgrade your fire pit to include a fire pit grill attachement which is ideal for outdoor cooking. Waterproof covers are also available to ensure the fire pit is protected when not in use.
Harrier Fire Pit With Log Storage – A luxury & stylish addition to all outdoor spaces
Modern round shaped fire pit with simple design fits perfectly in all garden areas
Built-in storage compartment ensures you can conveniently keep logs close by
Crafted using robust steel with a powder coated exterior for exceptional longevity
Fire pit bowl provides improved airflow to increase combustion & heat transfer
Upgrades Available: Fire pit grill for outdoor cooking or a waterproof cover
For more Garden Equipment including CosySpa Hot Tubs, Outdoor Furniture & Trampolines, please see our full range.
Specifications
Harrier Fire Pit Bowl With Log Storage Specifications
Upgrade Options:
Luxury Fire Pit Grill
Waterproof Cover
Dimensions:
Fire Pit Size: 75cm L x 75cm W x 40cm H | 30in L x 30in W x 15.7in H
Log Storage Size: 32cm L x 19cm W | 12.5in L x 7.5in
Package Size: 82cm L x 82cm W x 23.5cm H | 32in L x 32in W x 9cm H
Fire Pit Weight: 15kg | 33lbs
Package Weight: 17kg | 37.5lbs
Materials:
Durable steel fire pit for additional stability
Black powder coated exterior ensures longevity & provides weather resistance
Miscellaneous:
Fuel Type: Logs & charcoal
Includes fire poker
Outdoor use only
Simple assembly required
Recently Viewed
FORZA Football Rebound Wall
HK$2,599.00