FORZA POD Aluminium Folding Football Goal
FORZA POD Aluminium Folding Football Goal
ELITE FORZA SMALL FOOTBALL GOALS – PERFECT FOR TRAINING SESSIONS
10 Second Set Up
A space-saving solution for professional football coaches, the target football goals assemble in 10 seconds and can be folded and fit into a car boot.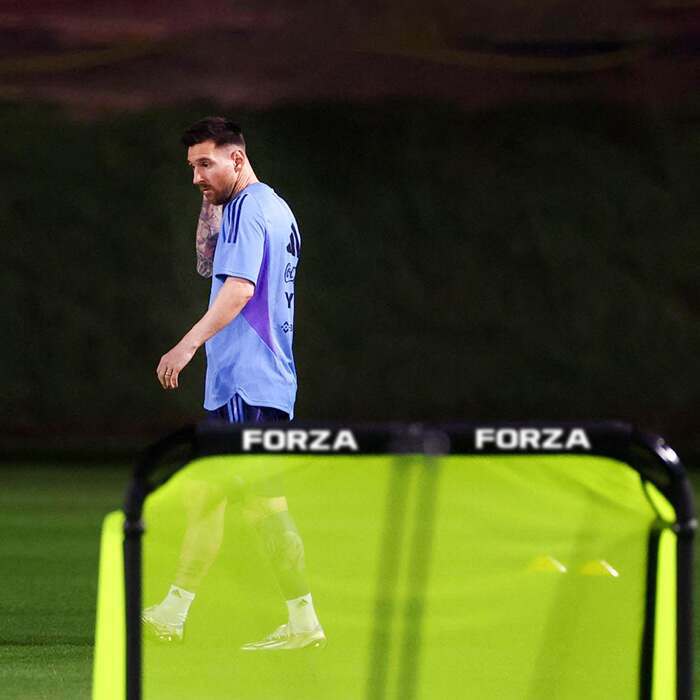 Strong Aluminium Goal Frame
Designed for consistent use, the training football goal has been made from heavy duty 50mm OD aluminium. Powder coated black, the goal is also resistant to rust.
Professional Training Goal
Used by professional teams and clubs, the lightweight POD goal is the ultimate training target of choice which can be used in multiple environments.
Description
FORZA Folding Pod Goals – The #1 Target Goals On The Market
As used by Manchester United, Manchester City & many other elite football clubs across the world, the FORZA Pod Goals have changed the game when it comes to training drills & small matches. Lightweight, collapsible & set up in just 10 seconds, these small football goals allow you to start playing almost instantly. Perfect for training as well as home use, these high-quality football training goals also feature an innovative space-saving design, allowing them to easily fit into the boot of a car or storage. The 50mm aluminium frame offers exceptional strength & durability whilst the high-impact HDPP micromesh goal net is perfectly equipped to deal with regular ball impacts. These folding training goals come in 3 sizes, 9 high-visibility colours & can be bought with a carry bag upgrade.
Premium folding training goals as used by the elite of the game – perfect for drills & small matches
Available in 3 sizes, 9 vibrant colours & can be bought with a carry bag for added convenience
Training goals are 100% freestanding, can be easily moved by 1 person & can be used on any playing surface
Frame manufactured from 50mm OD aluminium – powder coated for increased strength & performance
Goal nets feature a high-impact micromesh design – will easily cope with regular ball impacts at all levels
Foldable goal can be set up in just 10 seconds with no tools required – will easily fit into a car boot once collapsed
PLEASE NOTE: These FORZA folding goals are delivered fully assembled meaning you can start using it right away.
Specifications
FORZA POD Aluminium Folding Football Goal Specifications
Size Options (Length x Width):
4ft x 2.5ft (1.2m x 0.76m)
5ft x 3ft (1.5m x 0.9m)
6ft x 4ft (1.8m x 1.2m)
Dimensions:
Goal Depth - 30" (75cm)
4ft x 2.5ft Folded Size (L x W x H): 33in x 31.8in x 5.9in | 84cm x 81cm x 14cm
5ft x 3ft Folded Size (L x W x H): 38.5in x 34.6in x 6.3in | 100cm x 76cm x 16cm
6ft x 4ft Folded Size (L x W x H): 52.4in x 42.9in x 6.7in | 133cm x 109cm x 17cm
4ft x 2.5ft Weight: 7.1kg | 15.6lbs
5ft x 3ft Weight: 8.6kg | 20lbs
6ft x 4ft Weight: 11.9kg | 26.2lbs
Materials:
Heavy duty 50mm OD aluminium goal frame
Black powder coated frame for rust and corrosion resistance
High impact HDPP micromesh goal net
Net comes with hook and loop adhesive straps for secure attachment
Carry bag made from heavy-duty materials with quick fastening release straps and handles on both sides
Miscellaneous:
12 month warranty
Assembling and folding the goal away takes 10 seconds
No tools are required in the assembly or folding processes
Folds away for compact storage
Multiple goals can be stored into the boot of a family sized car
Freestanding design allows the goal to be used on all surfaces without anchors
Lightweight and can be lifted and carried with ease by one person
The goal is delivered fully assembled ready for instant use
Pod goals supplied in fluro yellow, fluro orange, fluro pink, white, red, black, electric blue & sky blue
PLEASE NOTE: Sold as a single goal and NOT a pair
Recently Viewed
Tennis Centre Strap Ground Anchor Socket
HK$269.00
Harrier ARVO Kamado Divide & Conquer Systems
HK$944.00
Harrier ARVO Charcoal BBQs
HK$1,899.00
Sports Ball Carry Bag
HK$99.00
FORAGER Camping Tents - ALL SIZES [2 / 3 / 4 / 6 / 8 Man]
HK$309.00