FORZA SuperCone Training Marker Domes [20 QTY]
FORZA SuperCone Training Marker Domes [20 QTY]

Premium FORZA SuperCones - Ideal For Training Sessions & Drills
Multi-Sport Training Cones
Having been used by professional sports teams, including the Wales National Football Team, these dome marker cones are perfect for all levels of sport. The jumbo disc cones are the best cones for speed, footwork and agility training.
Jumbo Space Marker Cones
Standing tall at 14cm (11in), the sports marker cones provide clear and visible boundaries for training drills and can also be used alongside other training equipment such as boundary poles to create innovative sports practice sessions.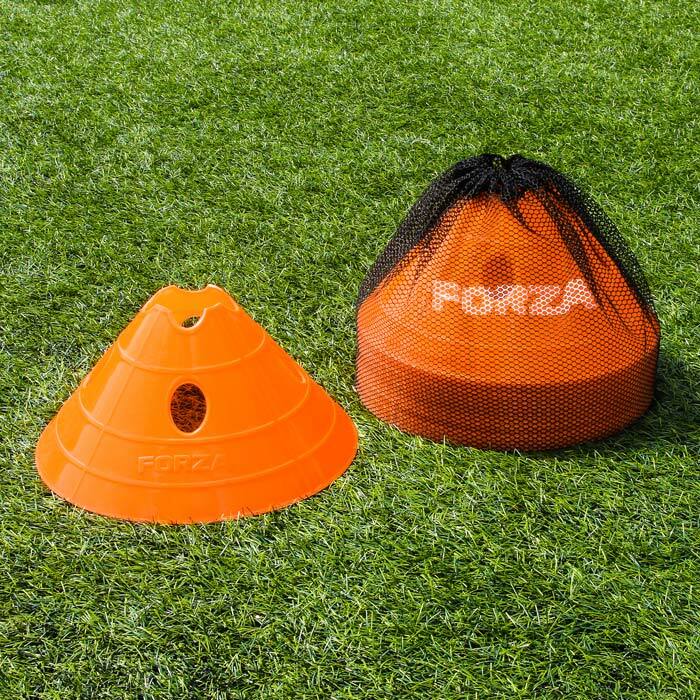 Easy To Store And Transport
Manufactured using strong and weatherproof, the large training marker cones come with a see-through mesh carry bag as standard. This training cone drawstring carry bag is the ultimate storage and transportation solution for coaches.
Description
Versatile SuperCone Ideal For Training Sessions
The FORZA SuperCone and Bag set is the ultimate practice accessory to help you mark out drills and create boundaries for temporary pitches. Each supersized marker cone has a 30cm base diameter and a height of 14cm that guarantees that they are visible from every angle of your indoor or outdoor pitch. Manufactured from a dense PVC that is both tough and dependable, the FORZA SuperCones has been produced to be long lasting. The PVC used for of each marker cone ensures that they are reliable in varying conditions, so if you are in difficult weather or on uneven surfaces, these SuperCones will stay consistently strong throughout your training session. Available in a range of vibrant colours, our multipurpose cones have been especially designed to maximise your training sessions. This set of high visibility jumbo marker cones have multiple features to ensure that they are always seen on the field. With four vivid and fluorescent colours available and an overall height of 14cm per cone, your players will be able to see these versatile cones in any light condition. Bag included for transportation & storage.
Produced from a dependable and tough PVC material
Compatible with the FORZA 5ft Slalom and 4ft Boundary Poles
Supplied with a durable carry bag
Available as a pack of 20
Base diameter: 30cm
Height: 14cm
Specifications
Dimensions
Height: 14cm (5.5 inches)
Base diameter: 29cm (11.4 inches)
Material
Miscellaneous
Colours: White, Pink, Yellow, Orange, Sky Blue, Electric Blue, Black or Red
Sold as a pack of 20
Supplied with a carry bag
You may also like
1.5m Spring Loaded Slalom Training Poles [25mm]
HK$399.00
FORZA Pro Training Vests [5 - 15 Packs]
HK$139.00
Stainless Steel Referee Whistle & Lanyard
HK$79.00
10 Hygiene Bottles (1 Litre) & Foldable Bottle Carrier
HK$539.00