FORZA International Match Rugby Union Ball [2 Sizes]
FORZA International Match Rugby Union Ball [2 Sizes]
FORZA International Match Rugby Union Ball – Size 4 & 5
LONG LIFE ULTRA GRIP
The unique patterned synthetic rubber blend exterior layer provides exceptional grip for handling the ball. This innovative design also ensures the ball is dirt resistant which is essential during matches.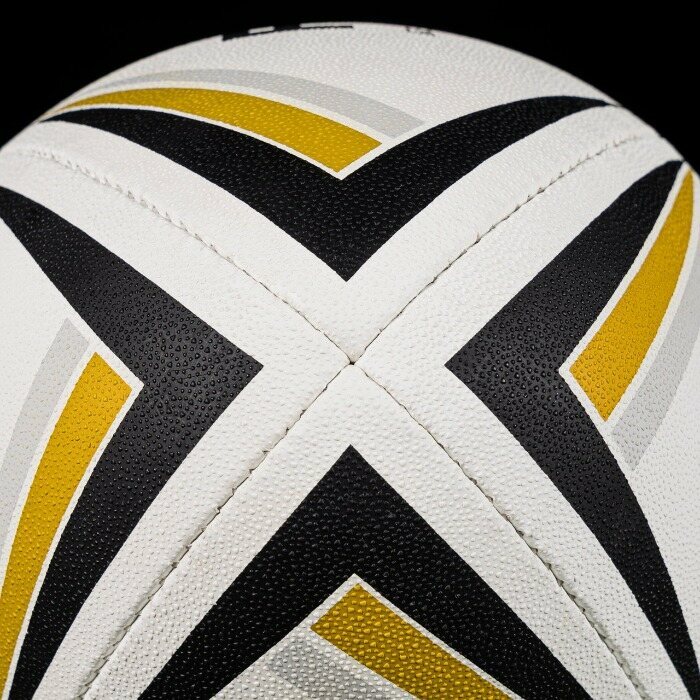 PREMIUM QUALITY
Hand stitched, the synthetic blend exterior layer combined with the durable latex bladder ensures the ball has a true premium construction & gives this ball a great overall feel & playability when used in matches.
WORLD RUGBY REGULATION
Size, shape and panel construction of the match ball conform to the World Rugby Regulation Standards, enabling it for use at all levels, from grassroots all the way to a professional rugby standard.
Description
FORZA International Match Rugby Union Ball
Designed & constructed to meet the regulations of the World Rugby Regulation Standard, this ball does just that. The 4 panel, 3 ply hand stitched construction provides excellent durability & gives the ball an overall great feel to handle. Specifically made for rugby union, this FORZA International Match Rugby Ball can be used in amateur matches from grassroots all the way up to professional standard at the highest level of the game. The unique dimple pattern on the exterior provides exceptional grip in all weather conditions which is essential when running with the ball. The impressive exterior also makes the ball resistant to dirt build up. Available individually, in packs of 3 or packs of 25. All three quantities are available for the size 4 & 5 FORZA International Match Rugby Ball.
Expertly designed, constructed & hand stitched specifically for Rugby Union matches
4 panel, 3 ply construction offers excellent durability for hardwearing & long-lasting use
Available individually, in packs of 3 or packs of 25 – An option to suit all players & teams
Natural latex bladder ensures the ball maintains its shape while providing excellent air retention
Perfect for matches from grassroots all the way up to professional standard at the highest level of the game
Specifications
FORZA International Match Rugby Ball [Union] Specifications
DIMENSIONS
Size 4: Long Circumference – 72cm | Short Circumference – 55cm | Weight – 445g
Size 5: Long Circumference – 75cm | Short Circumference – 58.5cm | Weight – 455g
MATERIALS
Synthetic & natural rubber exterior
Natural latex bladder
MISCELLANEOUS
Specifically for Rugby Union
Available individually, in packs of 3 or packs of 25
Available in size 4 & 5