FORZA Football Coaching Clipboard
FORZA Football Coaching Clipboard
Compact And Handheld Coaching Clipboards With Full Pitch Markings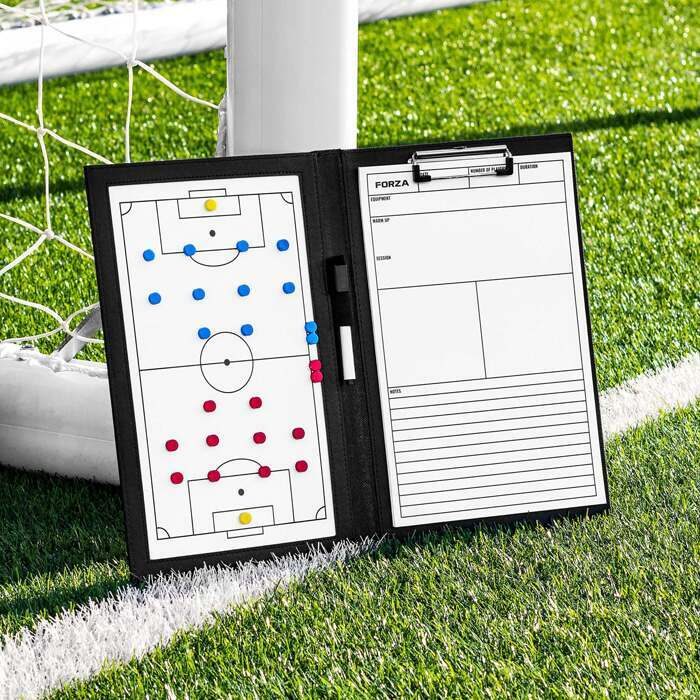 Compact And Convenient
Sized at 32cm x 22cm, the multi-sport coaching clipboards are lightweight and can be carried between playing venues with ease, allowing for training ground, changing room and side-line use.
Dry Erase Whiteboard
Featuring a clip for note storage and a whiteboard pen, the main body of the heavy-duty ABS bend-resistant clipboard has been designed with a dry erase finish for clear tactical instructions.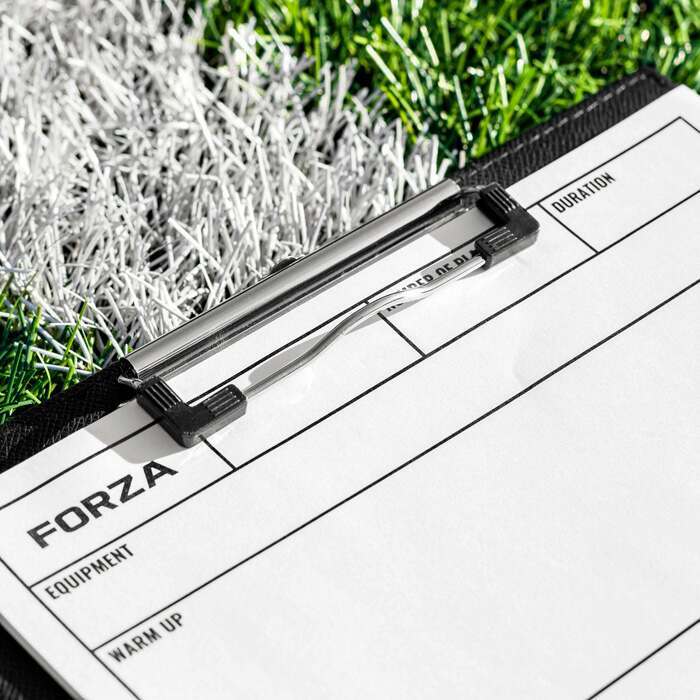 Multi-Sport Clipboard
Each variation of multi-sport clipboard features regulation pitch markings with football, futsal, baseball, basketball, ice hockey, hockey, American football, rugby, aussie rules, gaelic football, handball, lacrosse and netball boards on offer.
Description
Lightweight And Low-Maintenance Wipeable Football Coaching Clipboard
Keep your tactics nearby with the handheld football coaching clipboard. Boasting a vivid full pitch display with regulation markings, the football tactics whiteboard is available in tailored variations for 10 different sports. With dimensions of 12in x 8.5in, the compact football tactical clipboard can be transported from the training ground to the dugout with ease, featuring a wipeable whiteboard design with a dry erase finish, the simple yet high quality clipboards allows for tactical tweaks to be made as and when you see fit.
12in x 8.5in (32cm x 22cm) handheld clipboard with a lightweight finish for ease of transportation
10 variations with regulation pitch markings for football, futsal, baseball, basketball, American football, lacrosse, netball, ice hockey, hockey and rugby
Heavy-duty ABS coaching clipboard which has been expertly designed to prevent damage caused by bending
Made with a dry erase finish which allows for a wide variety of tactical instructions to be boldly displayed
Each coaching clipboard comes equipped with a durable clip for notes and a high-quality whiteboard marker pen
An essential piece of coaching equipment, these tactical clipboards are the perfect pitch side companion, allowing managers and coaches at all levels to dynamically make in-match changes. The easy-wipe design of the lightweight coaches board allows for changes to be erased without causing an unsightly blemish. Having been joined by a heavy-duty clip for notes and a versatile whiteboard pen, everything you need for tactical analysis is included.
Manufactured to provide long-lasting performance over multiple seasons, the weatherproof coaching clipboard has been manufactured from highly durable ABS in order to prevent bending and enhance the damage resistance of the tactics whiteboard. Suitable for use on the training pitch, in changing rooms and during matches, the versatile dry-wipe sports clipboards allow for precise tactical drawings which vividly display roles and instructions.
Net World Sports stock a wider range of coaching/tactics board available in a variety of sizes for numerous sports.
Specifications
Dimensions
Length x Width – 32cm x 22cm (12in x 8.5in)
Materials
Robust ABS clipboard designed to prevent bending
Dry erase finish
Each whiteboard features regulation pitch markings
Durable clip and whiteboard pen suitable for all solutions
Multi-Sport Coaching Board Variations
Football
Futsal
Rugby
Baseball
Basketball
American Football
Netball
Handball
Gaelic Football
Aussie Rules Football
Lacrosse
Ice Hockey
Hockey
You may also like
Football Tactics/Coaching Board Carry Bags
HK$99.00
FORZA 45cm x 30cm Double-Sided Sport Coaching Tactics Boards [13 Sports Available]
HK$324.00
FORZA 150cm x 120cm Double-Sided Wheeled Sport Coaching Whiteboards
HK$5,264.00
FORZA 90cm x 60cm Double-Sided Sport Coaching Board [13 Sports Available]
HK$634.00