FORZA Football SuperCone Training Marker Domes [20 QTY]
FORZA Football SuperCone Training Marker Domes [20 QTY]

Improve Football Cones Training Sessions With Jumbo Dome Cones
Best Cones For Football Training
As used by the Wales National Team, our space marker cones have the professional seal of approval. Quality football training with cones isn't limited to the pro's, however, as these large training cones can be used by all ability levels.
Large Football Cones
Innovatively designed with an advanced height of 14cm (5.5in) and a base diameter of 30cm (11in), the football practice cones provide clearer boundaries and can facilitate a range of football drills with cones for technique and physical attributes.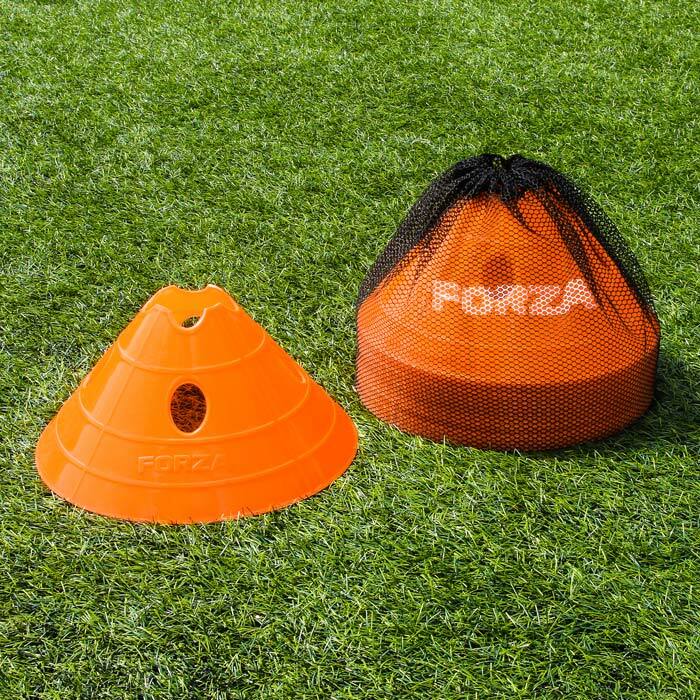 Cones With Carry Bag
Available in a range of 8x colours and featuring a strong yet lightweight PVC body, these football marker cones come with a mesh carry bag as standard. This drawstring cone carry bag allows for secure storage and transportation.
Description
Professional Quality Jumbo Football Cones – The Best Cones For Football Drills
Create a multitude of football drills with cones by applying these jumbo marker cones to your sessions. The ideal football training equipment for improving speed, footwork and agility as well as passing and ball control, the jumbo disc cones can be used by coaches at all levels of the game, and are equally suitable for football practice at home. Expertly designed for strength and durability while retaining a lightweight touch, the large training cones are a coaching essential, boasting the durability to be used in conjunction with other sporting equipment, such as boundary poles, to create innovative drills.
Football training cones suitable for speed, agility, footwork, passing and ball control drills at all levels
Quality sports marker cones with a 30cm (11in) base diameter and improved height of 14cm (5.5in)
Each set of 20 football practice cones come with a durable mesh carry bag as standard
Heavy-duty jumbo cones available in the following colours – white, pink, yellow and orange
Compatible for use in conjunction with our 5ft slalom poles and 4ft boundary poles to create various training drills
Manufactured from firm yet flexible PVC, the dome marker cones won't blow away during periods of high wind, and their luminous colour allows them to be used in low-visibility sessions such as winter or night-time training. These bright football marker cones are available in orange, pink, yellow and white varieties and come as a pack of 20 as standard. Improve all football training with cones by adding these space marker cones to your training equipment.
Football cones training is staple technique employed by coaches at all levels, and these large football cones are perfect for use in the back garden as well as professional training grounds. As a result of their larger size, the superdome saucer cones can be utilised to provide a sturdy and solid foundation for training poles. Our superdome marker cones can be used as a lightweight alternative to rubber bases for slalom poles. The ultimate football training marker cones for all surfaces and purposes, these jumbo football cones will enhance technical abilities and fitness levels.
PLEASE NOTE - Net World Sports stock a wide range of quality football training equipment designed to develop your skills. To view the entirety of our equipment, including space marker cones, free-kick mannequins, rebounders and much more, please click here.
Specifications
Dimensions
Height: 14cm (5.5 inches)
Base diameter: 29cm (11.4 inches)
Material
Miscellaneous
Colours: White, Pink, Yellow, Orange, Sky Blue, Electric Blue, Red or Black
Sold as a pack of 20
Supplied with a carry bag
You may also like
1.5m Spring Loaded Slalom Training Poles [25mm]
HK$399.00
FORZA Resistance Speed Chute
HK$179.00
FORZA Mini Flat Disc Markers [All Colours]
HK$199.00
Recently Viewed
FORZA Large GK Ball Deflector
HK$9,449.00
VICI Freestyle Scooters
HK$349.00
FORZA Mobile VIP Stadium Shelters Package (FIFA Spec)
3.7m x 1.8m FORZA Football Goal Post
HK$1,334.00
AquaTec Paddle Board/Kayak Bags
HK$399.00