Portable Aluminium Team Benches
Portable Aluminium Team Benches
Portable Team Bench - The perfect companion to your sports match!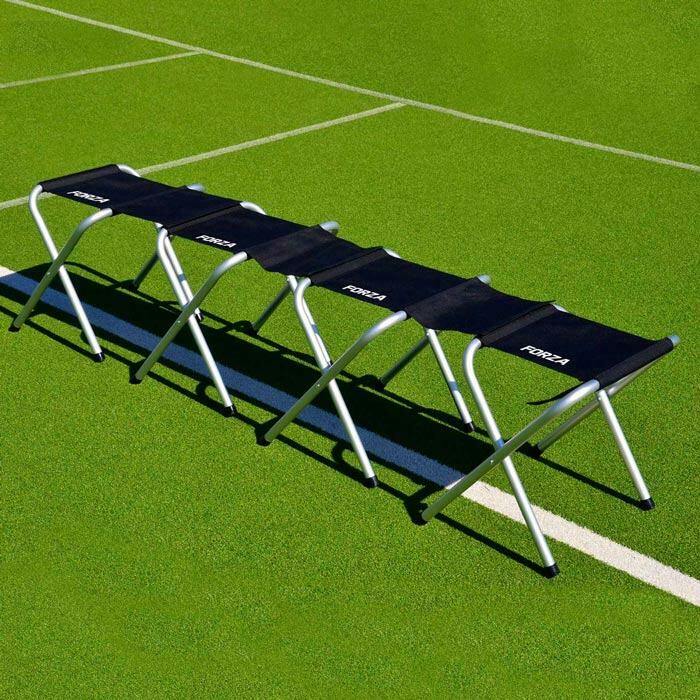 AVAILABLE IN 4, 8 OR 12 SEATS
Depending on the sport and number of players you have as part of your team, the portable substitutes bench is available in a choice of 4, 8 or 12 seats.
ASSEMBLE IN SECONDS
This aluminium team bench is quick and easy to fold out and fastens together efficiently with the strong hook and loop adhesive provided to save you time.
BENCH BAG INCLUDED
The bench bag included features a handle for ease of transport and stores your portable team bench safely when not in use to limit potential damage.
Description
Find your perfect pitch side partner, whether you're home or away!
This lightweight team bench is ideal for quick, additional seating at a home game, or for folding away to take to an away game. Make your team as comfortable as possible while they get ready for action.
This great value, team bench is made with a tough aluminium frame and quickly attaches together with strong Velcro to hold it in place, paired with a tough synthetic material for the seat to make a sturdy bench for your team. The seats can be turned into individual seating by adding or removing seats.
To make transporting your team bench easier, we've included a bench carry bag! Now you can store your team bench safely and transport it to and from away games with ease. It's simple to assemble as it folds out within 10 seconds, there's no hassle so you can focus all your attention on the game!
Available as a 4, 8 or 12 seater bench, meaning you can always have spare seats to hand for your team or the opposition.
No matter what your sport, this portable team bench is ideal for all match day events.
At Net World Sports, we have a range of great team shelters, matchday equipment and training equipment, check out what we have in stock!
Specifications
SPECIFICATIONS:
Portable 4, 8, or 12 seat bench that folds out in seconds.
Aluminium frame with strong synthetic material for the seat.
Attaches together by velcro.
Comes with a carry band and handle for easy transportation.
Easy to assemble
More durable model.
Can be used for football, rugby, cricket and many more sport games
You may also like
Football Team Shelter & 8 Seat Bench Package
HK$3,644.00
FORZA Portable Team Shelter
HK$2,564.00
Recently Viewed
FORZA Alu Mini Target Football Goal
HK$3,374.00
6 x 4 (1.8m x 1.2m) FORZA Football Goal Post
HK$674.00
Compact Boot Scraper Brush & Wiper
HK$1,619.00
FORZA Blue & Yellow Armbands (Support Ukraine)
HK$39.00
Garden Cricket Net
HK$3,239.00